Climate change, plight of the refugees, criticism of capitalism and its exploitative practices, are some of the topics that found their way to the walls of buildings around the world thanks to an urban artist Fintan Magee. Magee belongs to a younger generation of Australian creatives who founds his work on our social reality. Magee started drawing soon after he moved as a child to Brisbane, where he was also exposed to the city's vibrant graffiti scene. He got a degree in Fine Arts and later relocated to Sydney where he continued with his practice. In recent years he has been working both as a studio and street artist. His best known works are large murals that he often situates on isolated or abandoned buildings in often marginalized parts of the big cities. Linking his topics with the environments in which he is creating, he came to depict refuges, workers, tourists and children, and through them to explore the issues of loss, waste, consumption, exploitation and transition. Although he chooses somber topics, he approaches them with the softness and sentimentality in execution that is reminiscent of children's books. So far Magee has completed projects in London, Vienna, Los Angeles, Miami, Sydney, Melbourne, Buenos Aires, New York, Oslo Copenhagen, Moscow, and Dublin amongst others. Today he is considered as one of the leading figures of Australia's urban art scene.
We talked with Fintan Magee about his recent works such as Exile, The Plastic Tiger, Monument to a Disappearing Monument; about the agential possibilities of art, his style, art scene in Australia, and his plans for 2017.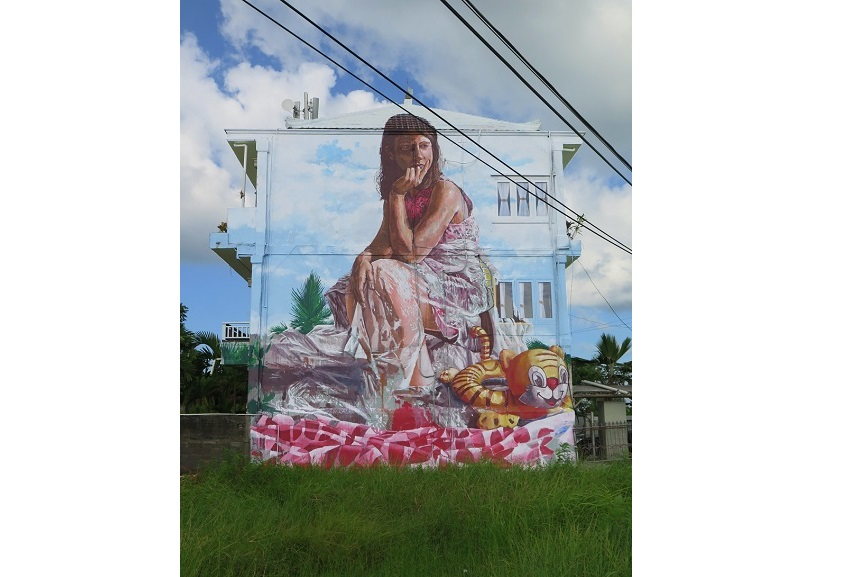 In the Limbo of a Refugee Camp
Widewalls: Let us start with the most recent works you created. One of them addresses the refugee crisis. Can you tell us more about The Exile mural in Amman? How it came to be, and how you got involved with Awareness and Prevention Through Art (aptART) organization?
Fintan Magee: APT arts are and organization that run mural programs, workshops and art therapy with youth in refugee camps. I have been in touch with them for a while but it took a while for us to find the right project to work on together because of our schedules. I was very glad it was a project in Jordan as I really enjoyed that country.
Widewalls: Could you please tell us more about your research for this mural and talks you had with people living in refugee camps in Amman?
FM: In the camp we were painting walls and running workshops in the unaccompanied minors section of the camp. It was a small area that houses 30 kids that had been separated or lost their parents escaping the conflict in Syria. We spent a week there painting their area and working with the kids. They were a lot of fun and had a lot of energy.
Widewalls: How you came up with the visual idea for The Exile - why did you choose to represent this particular girl?
FM: My time in the camp made me realize the sense of limbo that people in the camp are in. The majority want to return home but have no idea when that will be possible and what will be waiting for them if they return. I got the idea to paint a girl and her reflection in the mirror with the two figures looking two different ways, the girl looking towards the future with her reflection looking towards the past, showing the two worlds that many refugees are trapped between. I chose to paint her because she was the only girl from the section of the camp that I met. Most of the other girls were very private and rarely left the 'girls only' section of the orphanage.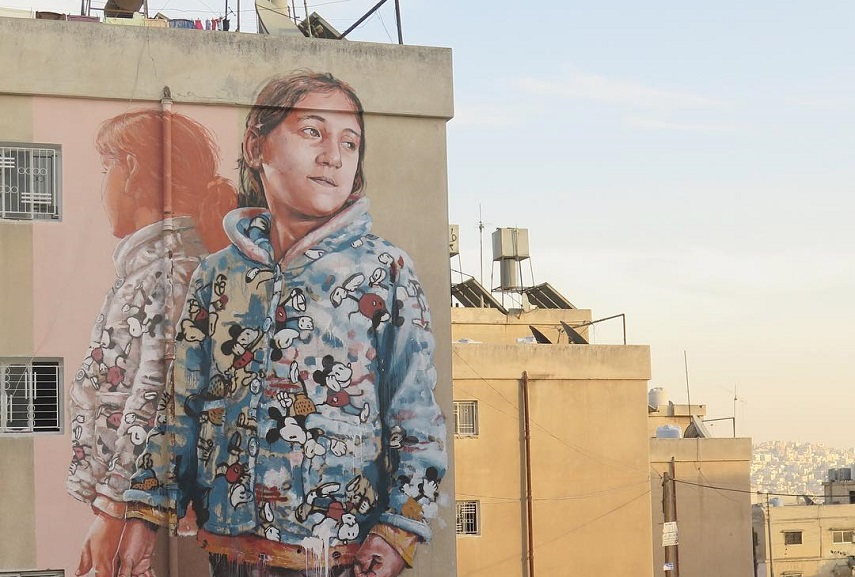 Environmental and Social Issues Explored in Street Art
Widewalls: The Plastic Tiger is a mural made in Bali, Indonesia. Can you elaborate on the choice of motifs and historical background you are referencing and criticizing here?
FM: The work simply depicts a young tourist next to a plastic inflatable tiger. The inflatable tiger was found at a swimming shop for tourists and was the only thing I saw on the island that reminded me of it's now extinct tiger species. The work was based on a European realist painting and this draws a link between the role former colonial powers played in damaging the environment and the modern tourism industry, reminding us of our joint responsibility in protecting the Island.
Widewalls: Why you picked Jules Breton's Young Peasant Girl With A Hoe as a reference? How often do you draw from European or Western art traditions in your work?
FM: I am a realist painter so everything I have ever painted draws from Western art traditions. I don't always reference a specific painting but if there is an image that really speaks to me then I enjoy appropriating it. For me it's important that what I am appropriating relates to the overall concept behind the work.
Widewalls: You often point at environmental issues with your works. Can you talk a bit more about this topic and how you engage it in your art? Perhaps you can describe some of your other works that are dealing with this topic as well.
FM: Yeah some of my works deal with issues surrounding climate change and my personal experiences during the 2011 Brisbane floods when my family home went under water. I guess I want to use that personal experience to talk about the broader issue of climate change and rising sea levels.
Widewalls: Monument to a Disappearing Monument mural in Stavanger, Norway is about a local theme which can easily be understood by working classes worldwide. Can you explain its context?
FM: In the beginning of 2016 global oil prices dropped to their lowest in decades and there was a massive slump in the oil industry that affected Norway a lot. A lot of Oil workers lost their jobs and the piece talks about that. I guess I want the piece to talk about broader issues like the decline of the middle class do to globalization.
Widewalls: How long it took to make it, and what was the reaction of the public?
FM: The work took a total of 10 days to paint and the response from the public (as far as I know) has been overwhelmingly positive.
Widewalls: In your opinion, what is the relation between art and politics in contemporary world? Do you see art as an active agent in social change?
FM: I don't think art is the most powerful tool for social change. Art won't feed the poor unless your art is actual food. Art however can help with how people perceive their world and it can sometimes make people happy, so I like to think that it's better than nothing.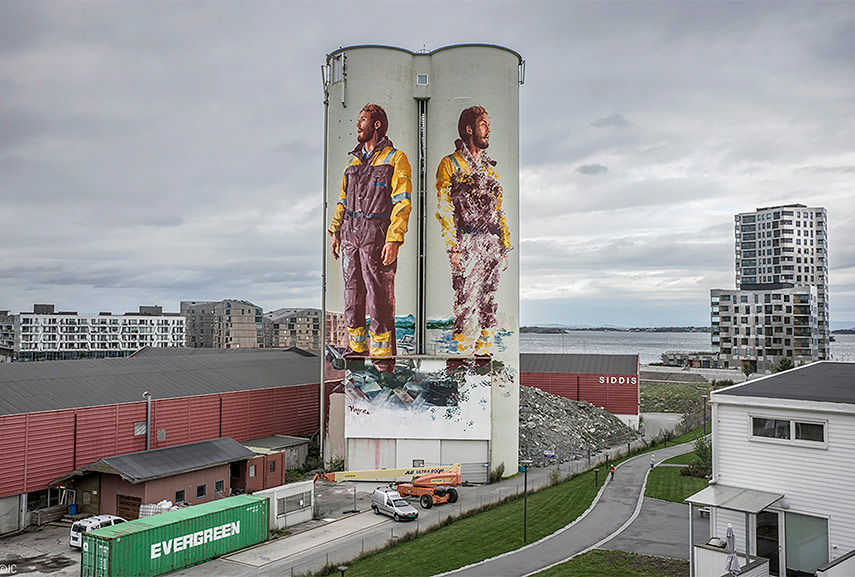 On Personal Style, Australian Art Scene, and Plans for 2017
Widewalls: How would you describe your style? Your work has been linked with realism and surrealism, and you have been compared with some other street artists. What is your reply to this?
FM: I guess I consider myself a social realist but some of the surrealists have also influenced me. I am primarily an artist that works in the public spectrum, anything beyond that is up for interpretation.
Widewalls: Besides creating murals you are also active as a studio artist. Can you give us an overview of your studio works regarding topics and style?
FM: Do they differ from your street art? No they are very similar, just painted on a smaller scale and with oil paint rather than acrylic.
Widewalls: You belong to a younger generation of Australian artists. How would you describe the urban art scene in Australia?
FM: Australia has small and isolated population but there are a lot of solid artists here and there is good funding for projects so I think it's a good place to be. Thanks to the internet we are a lot more connected to the European and American art scenes for the first time which has young Australian artists excited I think.
Widewalls: What are your plans for 2017? What projects you are preparing or working on?
FM: I will spend the summer doing festivals in Europe and the US next year, also hopefully I will get back to South America this year. I am hoping to spend more time in the studio also.
Featured images: Fintan_Magee. Photo by Henrik Haven. Image via fintanmagee.com; Fintan Magee - Road To Nowhere. Public Festival 2015. Photo via street art news; Fintan Magee - San Juan, Puerto Rico; Fintan Magee in Melbourne, Australia, 2016. Images via Widewalls archive. All images used for illustrative purposes only.