Having a pizza party in a gallery? Although this may sound preposterous, as galleries are the places for high art and occasional nibble happening solely at the openings of big shows, the First Amendment Gallery is bridging this gap by bringing a visual feast for anyone enamored with this Italian dish. Pizza Party is the name of their new show, which focuses on this yeasted flatbread topped with tomato, cheese, and much more. The artworks selected for the occasion all have pizza as their main protagonist, showing that art can play with any habitual object, even food, without losing its creative and critical edge.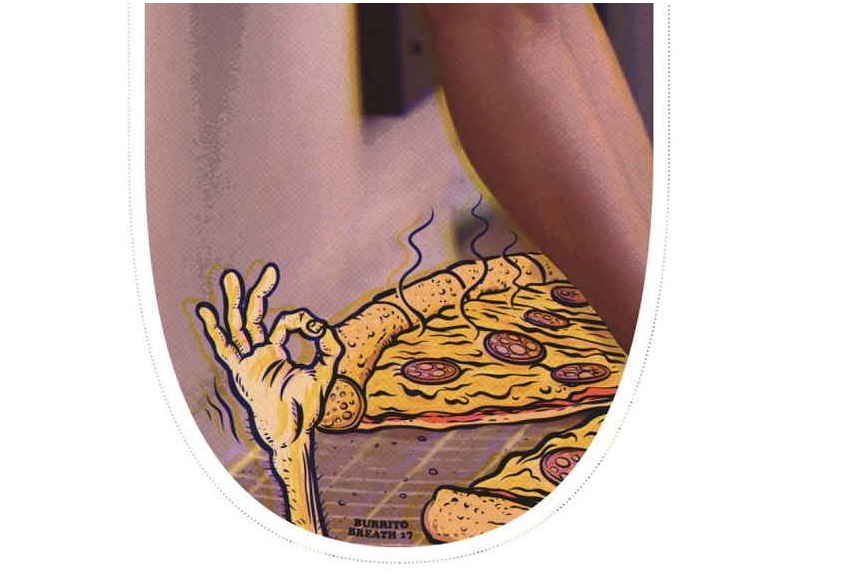 Pizza Dreams of Seven Artists
As the First Amendment Gallery announced, this Spring group show Pizza Party is an homage to the holy trinity of cheese, tomatoes, and bread. The gallery selected a group of seven artists who use pizza for their creative explorations, with outcomes that are both enticing and disturbing at the same time. The list includes both local and international illustrators, such as Justin Hager, Jaik Puppyteeth, Deb, Burrito Breath, Michelle Guintu, Gosha Levochkin, and Pemex. They work in different techniques, including drawings, watercolor, collages, skate decks and surfboard designs, and murals. Filled with sense of humor and quirky styles, their pieces will bring to viewers a variety of cheesy art, literally!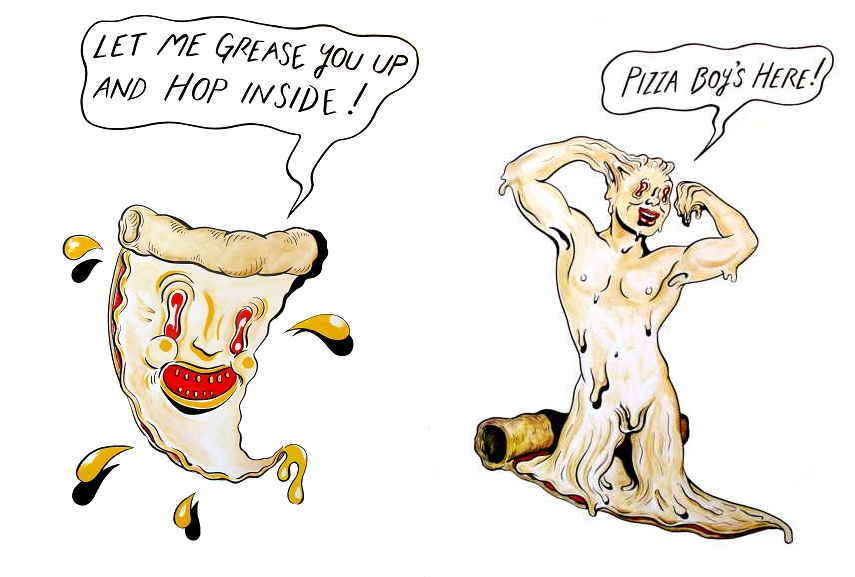 Food for Art
Food is often a topic in art. It appears either as the main protagonist, or as an addition to the mise-en-scène of an artwork. From still lifes to religious and historical scenes, food is present as a bearer of symbolic meanings, or as a colorful and sometimes even menacing decoration. Remember the famous Vanitas from the Dutch Golden Age – food was there to remind us of the transience of life and death that waits at the end. Modernism brought a more relaxed approach to the theme of food in art, where colors and shapes inspired artists more than the symbolic meaning any food could have. As we see from the exhibition Pizza Party, contemporary moment does not shy away from the topic, giving a world-famous dish a satirical tone, which finds its way to images brimming with sexual and critical overtones.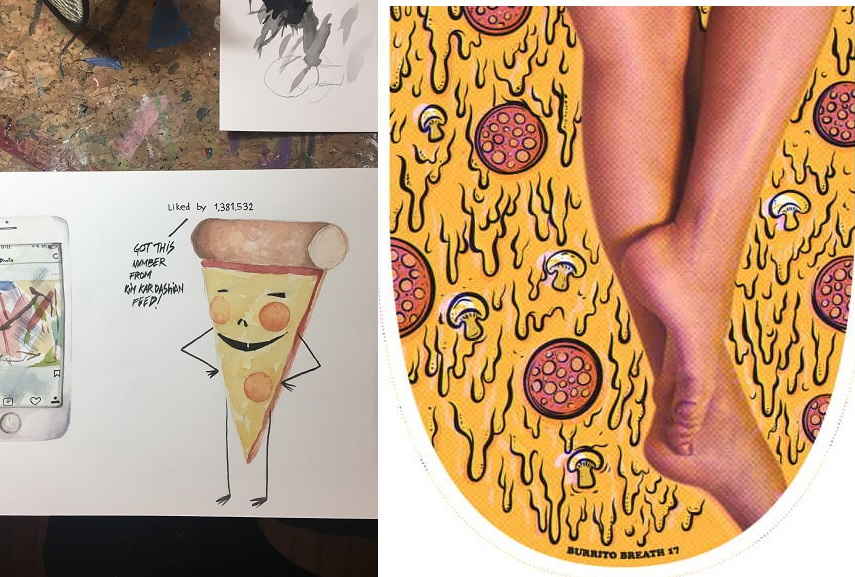 Pizza Party at First Amendment Gallery
First Amendment Gallery focuses on contemporary urban, street, and graffiti art, and is dedicated to showcasing original works, commissioned murals, and fine art prints. The gallery opened in San Francisco in 2008, with the aim to progress the Freedom of Speech through urban art.
Pizza Party, the exhibition featuring works that have pizza as their subject, opens at First Amendment Gallery on Thursday, April 27th, and will be on view through June 1st, 2017. The opening reception is scheduled for April 27th from 7-10pm, and the event is free and open to the public.
Featured image: Burrito Breath illustration. All images courtesy of First Amendment Gallery.