Investing a significant emotive energy into his work, Anders Gjennestad Strøk elevates upcycling process to a whole different level. His stencil are executed in the best practice of classic painting, with shortenings done in ideal perspective, while the realism of the scene does not suffer due to the monochromatic palette. Infused with the inherent character of the chosen surface, be it wall or found piece of metal, Strøk's artwork exudes an inspiring potency, as well as a visually universal nature and depicts touching miniatures from life, pushed into our dimension by the shadows on the wall.
After a show by Aurel and his Romantic Rubbish, Galerie Mathgoth announced an exhibition of Strøk's work for the end of the month. The show is to be the artist's French debut, entitled Flow (or Flux in French), bringing his Nordix sensibility and balance to the Parisian urban art space.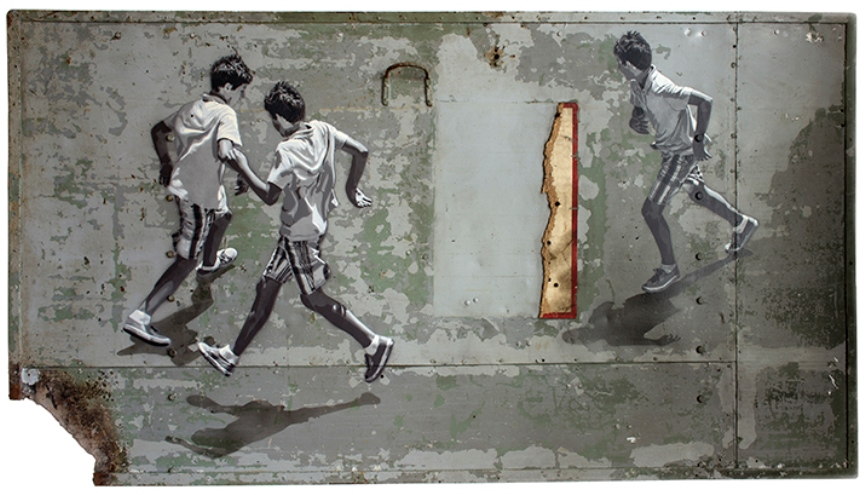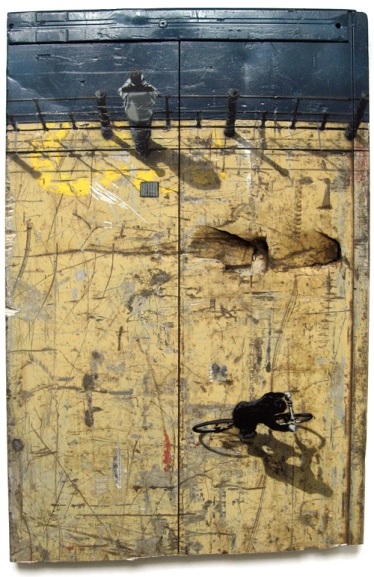 Stencilled Illusion of Gjennestad
One of the strongest traits in the work of Strøk is the lively dialogue his characters and scenes maintain with the surrounding space. The creative process commences with the artist taking photographs of anonymous people, that will serve as a starting point for his stencils. He captures his unaware heroes through the window of his Berlin studio, situated on a high floor, from the Berlin TV Tower, of looking from the roofs of the spacious bar houses built in the Soviet era. Waiting for the sunny and clear weather to photograph his subjects allows Strøk more freedom in manipulation of the shadow, which has a strong structural role in his work. The photographs are used to create stencil layers, sometimes even up to 10 a piece, employed in the making of his realistic compositions. The final result is a dreamy scene, real, but distant, due to the black and white chromatic quality, with a stunning three-dimensional value, riding on the wings of optical illusion.
Strøk also stands for Layers
Perfectionism and minute attention allow Anders Gjennestad to conduct his art to his vision, which excludes traditional materials in terms of canvas. Going under the moniker Strøk, he implies his street art activities, but simultaneously hints the meticulous layering that goes into his stencil work. For his studio pieces he carefully selects discarded chunks of wood, boards, decaying metal sheets, or old planks, scavenged in abandoned workshops and factories in the former Eastern Germany. The treasured items possess exactly the texture and character the artist is looking for, in order to convey his [sur]realistic feeling by painting people seen from a bird's perspective. He mixes the current situations with tangible history, creating a different world, where life flow is slower and yearningly more humane. The same process is applied on walls, where the artist does not choose smooth and polished surfaces, but old, weathered and damaged areas instead.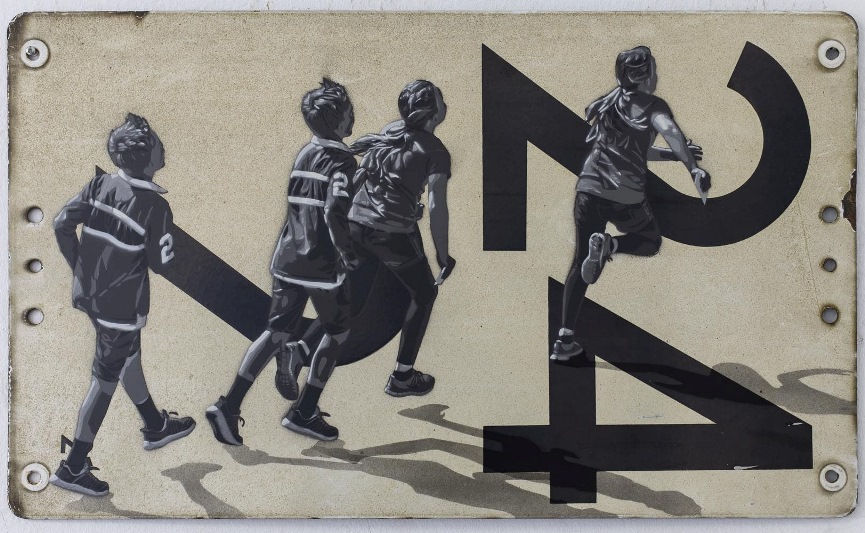 Flow at Galerie Mathgoth
The year 2014 has been a prolific one for Anders Gjennestad, and his work is continuously gaining more international recognition. He realized solo exhibitions in Norway and Denmark, and participated group exhibitions as well. He was one of the artists at Nuart festival in Stavanger, Norway. Flow at Galerie Mathgoth will showcase fifteen paintings, all specially made for the occasion.
Parisian exhibition by Strøk is opening on November 28, and it will run through December 23, 2014.
Read more about 2014 Nuart Festival in Stavanger, Norway.
If  Strøk is one of your fave artists and you thrive on seeing a good stencil art, sign up for My Widewalls and keep track of all the stencil creatives!