Non-partisan platform For Freedoms has launched a US-wide initiative to make art part of the public discourse. Partnering with over 200 local institutions and 175 artists, the platform brings powerful artist-designed billboards nationwide in public art and political engagement campaign 50 State Initiative.
In addition to billboards, the initiative will organize a comprehensive free public programing with the aim to encourage broad participation and inspire dialogue around midterm elections.
In order to make the project reality in all 50 states, including the District of Columbia and Puerto Rico, For Freedoms has launched 52 Kickstarter campaigns. Each has a goal of $3,000, with a single reward level of $10.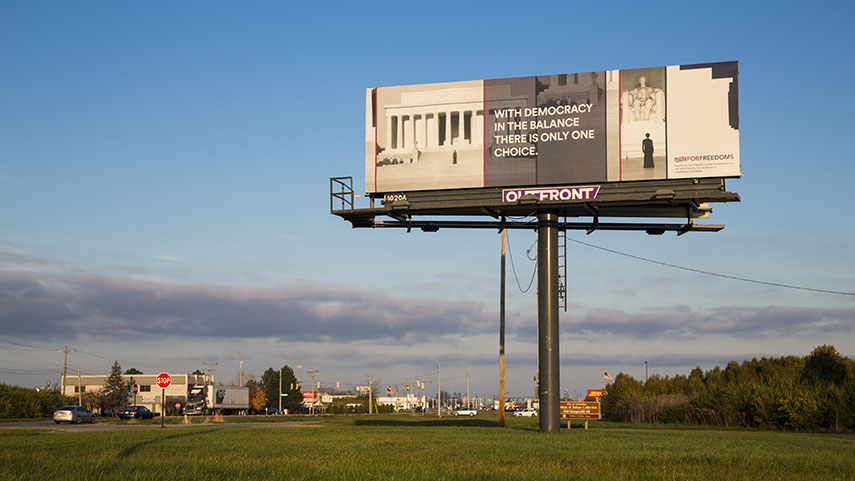 50 States Initiative
Led by artists Hank Willis Thomas and Eric Gottesman, who founded For Freedoms in 2016, the 50 State Initiative is potentially the largest ever public art project in the US.
Working with over 200 local museums, universities, libraries, nonprofit organizations, galleries and media companies, 50 States Initiative will organize free public programing which includes town hall meetings and special exhibitions. The goal is to encourage and cultivate conversations on regional and national issues, while empowering local artists and arts institutions to be community leaders in civic engagement.
Believing that art is vital to democracy, For Freedoms aims to bring it to the center of public life. The project includes Kickstarter-funded billboards by artists Tania Bruguera,Zoë Buckman, Paula Crown, Sam Durant, Theaster Gates, Rashid Johnson, Marilyn Minter, Richard Misrach, Trevor Paglen, Dread ScottNari Ward, and Carrie Mae Weems, with more to be announced.
"This wide range of artists represents the vast cultural experience and background in America today. Over their careers, each has shown a sustained engagement with the issues that define our society," says Hank Willis Thomas, For Freedoms co-founder. "We believe in art, and artists, and the conversations they create."

For Freedoms
Founded by Guggenheim Fellow Hank Willis Thomas and Creative Capital artist Eric Gottesman, For Freedoms is a platform for civic engagement, discourse, and direct action for artists and citizens in the United States. Using art to encourage and deepen public explorations fo freedom, they produce exhibitions, installations, public programs, and billboard campaigns to advocate for inclusive civic participation.
In 2016, For Freedoms started a project which places artist billboards in Denver, CO; Miami, FL; Tallahassee, FL; Lexington, KY; New Orleans, LA; Flint, MI; Pearl, MS; Columbus, OH; Harrisburg, PA; and Memphis, TN. The 50 States Initiative is an extension of this project.
Among 175 artists in their country-wide network are Nina Chanel Abney, Edgar Arceneaux, Firelei Báez, Sanford Biggers, Cassils, Wendy Ewald, Mariam Ghani, Maria Gaspar, Glenn Kaino, Matthew Day Jackson, Titus Kaphar, Kameelah Janan Rasheed, Xaviera Simmons, Emma Sulkowicz, Mickalene Thomas and Fred Tomaselli, amongst others.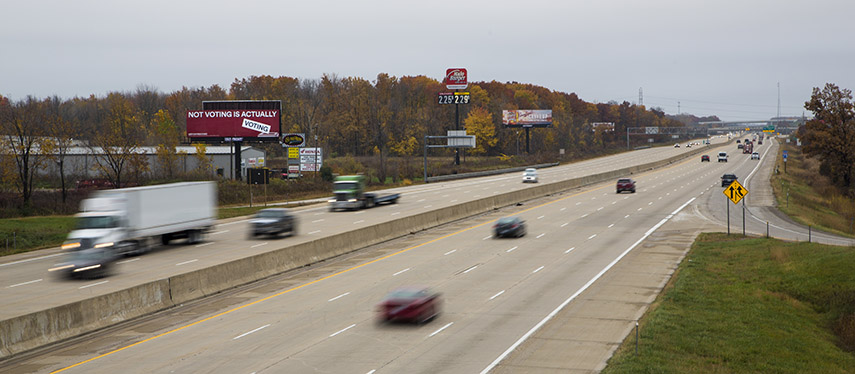 For Freedoms x Kickstarter
"This campaign marks the largest creative collaboration in the United States history, making art accessible to communities around the country," says Patton Hindle, Director of Arts at Kickstarter. "For Freedoms and Kickstarter both believe that art is a necessity in any productive democracy."
The Kickstarter campaigns will close July 3, 2018. The 50 State Initiative billboards and free public programming will take place from September through December 2018.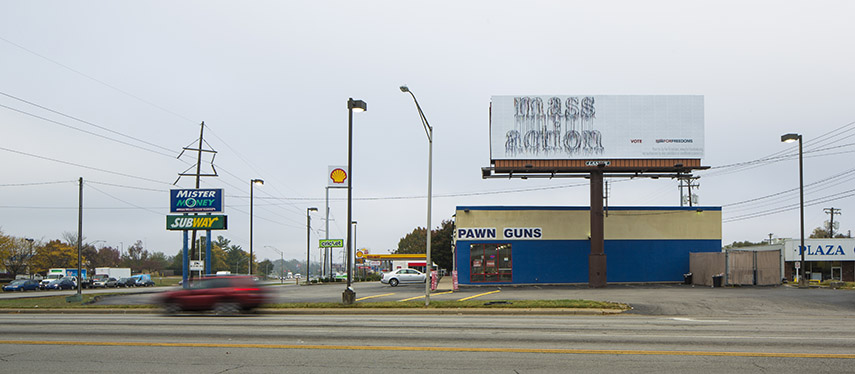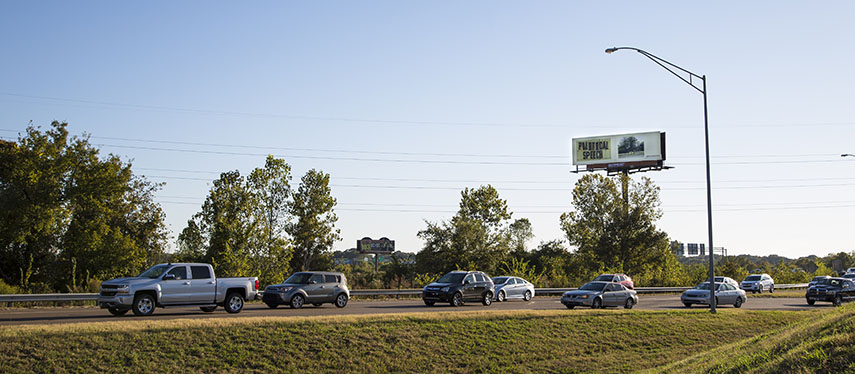 Featured images: Protect Us From Our Metadata with artist Trevor Paglen, Denver, CO, 2016. Courtesy of Wyatt Gallery / For Freedoms; Make America Great Again with Spider Martin, Pearl, MS, 2016. Courtesy of Wyatt Gallery / For Freedoms.