Dark and mysterious images of human expression and decay make the Four Dames exhibition at Spoke SF Gallery in San Francisco this month. Caught in a moment, poses and emotions of the figures transmute singular worlds of their authors, Eliza Ivanova, Nadezda, Karla Ortiz, and Ximena Rendon. Filled with forms that are both enticing, as in Nadezda's pieces where young females seem captured in a daytime dreaming, but also disturbing and unsettling in Ximena Rendon's art where unidentified corpses fill the bluish spaces of imaginary examination rooms, the paintings and drawings strangely complement each other, creating a poetic narrative of complex human existence.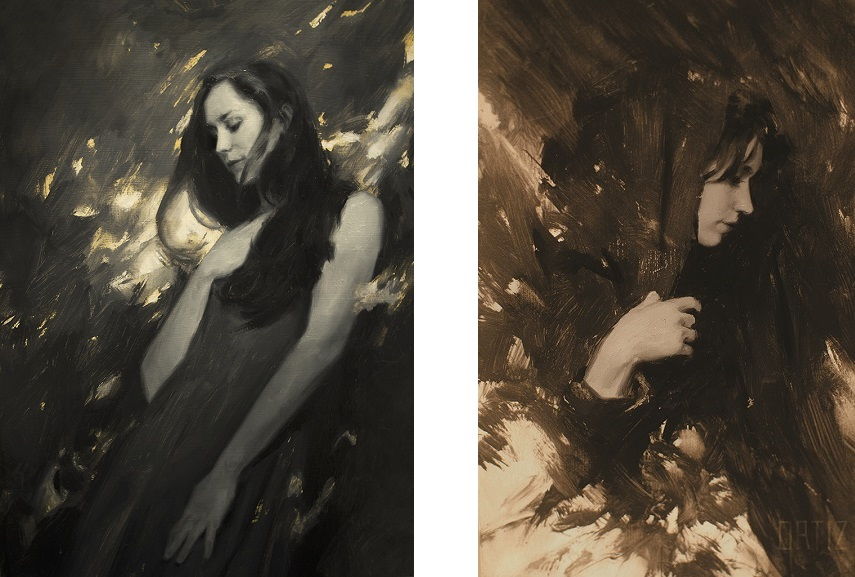 Imaginative Realms of Eliza Ivanova, Nadezda, Karla Ortiz, and Ximena Rendon
Resembling photos in the immediacy of the captured moments, imaginative realms created by Eliza Ivanova, Nadezda, Karla Ortiz, and Ximena Rendon possess a unique expressive quality that, when put together, creates a narrative of shifting human emotions and expressions filled with often dark and mystical undertones. A generally dark palette of Karla Ortiz allows for female forms to slowly emerge, without disturbing the earthly hues that surround them. Melancholic in nature, the figures seem undecided whether to fully step forward or to remain partially secluded in the security of dramatic brushstrokes that surround them. Nadezda's paintings reveal a realm of leisurely women caught in the moments of intimate reveries, while Eliza Ivanova's art world is filled with fairytale-like figures conveyed with delicate lines and shades of black and white. Ximena Rendon completes the circle with her paintings showing corpses prostrated on slick surfaces in an undefined space, which seems colored with the greenish-blue hue of death.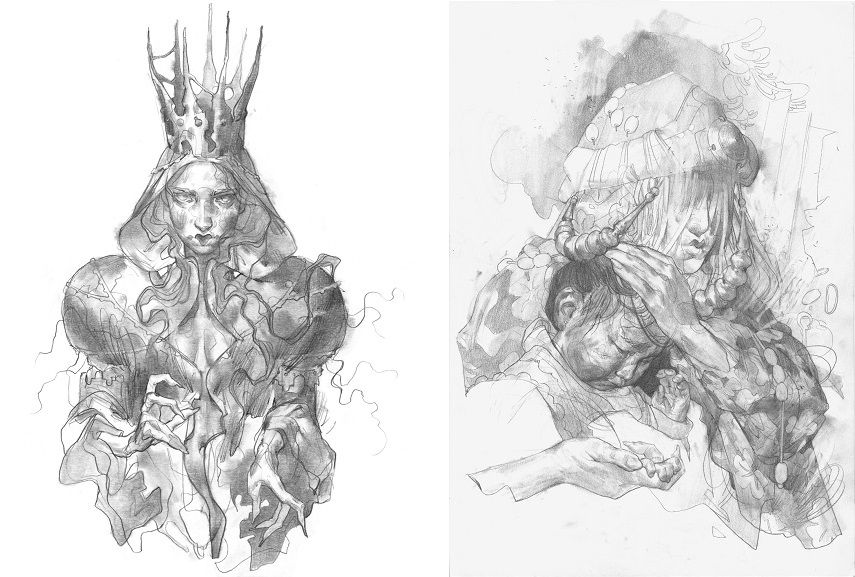 Four Artists - Four Distinct Styles
Oil paintings of Nadezda show a dynamic constellation of brushstrokes impressionistic in nature, which give her motifs a unique freshness despite the somber and dark palette. Her timeless narratives are strangely attractive - they resemble the snippets from a gothic novel, but also contain the contemporary gist of loneliness and isolation. Similarly, Ortiz situates her female figures into an un-placeable era, with technically masterful execution. She wants to capture "an aesthetic moment in time, as technically accurately and as beautifully as I can, while also expressing that which I cannot say in words." Eliza Ivanova creates a stylistic counterpoint for the three other artists, as her work, although equally mystical and dark, is rendered on a white background that tones down the emotional tension in them. Oil on aluminium is the material choice of Ximena Rendon who examines death and mortality in her simple representations of corpses. They are shown at awkward angles as prostrated on mortuary slabs, which her choice of material directly references.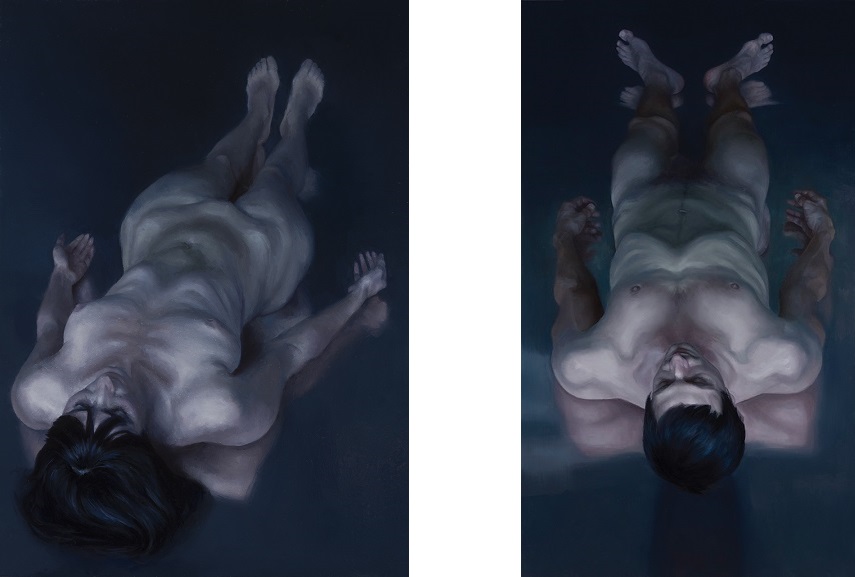 Four Dames at Spoke SF
The four artists selected for the exhibition show a mastery in use of the selected materials, combined with the evident classical and anatomy training which helps them in creation of their beautiful, mysterious, but also dark and sometimes even menacing images. A sense of mystery imbues them, and the harmonious blend of traditional techniques and contemporary sensibilities adds to their allure. Four Dames - a group exhibition featuring Eliza Ivanova, Nadezda, Karla Ortiz and Ximena Rendon - opens on Saturday, March 4th at Spoke Art SF, 816 Sutter Street, San Francisco, and is on view through Saturday, March 25th , 2017. The opening reception will be hosted from 6pm-9pm with all four artists in attendance.
Featured image: Nadezda - Etude In E Minor no.23, detail; Nadezda - Mora. All images courtesy of Spoke Art SF.