Fra.Biancoshock is a Milan-based artist whose practice blurs the thresholds between activism, street art and performance. Instead of defining himself as a street artist, Fra.Biancoshock prefers to think of himself as someone working within the public urban space with the aim to convey a message.
Born from the Italian graffiti scene, he turned his previous street practice into something new, where the performative part is still fundamental, by adding to it either activist or political concerns. Fra.Biancoshock works with mechanisms of communication, in order to trigger smart debates amongst the audience on specific themes. Playing with iconic and visual marketing codes, his work is also layered with ironic meaning. We had the chance to deepen some concepts concerning his art practice, such as: the cultural and historical references behind his works; his relationship with the Graffiti world and with crews such as VMD 70's, as well as how he conceives his projects within the public space. Furthermore, the last part regards his strong component of activism, which stands as the base that underlines every art piece. Some important experiences that we have reviewed together are Family Portrait, a collaboration with John Fekner, and Cop21, made by Brandalism Collective in Paris.
Scroll down for the interview.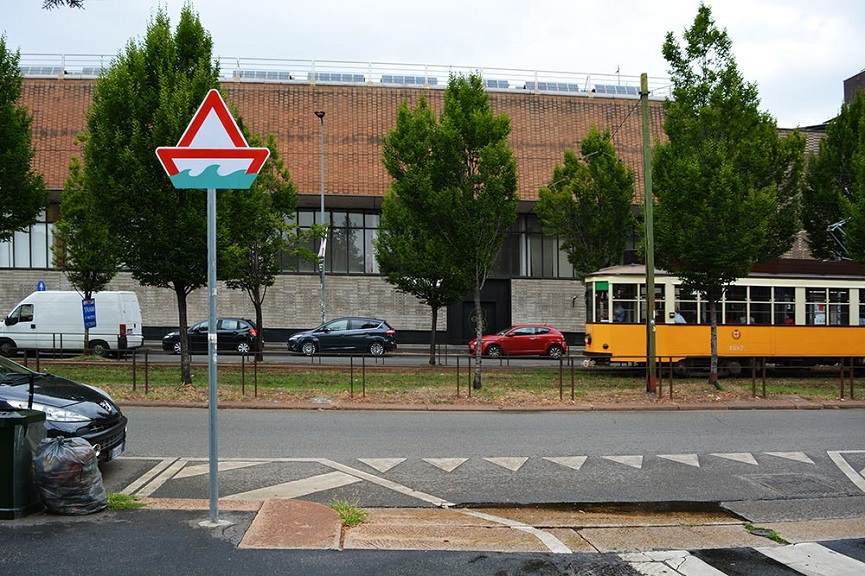 Former References and the relationship with the Public Space
Giada Pellicari: Fra.Biancoshock is usually contextualized as an artist whose practice has been built according to the references and methods of European contemporary street art. I would also add to this that the origins of your work can be traced even within the frame of the Italian historical background regarding performative art practices and projects that happened in this country during the late 1960s and early 1970s, such as Campo Urbano and Volterra73. What do you think? Could you tell us more about the relationship between your artistic practice and the public urban space?
Fra.Biancoshock: I strongly confirm this association with Italian art of the 1970s, a typology that I have approached and to which my practice refers. This art is full of interesting points for me, most of all regarding the performative part of, as well as those works that during that period started to communicate with people and convey messages, not being just something aesthetically beautiful. I am very glad that this historical connection has been perceived by you and that you are making these references because it's an aspect that was not written about or noticed until now.
For me, the urban space is pure inspiration and theater for my actions. Ever since I was a child, I have always been attracted to the public space and objects in the street. I believe that in addition to their function they have a potential story to tell to us. The street, understood as a public space, offers many suggestions, and it serves as a way to talk about our society and its changes because it's a commonplace lived by the whole community.
My projects are aimed at ordinary people, and for this reason, I believe that the public space is the place to express my messages. I don't think I could do the same through a canvas or a piece of marble. I feel the need to create an opportunity for communication in the street and make it accessible and visible to everyone.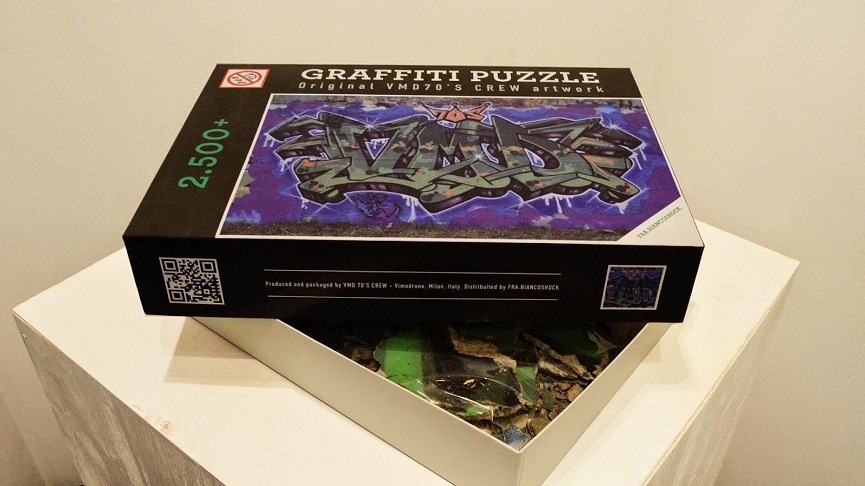 GP: In your projects, there are lots of references to the graffiti world, such as in the cases of Graffiti Puzzle, Come to See My Graffiti Collection, Do it here, which are some collaborations with the Italian historical graffiti crew VMD 70,'s as well as the very recent picture with the world famous photographer Martha Cooper. These works are usually a way to talk about the whole topic and the transformations that are affecting it, due to the institutionalization of the field and the openings that are happening towards the "official" contemporary art world. What do you think about this evolution? Could you tell us more about this important graffiti crew and your relationship with it?
FB: I have my own personal vision about the Graffiti world that can definitely seem too radical, and I have always stated that I was born from the world of graffiti. Graffiti introduced me to the concept of public space. It stimulated my creativity, so then, I understood that I needed to pursue a different type of artistic research.
But, I think to know a little 'that world', and I have been living it for many years. In my opinion, Graffiti is in the streets, not in art galleries. Graffiti is real action, adrenaline, genuine egocentrism and style. I prefer much more a dirty flop on a subway than a beautiful spray canvas exhibited in an important museum. It would be a bit like putting a poem in a book of mathematics.
The VMD 70's are the closest thing to my personal concept of Graffiti: silent guys who have showed us the real essence of Graffiti and helped the Italian graffiti scene to become one of the most important in Europe. I don't want to diminish other writers and other historical crews, but everyone has his own preferences. I vote for VMD 70's. It's a very large crew, composed of writers that combine action and quality.
I think those familiar with the history of Italian Graffiti should also know VMD guys. Their stuff was really hardcore.
My relationship with them? Some of them are friends, some best friends, and when I conceived my series of Graffiti, which I consider one of my most important projects, I immediately thought about asking them if they wanted to be featured. I'm very proud that they accepted it and that this artwork has been presented in my first solo exhibition.

GP: In a previous conversation that we had, you told me that you would divide your practice according to four main categories, which are: projects, series, improvisations and exercises. Could you explain these concepts here?
FB: The projects are the most experimental side of my artworks, and they need an explanation, a particular study on the topic to which they deal with, and often they are less immediate than my classical interventions. These are gathered on my website and they are always labeled by a description and a documentation about the tools and sources used.
A series is a group of artworks united by the same theme or by the same approach to the urban context in which they are realized. Many concepts that I want to express require more than a single intervention. This is the case in which I decide to make a series, in order to try to convey the message more completely.
The improvisations are interventions that arise spontaneously in the street from the intuitions that occur at a particular time. Certainly these interventions are less curated from the technical point of view, and it's often difficult to document them, but for me, they are a very important category, because in my opinion improvisation is one of the most important skills to grow for an artist.
The exercises are single interventions through a work / installation / video / performance in which I express a message, and I study the best location to make it happen. Individual ideas are designed to transmit a single message to a diverse audience.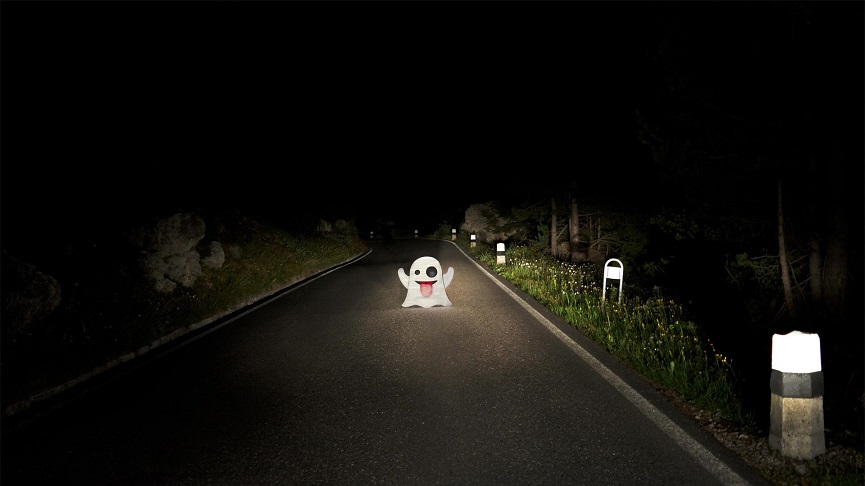 Urban Interventions and Collectors
GP: Your work has been shown in institutions, museums and urban art festivals. Is there a collector base born from these events? How is the approach of collectiors towards your practice?
It's a complicated theme. 99% of my artworks are urban interventions and live in the streets for a few hours before being removed. What remains of them are photos and videos, these are not easy to introduce into an art system.
For me (and for those who work in a similar way to me), it is not easy to approach the world of collectors, but for me, this is not a problem. If I wanted to use my art in order to sell, I would have probably been a painter. But I still believe in my art as public art, to communicate and incite people to find their way to share their thoughts.
In any case, I have a limited number of artworks that are closer to sculpture and some of them are in private collections abroad. In other cases, I have restricted the number of photographs that some foreign curators have the exclusive right to sell.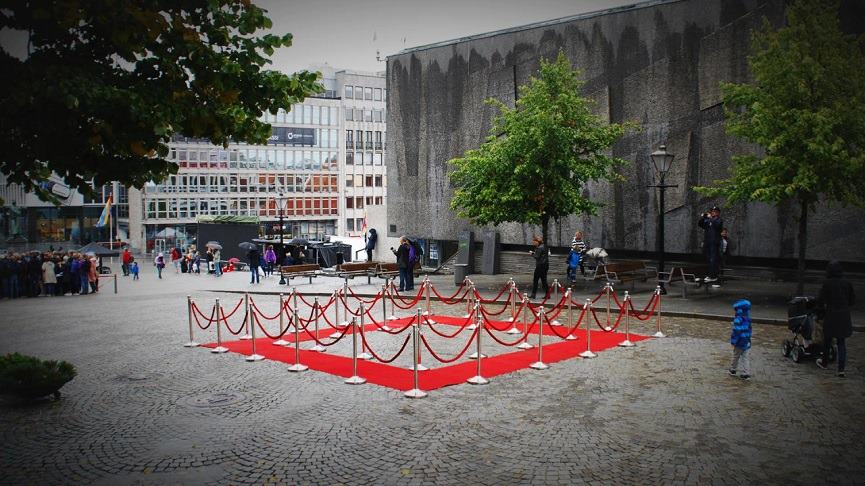 Irony and Activism
GP: Your artistic practice is always provided with an ironic flavour, which I think is just how you see it at first glance. There are many different layers, amongst which political activism is an important part. What do you think? Could you explain, for instance, the project on immigration installed in the whole city of Milan and the collaborative work entitled Family Portrait with John Fekner?
FB: I really like to use irony because I think that it's a very effective tool to attract the attention of the audience. But, I believe that the use of the irony alone is not enough, otherwise the risk is that the work could seem superficial and lighthearted.
The irony for me is a trick to convey a social message. It's just a first level to strike the attention.
Other projects belong more to a form of activism, far from the concept of street art.
The project on immigration is a minimal but direct action: by cutting and rotating the sign of right of way, you get the classical paper boat, precarious and unstable as the barges on which migrants arrive. The meaning of this particular signal is important. I believe that we must now give way to the severity of the condition of the people who come to our country in search of a refuge by refusing to give in to racism. Before giving way to endless debates about who are immigrants and their potential danger, we should just reach out to them a helping hand.
In Family Portrait, John Fekner and I have decided to use found objects and remnants of discarded personal clothing within an abandoned and unnamed location to stress the anonymity of those less fortunate who are on the run in many countries today. Our aim was "to create an empathetic reflection of the plight of the migrant; an intimate portrait of a family 'left hung out to dry' and on the run"; while at the same time, we wanted to create a reminder of the broader global issues of homelessness and poverty. The wheelchair is usually a symbol of immobility, of social rejection as well as ignorance. It is visually opposite to the horse toys on wheels, which evoke innocence and life at its beginnings, opening up to dreams which risk to remain unfulfilled and perhaps permanently abandoned. There are also intimate items that indicate the forced rush to leave everything behind in the face of a personal or collective catastrophe. The whole domestic scene of the laundry hanging outside to dry in a desperate wait and hope of return creates a powerful image in black and white, which recalls a forgotten memory and in a way as a kind of painful rediscovery of an old family portrait.
I admit that the collaboration with the legendary John Fekner is one of the most exciting moments of my artistic project. I have had the opportunity to exchange thoughts, ideas and considerations with one of the artists that I consider important for my cultural formation.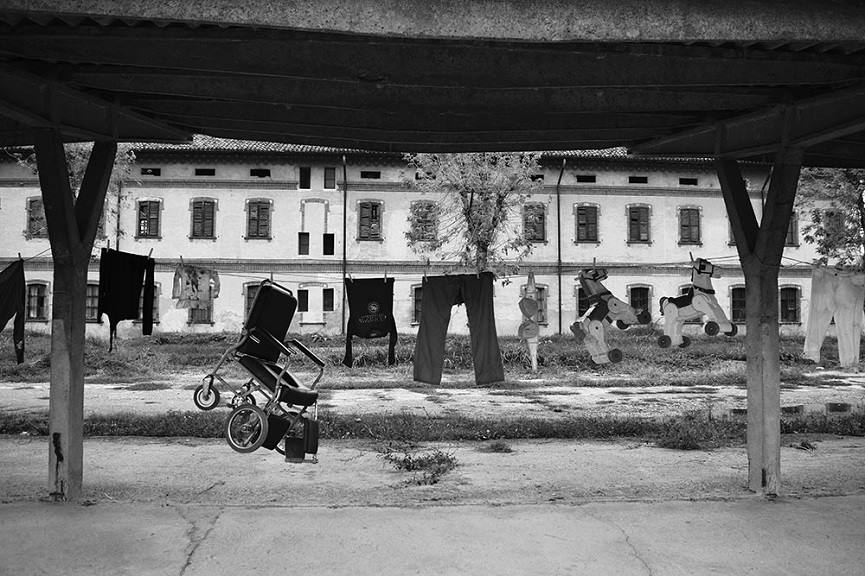 On Brandalism and COP21
GP: Recently you were part of the project conceived by Brandalism Collective about a critique of the COP21 conference on climate held in Paris. Could you tell us more about this work from an insider perspective?
FB: I followed Brandalism project from its beginnings, and I cannot deny that I have always admired that collective because in my opinion it reflects the true and pure meaning of Street Art as a form of activism that aims to show a critical point. We are in a time where Street Art is considered to be as what you see on buildings such as the creation of beautiful and commissioned paintings, as well as dozens of similar exhibitions. But for me, Street Art is Activism. It is the ability to perform an action, even illegal. It can startle people and communicate something.
Brandalism is this: I'm really proud to be a part of this project. Its' a memory that will stay with me forever. Brandalism proved that nothing is impossible. 600 posters to put on during a night in Paris in a very tense atmosphere with exasperated police controls. Nobody believed that the action would be successful.
About the theme of the action, the climate conference, I don't think there is much to add. Everyone of us has given his vision through his artwork. We are artists and activists. I believe that an artist today has the duty to talk about the problems of our contemporary society, and we have done this.
Featured image: Fra. Biancoshock in his studio. All images courtesy of Fra. Biancoshock