Based on the questioning of identity, Franca Ravet art explores different aspects of human and social plurality. Shaping her images by repetitions and recurrences adopted from a digital print, her work references a limitless proliferation of the being. Through a free and fair representation, she tirelessly searches for common codes embedded in each of us. While looking at one of her paintings, we can recognize a part of ourselves. Coming to Galerie Martine Ehmer, her latest body of work extends this mission by putting appearances in the focus. Simply entitled The Appearances, the exhibition will explore the way this notion innervates our existence in the rush of our modern lives overwhelmed by a variety of images. As Alberto Giacometti has put it, "everything is just appearance, isn't it?"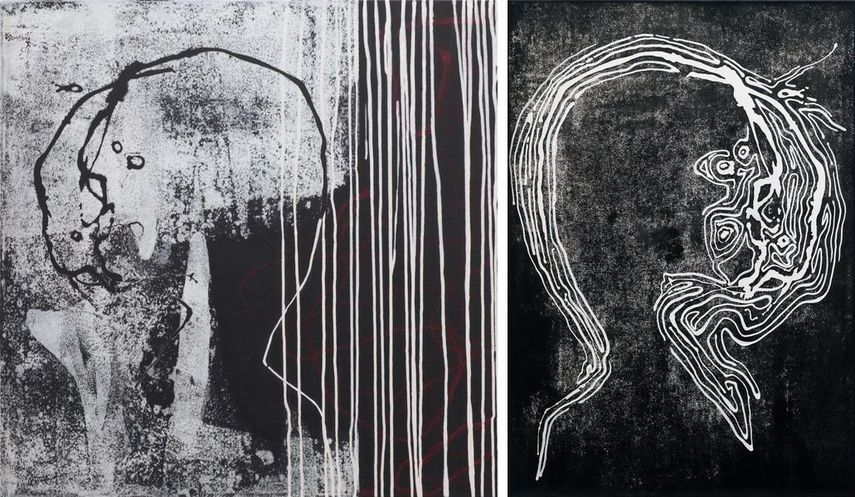 The Appearances
The notion of appearance can be explored in an endless variety of ways. Focusing on the duality that presents a sort of a split, Franca treats the real self and the appearance as aspects that emerged from the same being. Between these two opposing realities, there seems to be a crossing. The shadow and the light, the transparency and the opacity, the inside and the outside, the hollow and the full, the reality and the fantasy - all these opposite aspects are captured in the same work. Can one even spot a simulacrum providing a distorted copy of reality? Is the simulacrum an intrinsic part of ourselves? We all have hidden realities that serve to maintain the enigma of ourselves. The artist captures all these different shades of oneself in her canvases that are composed of black, white and gray tones that manage to come to life in front of our eyes.
The Human As the Main Concern
Throughout her practice, the main concern of Franca Ravet is the notion of a human. Completely committing herself to the subject, she sees the human being as something intensively present. Apart from oneself, the artist also addresses the other, focusing on the relationships we build with the world around us. Imbued with a certain rhythm and dynamic that draw the viewer in, her canvases depict the mixture of tension and energy oscillating between the desire to believe in humanity and be appalled by its ability to create the unspeakable. Yet, it seems that art cannot reflect the question of appearance fully. This notion must be explored in its relation to the essence of things and beings, just as the philosophy has been treating it ever since Plato.