In the 1930s, on the British art scene appeared an artist who became the changed the rules of the game by presenting simple, yet unsettling compositions in surreal and berserk manner. This was no other than Francis Bacon, a highly regarded painter best known for his triptychs featuring crucifixes, popes, and his close friends. Truth be told, he is perhaps among the best artists of the 20th century due to a high level of formal and conceptual innovation.
Namely, Bacon constructed signature aesthetic by positioning the sitter in isolated in geometrical cages set against a flattened and almost sterile surroundings. The painter achieved the dramatic effect and managed to portray human suffering and other emotional states with great vigor.
Alongside his indisputable talent and immense craftsmanship, Bacon's paintings reveal his quite an intellectual side. His entire practice was influenced by literature and an array of distinguished authors and writers. The Centre Pompidou will now host a major survey of Bacon's impressive oeuvre simply titled Francis Bacon: Books and Painting by putting, as the very title suggests, a special accent on his relation with literature with the selection of paintings dating from 1971 to his final works in 1992.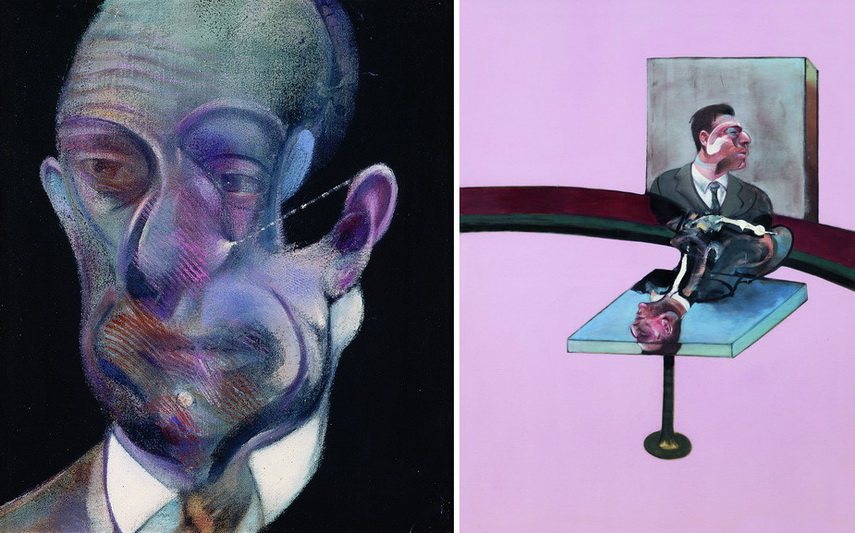 Bacon's Books
Under the curation of Didier Ottinger, the exhibition will explore the influence writers who disbelieved the societal norms and canons (influenced by any spiritual ideas) had on Bacon; Nietzsche, Bataille, Eliot, Conrad, Leiri perceived the world in the same realistic, amoral and atheist manner as the artist, and their ideas appealed to the painter. That kind of zeitgeist reasonably reflected on his painting.
The proof for the artist's electrifying relationship with literature was encountered in the inventory of his library (systematized by the Department of History of Art and Architecture at Trinity College Dublin) which lists more than a thousand titles. Although Francis Bacon rejected any narrative structure in his work, he stated once that literature represents a stronghold, a powerful source of inspiration.
For instance, Bacon explained to the renowned British curator and art critic David Sylvester his fascination with the works of Eliot or Aeschylus, by underlining he "knows it by heart"; according to the artist's words, he only read texts which evoked 'immediate images' for him. On the other hand, Bacon was a close friend with writer Michel Leiris, who worked as the French translator of the painter's interviews with David Sylvester, and was the only one with whom Bacon thought of producing an illustrated publication (Miroir de la Tauromachie published in 1990).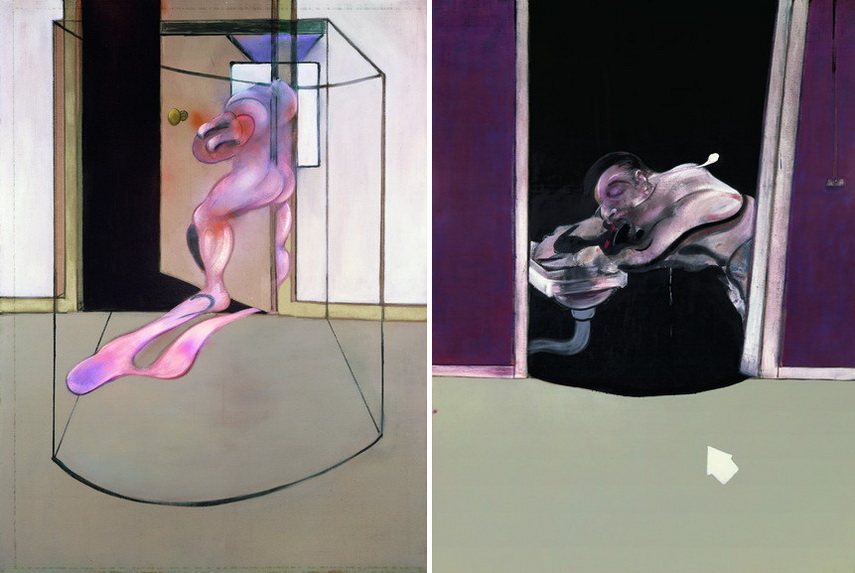 The Works
Six separate rooms will form the installment and each will focus on the reading of excerpts of texts taken from Francis Bacon's library (Mathieu Amalric, Jean-Marc Barr, Carlo Brandt, Valérie Dreville, Hippolyte Girardot, Dominique Reymond, and André Wilms read from Aeschylus, Nietzsche, Bataille, Leiris, Conrad, and Eliot); the painter saw these writers as a spiritual family, the people he can easily relate to.
Therefore, on display will be the around sixty paintings (including 12 triptychs) Bacon made during the last two decades of his life, loaned from major public and private collections. This part of his production is characterized by the intensification and simplification – the colors became deeper and were drawn from the yellow/pink/orange palette.
The audience will be able to see Three Studies for Figures at the Base of a Crucifixion made in 1944, which illustrate the impact of Aeschylus' tragedy on Bacon's work. Almost four decades later, the painter produced a triptych which was inspired by the Oresteia. Worth mentioning as well is the Triptych Inspired by T.S. Eliot's Poem Sweeney Agonistes, which testifies the inspiration drawn from T.S. Eliot poem The Waste Land.
It should be underlined that 1971 was a turning year for Bacon. Namely, just a few days before the opening of the iconic exhibition in Paris which made him internationally acclaimed, the painter's partner George Dyer tragically died, so his following period became rooted in guilt while the paintings featured the symbolic and mythological form of the Erinyes (the Furies of Greek mythology). During that time, Bacon made the famous Black' Triptychs in memory of his deceased partner  (In Memory of George Dyer, 1971, Triptych–August 1972 and Triptych, May–June 1973), which are going to be displayed in the exhibition.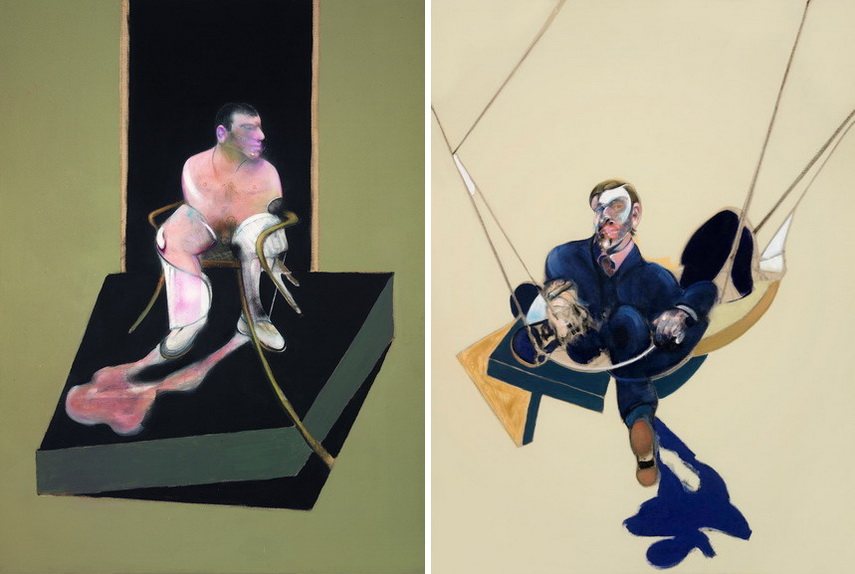 Bacon at The Centre Pompidou
The upcoming survey marks the crucial presentation of Bacon's work at the Centre Pompidou after little more than twenty years, and therefore it will be followed by extensive programming. The exciting seminar titled Bacon, a French Passion will reveal his influence on several distinct French authors such as Gilles Deleuze, Claude Simon, Hervé Guibert, and a few others, while the Extra! Festival devoted to non-book literature will organize additional readings, performances, projected, visual or digital literature around Bacon.
A fully illustrated catalog titled Bacon en toutes lettres with essays written by Chris Stephens, Miguel Egaña, Michael Peppiatt, and Catherine Howe, will accompany the upcoming exhibition.
Francis Bacon: Books and Painting will be on view at Centre Pompidou in Paris from 11 September 2019 until 20 January 2020.
Featured image: Francis Bacon - Triptych inspired by T. Eliot's poem, Sweeney Agonist, 1967. Oil and pastel on canvas, 198 x 147 cm. Hirshhorn Museum and Sculpture Garden - Smithsonian Institution, Washington © The Estate of Francis Bacon / All rights reserved / Adagp, Paris and DACS, London 2019. Photography by Cathy Carver. Hirshhorn Museum and Sculpture Garden, Smithsonian Institution. All images courtesy Centre Pompidou.