As one of the most celebrated architects today, Frank Gehry has influenced the world of arts and architecture immensely throughout his career spanning over six decades. Using imaginative designs and materials, his breathtaking buildings have reshaped the urban landscape forever. But, his interests exceed the architecture. Frank Gehry lamps will be on view at Gagosian Gallery Rome in the exhibition entitled Frank Gehry: Fish Lamps. These animated and dynamic light sculptures are the result of his interests in other artistic forms such as sculpture and furniture. As fish have become a recurrent motif throughout his practice, he revisited some of his old ideas to produce this latest body of work. Each of these Fish lamps is unique and made by hand.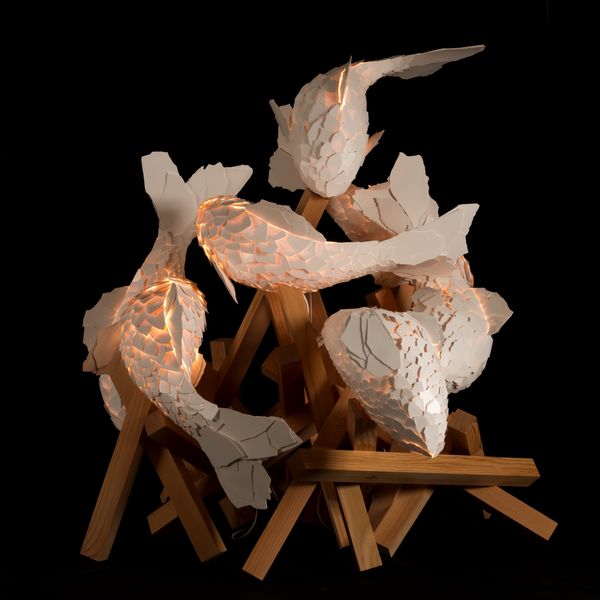 The Origins of a Fish Lamp
Always experimenting with various artistic forms in addition to his architectural projects, Gehry has produced many innovative forms out of unexpected materials. Some of his notable pieces are Easy Edges (1969-73) and Experimental Edges (1979-82), series of chairs and tables made from blocks of industrial corrugated cardboard, and the Knoll Furniture Series (1989-92) made out of bentwood. Working on a 1983 commission by the Formica Corporation, Gehry accidentally shattered a piece of then-new plastic  laminate ColorCore. Inspired by these shattered pieces that resembled fish scale, his Fish Lamp concept has evolved from there. Exhibited at the exhibition Frank Gehry: Unique Lamps in 1984, the first Fish Lamp was molded out of wire armatures and covered with shards of ColorCore individually glued to resemble a real fish.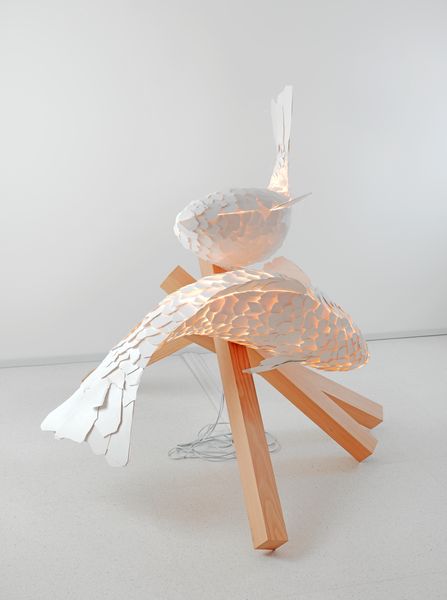 The Origins of a Fish Lamp
Gehry has revisited the old idea in 2012 and started working on a new series of Fish Lamps that will now be on view in Gagosian. These unique pieces differ in scale from life-size to much bigger ones. Gehry has gone back to ColorCore as his material of choice, but these works now show a bolder use of the material and experimentation with larger and rougher elements. Emitting a soft and warm light, these distinctive lamps are curving and flexing in attitudes of simulated motion. The gentle design inspired by the life that is characterized by the almost organic surface texture, combines material, form, and function in a vigorous way.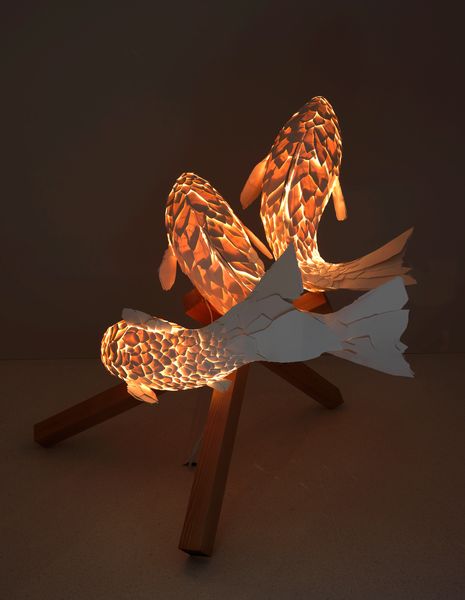 Frank Gehry Lamps at Gagosian Gallery Rome
Since 1984, Gehry's Gish Lamps have been exhibited in galleries all around the world. Attracted to this motif for its iconographical and natural attributes, Gehry has incorporated it in various other projects such as the Guggenheim Museum in Bilbao, Spain, the Jay Pritzker Pavilion in Chicago, the Marqués de Riscal Vineyard Hotel in Elciego, Spain as well as the Fish Sculpture at Vila Olímpica in Barcelona and Standing Glass Fish for the Minneapolis Sculpture Garden. The exhibition Frank Gehry: Fish Lamps will be on view at Gagosian Gallery Rome from July 18th until September 16th, 2016.
Featured images: Frank Gehry - Untitled (Hong Kong VIII), 2013. All images courtesy of Gagosian Gallery Rome.