When it comes to art exhibitions and events, Fort Lauderdale in Florida always seems to be behind and less "hip" than its neighbor to the South - Miami. After all, Miami is home to Art Basel/Miami Art Week, has PAMM and ICA, plus a handful of world-class foundations and private art collections (such as CIFO and The Margulies Collection) – all open for public view.
Without a doubt, this reputation is changing now that the NSU Museum is under the leadership of Bonnie Clearwater. Clearwater was the Executive Director and Chief Curator of the MOCA North Miami from 1997 until 2013 when she joined NSU Museum as its Director and Chief Curator.
Her masterful vision is clearly expressed in a trajectory of Frank Stella's legendary career. Frank Stella: Experiment and Change is on view until July 8, 2018.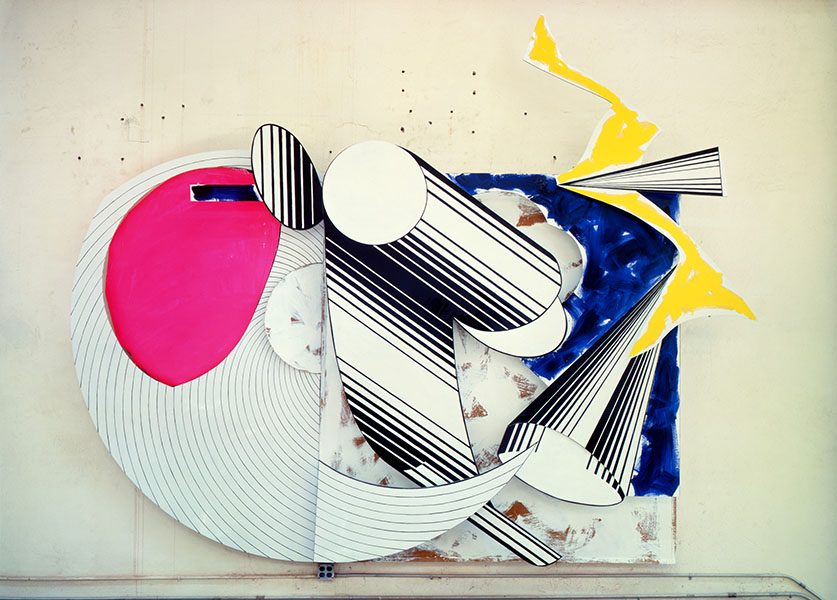 Frank Stella: A Retrospective
A touring exhibition titled Frank Stella: A Retrospective originated at The Whitney Museum of American Art in 2015 and was at the de Young Museum (San Francisco) until February 2017. The NSU Museum retrospective sets forth 60 years of Frank Stella's career from the 1950's through to the present, plus introduces works not included in past shows.
From the minimalist paintings of Stella's early career to the geometric paintings, shaped canvases and pictorial sculptures of the 60's to the 90's, be prepared to jump back and forth through Stella's world and experience an American living, art history lesson.
This exhibition also includes Stella's Working Archive of notes, sketches and maquettes. There's a continuous sense of work-in-progress with paintings that almost boast rather than hide, for example, a random blotch of paint, pencil lines or jagged edge.
Is Stella experimenting or revealing his fascination with painting as a two-dimensional plane where art, as he states is, "present and there"?
Learning art in a classroom or out of a book, can never replace the chance to walk beside Stella's Racetrack Series (120 x 600 x 4) or be confronted with massive sculptures that protrude from the wall.
Stand back, move in close, and peak around the edges to catch the shadow shapes. Take your time too, because this retrospective gives way to Stella's hyper-meticulous mind: always experimenting and changing.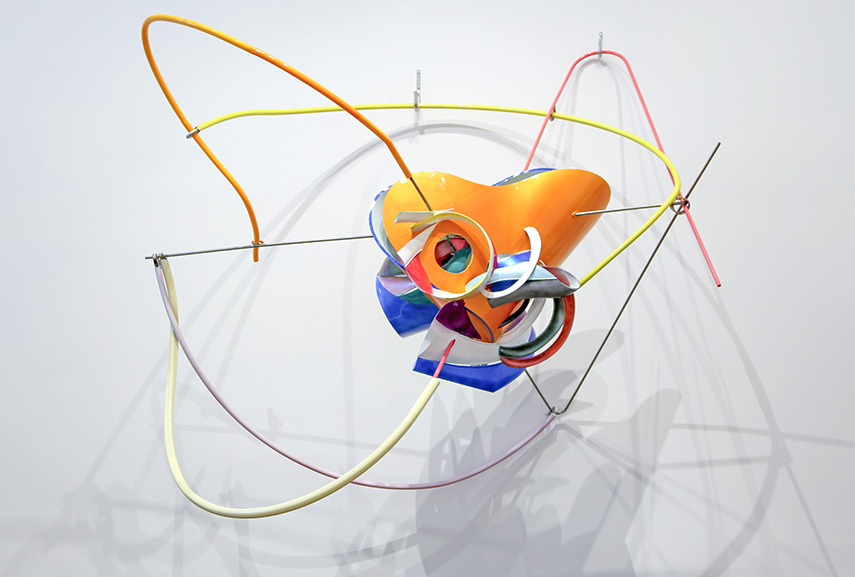 Experiment and Change at NSU Art Museum Fort Lauderdale
There is a symphonic cohesiveness between art and environment. NSU Museum's expansive space, curves, vaulted ceilings and natural light embrace Stella's art.
Whereas we can appreciate his early work within the context of their history, the art upstairs invites a different form of contemplation. The eye is continuously moving with no clear direction finding stops and new starts along the way.
The Hooloomooloo paintings appear to mimic the world we live in today – a bombardment of visual stimuli. Stella, however, offers calm between the twists and turns of abstraction, and refuge within the illusion
"Stella believes that art offers at least the illusion of ultimate freedom. In the context of the art world, he appears fearless and indifferent to risk. Even works that initially looked like misfits to him (and others) now appear revelatory in light of his most recent pursuits," explains Clearwater.
When planning a visit be sure to leave the camera and selfie stick at home. Call it "old school" or best school, NSU Museum prohibits photography. However, in an age where our experiences are documented rather than lived, visitors should not only respect the copyright laws, but embrace the break.
Turn off the phone: look, read and think. By doing so, we can share Stella's desire to run across the canvas and while immersing ourselves in his world, we can brighten our own.
FRANK STELLA: EXPERIMENT AND CHANGE in on view from November 12, 2017 until July 8, 2018 at NSU Art Museum, Fort Lauderdale, FL.
Featured image: Frank Stella - Fortin de las Flores, 1966. Synthetic polymer paint on canvas. NSU Art Museum Fort Lauderdale; gift of Mr. and Mrs. Thomas Scofield, 78.21 © 2017 Frank Stella / Artists Rights Society (ARS), New York . All images courtesy NSU Art Museum Fort Lauderdale.