After the successful debut of German graffiti writer MOST, Art is Just a Four Letter Word Gallery will be the proud host of the Velvet Hands exhibition. This solo show in September features the most recent body of work by Frau Isa, Austrian street artist, illustrator and painter. Perhaps you already know Frau Isa as one of the members of the Weird Crew. In case you are not familiar with her art than Soest, Germany is the right place to get to know the lovely characters of Fra Isa's magical world and fairytale-inspired paintings and illustration works.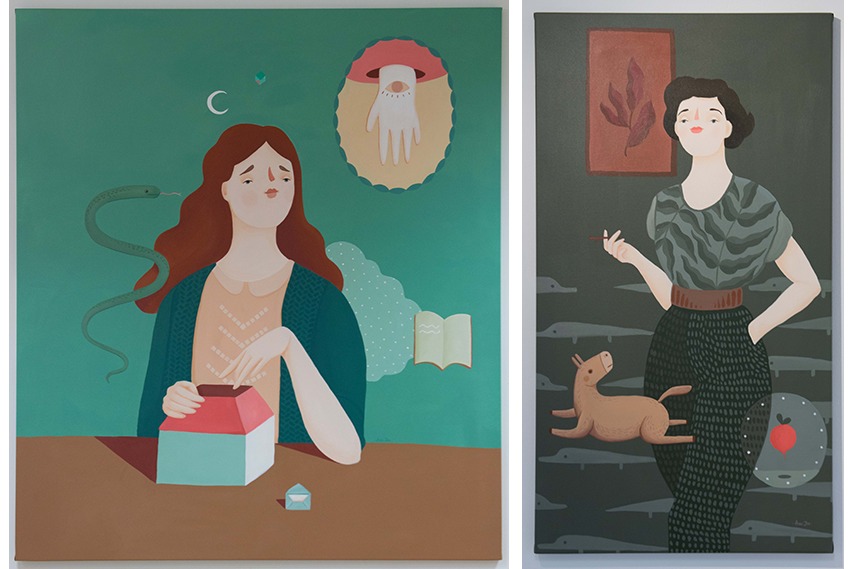 Frau Isa and the Weird Crew
Originally from Southern Austria, Frau Isa started her artistic career on the streets of her hometown as a teenager, before she moved to Vienna where she is currently based. Her connection to the street art and graffiti scene and orientation towards highly stylized character design is what brought her close to the fellow artists of similar background, gathered around the Weird crew. The Weird crew convenes of German and Austrian artists Cone, Herr von Bias, DXTR, Rookie, Look, Vidam, Nerd, QBRK and Nychos with whom Frau Isa often collaborates during live-paintings sessions, festivals, and exhibitions. This time Frau Isa is presenting her works in a solo show, and let's see what should we expect from this amazing artist.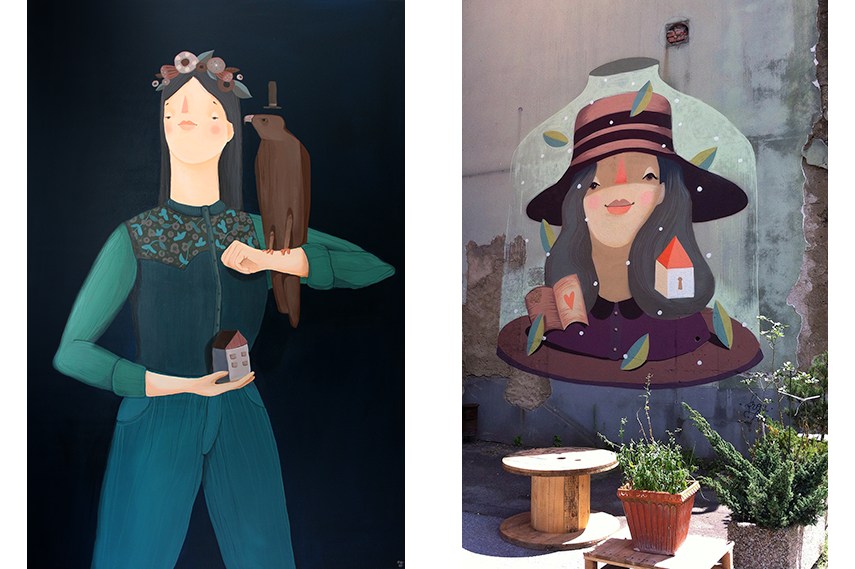 The Enchanted World of Frau Isa's Characters
Whether she is working on her public pieces of at home, Frau Isa's creative world is inhabited by colorful and elegant female characters. Often reminiscent of children book illustrations her subtle and fragile figures of women are situated in a peaceful ambiance, filled with nostalgia and imaginary past. Dressed in vintage garments, the cartoonish characters of Frau Isa are a true celebration of female sensuality and delicacy. The Velvet Hands thus function as a light motif of the exhibition and Isa's work in whole symbolizing gentle and soft approach to painting practice as well as the amiable characteristics of portrayed subjects.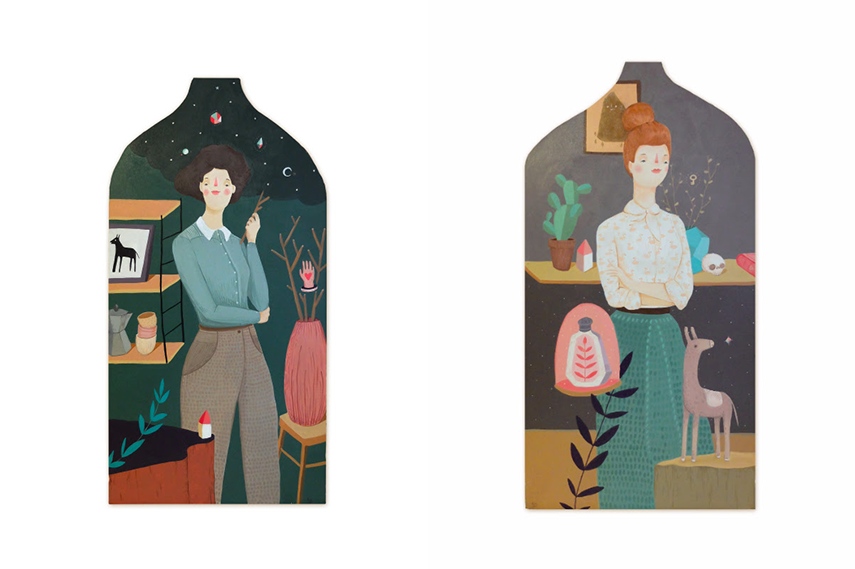 The Velvet Hands at Art Is Just a Four Letter Word Gallery
The Velvet Hands exhibition will feature a whole array of new and original artworks created by Frau Isa, focusing primarily on her paintings. The exhibition will take place at Partisan Creative Corner showroom of Art Is Just a Four Letter Word Gallery in Soest, Germany. The reception date is scheduled for September 4th from 7 pm, and after that the Velvet Hands will stay on view through 4th October 2015. So don't miss this whole month of those lovable characters presented to you by Frau Isa.
Follow the magical art creations worldwide with a FREE sign up for My Widewalls!
Featured images:
Frau Isa – Virtue, detail
Two murals by Frau Isa with Rookie and Cone for the Kosmopolite Art Tour in Belgium, 2015.
All images courtesy of Art Is Just a Four Letter Word Gallery
Velvet Hands Exhibition Price List