Because art has the power to give a voice to those who have something to say, it is often under extreme pressure by those who'd want to stifle that message. The latest report on artistic freedom released by Freemuse summarises censorship and threats to the arts and its practitioners in more than 70 countries over the course of 2015 and it is, to say the least, alarming. Compared to 2014, there was a whopping 98% increase in cases of attacks and violations of artists' rights, amounting to a total of 469 of them. The results are shocking: 20% increase in registered killings, attacks, abductions, imprisonments and threats, and a staggering 224% increase in acts of censorship, with countries like China and Russia leading the way. The report covers the fields of music, visual arts, cinema/films (fictional), theatre (including performance art), literature (fiction) and dance, and is based on verified cases only.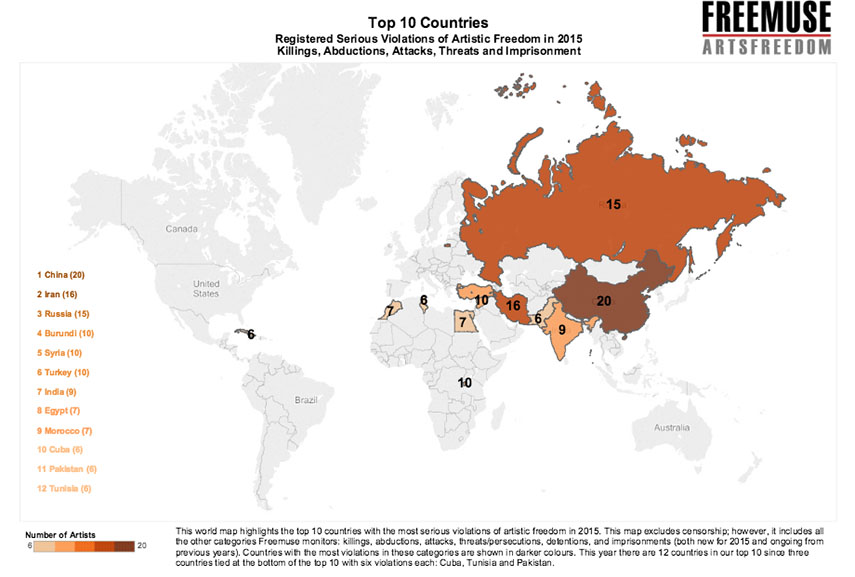 Art Under Threat - Censorship and Attacks on Artistic Freedom in 2015
The 46-page report published by Freemuse comes as a result of collaboration between the group and its partners. They managed to improve their documentation and strengthen their networks, as the violation of artistic freedom slowly gains larger attention. Sadly and nevertheless, the number of cases continues to grow as well. In China alone, there were 146 overall violations of rights and freedom of expression, with 126 cases in the censorship category. The country also greatly contributed to the fact that music is the most attacked form of art, with their "blacklist" of 120 songs in August 2015. Excluding censorship, China also has 20 registered serious violations, followed by Iran with 16, Russia with 15, and Burundi, Syria and Turkey with 10.
According to the report, 3 artists were killed, 15 were imprisoned, 31 are still serving time, 6 were abducted, 24 were physically attacked, 33 were threatened, 44 were persecuted, and 23 were being detailed in 2015. The motive behind these statistics appear to be political nationalism and religious orthodoxy, the biggest one being the Paris November attacks which left 89 killed. As a consequence, cultural institutions in the French capital saw a dramatic decrease in the number of visitors, with one museum eventually closing its doors for good.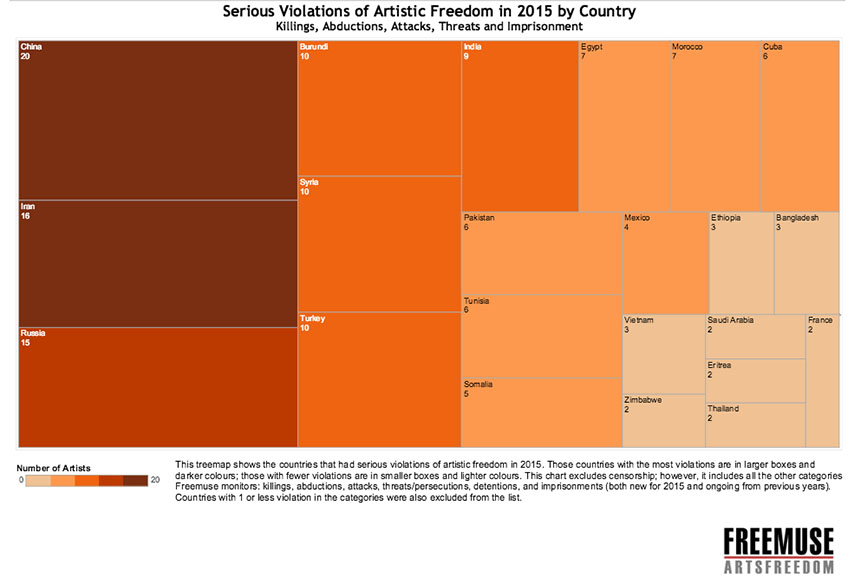 Notable Cases of Violations
One thing is clear: the cases of censorship and violations vary in examples. In Russia, many cultural institutions came under political pressure for being associated with the opposition. In Turkey, many cases are tied to President Erdogan directly, who has been going after artists ever since he became the head of state in 2014. Among the explanations for imprisonment and censorship, there are political, religious and cultural references, including the promotion of "Kurdish propaganda". The case of a young Kurdish singer, Nûdem Durak, who is serving a 10.5-year sentence, sparked massive demonstrations which led to further arrests, many of which were not registered. Egypt also continues to impose restrictions on art and literally works that address politics, sex and religion, but also censorship on art spaces, the latest case being the Townhouse Gallery in Cairo. The report also cites Tania Bruguera in custody, as the artist was not allowed to leave Cuba during the first six months of 2015, and the release of artist El Sexto from prison, where he spent 10 months.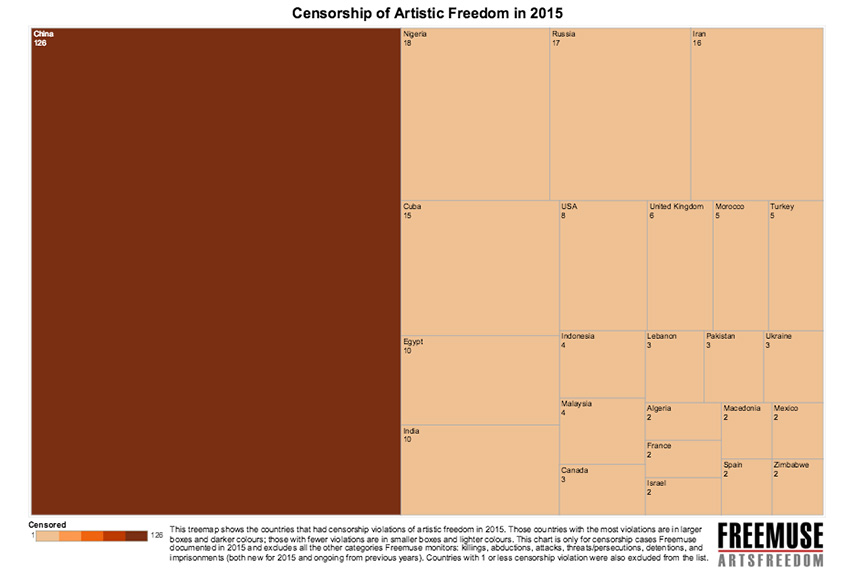 The Future
Having in mind that these numbers represent "a cautious estimate, since most violations go unreported", will we talk about this year in Freemuse's next report in an even worse context? Although the 30th session of the United Nations Human Rights Council held in September 2015 underlined their "commitment to protect and promote the right to freedom of expression, including artistic and creative expression", only 53 of the UN's 193 member states supported the statement. For now, 2016 doesn't show signs of progress when it comes to censorship and violations, but the hope remains that the end of year will see a much better outcome.
What are your thoughts? Share them on our Facebook page!
Full Freemuse Censorship in Arts 2015 Report
All images taken from the Freemuse report, and used for illustrative purposes only.