France and modern art seem to be almost synonymous with each other. This European nation propelled the majority of modern painterly concepts emerging from the Old Continent, turning Paris into an unofficial capital of avant-garde thoughts where all the modern artists strived to be. Nowadays, this country takes great pride for its role in this pivotal moment of art history and its relationship with modern art is understandably in good shape. However, when it comes to the French and their relationship with contemporary art, things seem to be a lot less straightforward. According to a survey commissioned by the Paris-based online art gallery Artistics and performed by research company OpinionWay, people in France seem to have a somewhat obscure perception of contemporary art as it simultaneously intrigues and baffles them.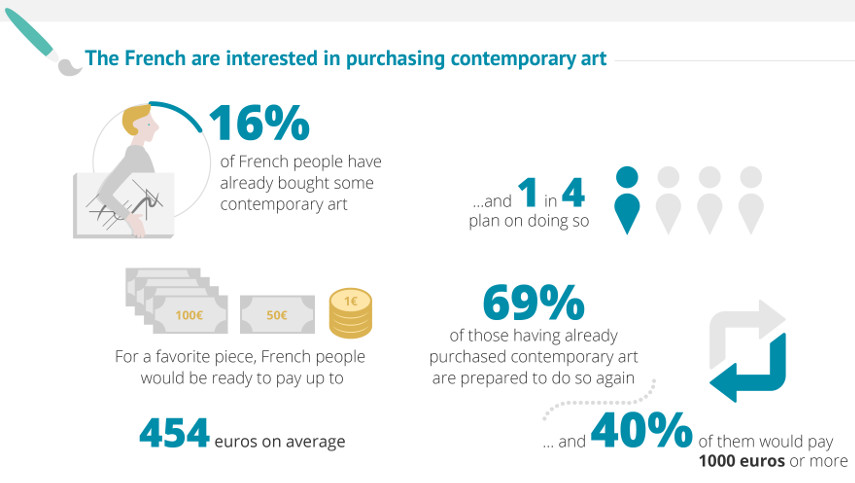 The French and Their Perception of Contemporary Art
Although the French nation does have a somewhat vague comprehension of contemporary art, its people sure show a great deal of curiosity to this cultural phenomenon. Nearly one in two of them (around 49%, to be exact) has been to a place or an event somehow pertaining to contemporary art, be it temporary exhibits (28%), museums (25%) or artist's studio visits (21%). Logically, the survey showed that the frequency of visits is perceived to be a social marker; the majority of the individuals who claim to have visited contemporary art events are of the higher socio-economic status. Since one in two individuals surveyed told they were active in the contemporary art world, Artistics and OpinionWay were given the green light to see how these people perceived contemporary art. And this is where the vague part comes into play.
When asked, rather spontaneously, what contemporary art meant to them, the French had interesting answers. Around 10% of them spoke of modernity, 9% spoke about paintings or the process of painting, around 4% said sculpture and the same number of people used words like conceptual (4%) or innovative/original (4%). Interestingly, very few names came out and the most used one was that of Pablo Picasso (around 3%), a legendary Spaniard whose painterly body of work can not really be placed in the contemporary art category.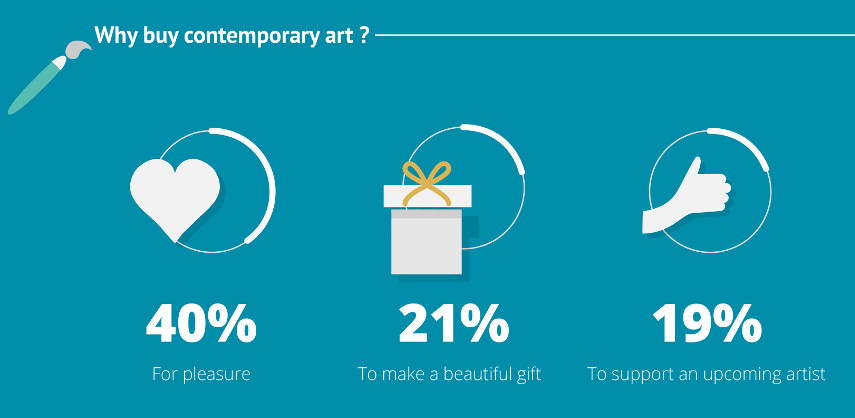 Possession of Such Artworks
The survey also showed that one in four of the French is tempted to actually purchase a piece of contemporary art. Furthermore, around 16% of individuals surveyed said that they already own at least one artwork of this kind - these were bought directly from the artist (7%), from an art gallery (4%), at a flea market or a garage sale (4%) or online (4%). Yet again, the individuals who spoke about purchasing contemporary art could be classified as high-income earners. The individuals who told they are considering buying an artwork could spend on average up to 995€ - for those who answered they already owned a piece of their own, this number was 1231€. The average price all the interviewed French people would be ready to pay is 454€. The study also showed that those who buy art are likely to purchase another piece down the line, as 69% of these people are prepared to buy again.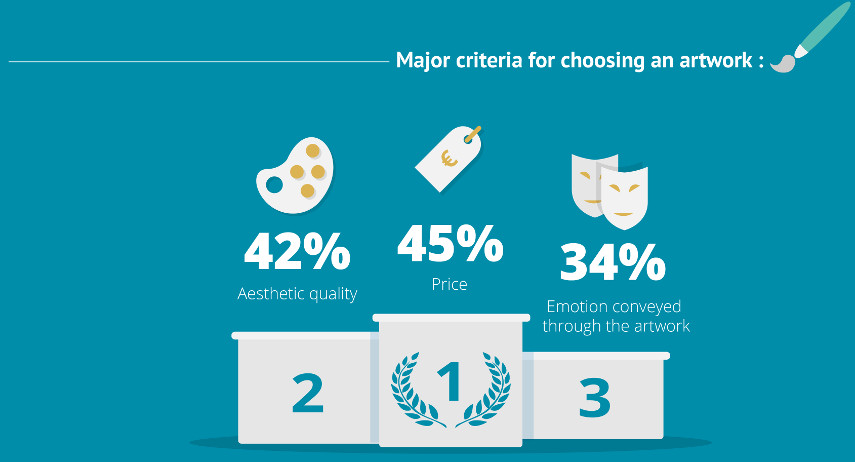 What Attracts People to Buy Contemporary Art
The main reason why the French say they either buy or plan to buy contemporary artwork is the pleasure of owning it. This was the answer for about 40% of surveyed individuals. Surprisingly, only 15% of the French would buy art as an investment - in fact, encouraging the artist (19%) turned out to be more important than making a good investment (8%). About 21% perceived the artwork as a suitable gift.
Another aspect of purchasing contemporary artwork Artistics placed under the microscope is the criteria considered when buying an artwork. The main criteria mentioned by the interviewed French was the price of the piece (45%), which indicates that they associate contemporary art with elevated prices and high value. A close second with a result of 42%, aesthetics seem to be slightly less important when deciding if they should purchase an artwork or not. With a percentage of 34, the actual emotional reaction caused by the artwork was the number three criteria people of France take into account.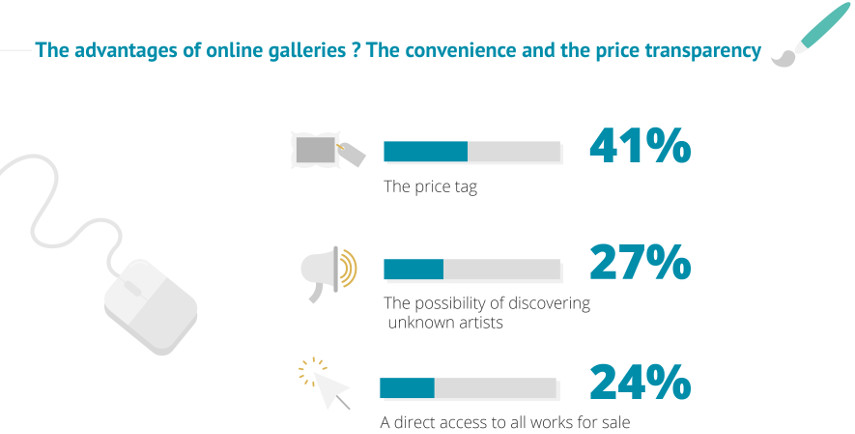 Perception of Online Acquisitions
The benefits of diving into the online art market seem to be growing on a regular basis and the French are quite aware of this trend. Less and less people are intimidated by the idea of purchasing art this way, so nearly one in ten of the French (15% of them fall into the 18-24 years old range) say they are ready to buy a contemporary artwork on the Internet. Furthermore, about 4% of the interviewed people have already bought an artwork online. When it comes to those who already own an artwork bought by some other manner, about 20% of them are willing to shop online. Obviously, age plays a role in finding this method of purchasing attractive, which is somewhat logical as older individuals are usually less fond of venturing into unexplored options. The main concerns with finding art on the Internet are the inability to actually see the piece first-hand (43%) and the lack of confidence in the websites selling art (25%).
There were no surprises when the individuals were asked why they find buying art via the Internet to be an appealing idea. For the French, the advantages of buying art online are very clear - the number one reason was the display of prices (41%), followed by 24/7 accessibility (33%) and at number three was the direct access to all the works for sale (24%). The possibility of discovering unknown artists was also an important factor. According to Sonia Rameau, founder of the online gallery Artistics, these results confirm the growth potential of the online art market. She is a firm believer that the price transparency and confidence that will rise over time will prove to be pivotal in online art market's rise to power. Another encouraging information for the online market is that the young, who will be the collectors of tomorrow, are very favorable towards buying art via the Internet.
Featured images: Infographics Artistics, a study of the relationship between the French and contemporary art. All images courtesy of Artistics.