My paintings carry with them the message of pain.
Short and strikingly frank, no other Frida Kahlo quote describes her Self-Portrait with Thorn Necklace and Hummingbird more succinctly than this one.
In Autorretrato con Collar de Espinas, Kahlo painted a self-portrait following her first divorce from Diego Rivera and the end of her affair with photographer Nickolas Muray.
Like many other of her paintings, this artwork is a lot akin to a painted assortment of symbols. Every element in this painting gives specific clues to Kahlo's mental state, perhaps none more than her still, direct, emotionless gaze that seems to express the immediacy of her pain.
We're going to take a closer look at Self-Portrait with Thorn Necklace and Hummingbird, analyze its meaning and visuals, as well as find out what inspired the painter to create it in the first place.
The Real Frida Kahlo - Video
Unlayering Frida Kahlo's Art
From the moment she began painting while still bedridden after a bus accident that left her seriously disabled, Frida Kahlo was focusing on portraying her inner struggles. This was initially pointed towards her medical issues, but was soon substituted by infertility and her troubled marriage with Diego Rivera.
Creating paintings, especially self-portraits, was a very therapeutic experience for her - it allowed the creation of a separate Frida on which to project her anguish and pain.
Another constant source of inspiration came from the fact the artist was a big supporter of the Mexican Revolution, so much so that she attempted to change her birthdate to correspond with the beginning of the Revolution in 1910.
Simultaneously to learning about the revolution, the so-called "cult of Mexican femininity"[1] gained popularity, which Jolie Olcott describes as the following:
... selflessness, martyrdom, self-sacrifice, an erasure of self and the negation of one's outward existence.
In rejection of the limited conception of femininity in other countries, Kahlo fashioned herself as a Mexican counterpart to the flappers of the United States and Europe in the 1920s. Instead of doing what international feminism dictated, she donned the identity of the Tehuana woman - the Tehuana had a great deal of equality with their male Zapotec counterparts and represented strength, sensuality and exoticism.
Frida wanted to implement all three qualities in both her life and art.
Frida Kahlo Self Portraits - Morphed 20th Century
Frida Kahlo and the Magic of Her Self-Portraits
Probably the most iconic of all Hispanic artists, Frida Kahlo's self-portraits had a hard task of telling her life's story of isolation and pain. Out of 143 paintings she created, 55 were self-portraits[2] and harsh life experiences were a common theme in every single one of them.
In a lot of her self-portraits, Frida depicted her physical and emotional pain, more often than not somehow connected to her tempestuous relationship with a fellow artist and husband Diego Rivera.
Kahlo herself was very aware of the difficult role these images had in her art:
I paint self-portraits because I am so often alone, because I am the person I know best.
The autobiographical details of her life found in these self-portraits, as well as her characteristic brows, elaborate hair and vibrant Mexican clothing, made Frida a popular figure both in Mexico and beyond her nation's borders, fame that her art enjoys to this day.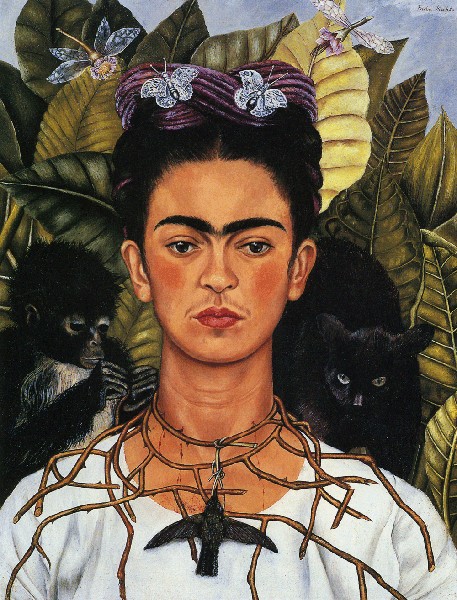 The Analysis of the Self-Portrait with Thorn Necklace and Hummingbird
This rather small painting (approximately 24 x 18 inches, 60 x 46 cm) was painted in the year of 1940. It shows Kahlo in a frontal position as she's directly confronting the viewer's gaze from the canvas. Her bold eyebrows hold the emphasis on her face as a thorn necklace strangles her throat, trailing down her chest like the roots of a tree as it draws blood from her neck. This element of the piece probably signifies her self-representation as a Christian martyr and the enduring pain experienced following her failed marriage.
In Self-Portrait with Thorn Necklace and Hummingbird, Frida is surrounded by insects and animals, and is found in what can only be described as a lush, but suffocatingly dense jungle. A monkey sits behind her right shoulder, its eyes directed on its hands as it's carelessly tugging at the thorn necklace and causing his host to bleed. A tiny black hummingbird with its wings outstretched dangles like a piece of jewelry from the painter's throat. Above her head, two dragonflies hover in mid-air, just above the two butterfly clips nested in the elaborate hairstyle that crowns Kahlo's head. Finally, a black cat with strikingly blue eyes peers over her the artist's shoulder, looking menacingly at the space between Kahlo and the viewer.
Kahlo's identification with indigenous Mexican culture greatly affected the aesthetic of the Self-Portrait with Thorn Necklace and Hummingbird. By relying on stalwart iconography from indigenous Mexican culture, Kahlo establishes herself in a tradition of rebellion against colonial forces - although a lesser factor in the painting when compared to the overall theme of suffering, this smaller topic should certainly not be overlooked.
A World of Interest: Frida Kahlo Art
The Symbolism of the Hummingbird Portrait Painting
The natural landscape of the Self-Portrait with Thorn Necklace and Hummingbird painting, which would normally be associated with fertility, contrasts with the deathly imagery in the foreground and has a vastly different symbolism than what's traditionally associated with such depictions of nature. After all, Kahlo commonly employed flora and fauna in the background of her images in order to create a tight, claustrophobic space[3]. She used the symbolic element of nature to simultaneously compare and contrast the link between female fertility with the barren and deathly imagery of the foreground.
The dead hummingbird hanging from Kahlo's neck is considered to be a symbol of good luck charm in Mexican folklore, often associated with falling in love. An alternate interpretation, however, states that the hummingbird pendant is a symbol of Huitzilopochtli, the Aztec god of war, but the romantic mood of the painter at the time of the piece's creation suggests that the small bird being a symbol of love makes a lot more sense.
Now onto the upper depictions of this Frida Kahlo self-portrait: the black panther can be seen as symbolic of the looming bad luck and death, while the monkey is a symbol of somewhat unintentional evil. Rivera was the one who gave Kahlo a spider monkey as a gift, thus suggesting that it could be a symbol of Rivera, especially since he inflicts pain upon Kahlo by tugging the thorn necklace hard enough to make her bleed. It should be noted that making Frida bleed does not seem to be monkey's primary concern - he appears to be concerned with playing with branches, uninterested in the consequences of his actions.
The necklet itself could be viewed as a religious symbol. This theory states that the necklace alludes to Christ's crown of thorns, thus allowing Kahlo to liken herself to a Christian martyr and represent the pain and anguish she felt after her failed romantic relationships. In line with this interpretation, the butterflies and dragonflies could very well symbolize her resurrection and a bright sign of hope. This would align with the idea that the dead hummingbird is a sign Frida is hoping for better luck despite the painful divorce. With all this said, Frida Kahlo's Self-Portrait with Thorn Necklace and Hummingbird remains one of the most striking portraits of an artist in distress and hope for brighter future.
Editors' Tip: The Diary of Frida Kahlo: An Intimate Self-Portrait
The intimate life of artist Frida Kahlo is wonderfully revealed in the illustrated journal she kept during her last 10 years. This passionate and at times surprising record contains the artist's thoughts, poems, and dreams; many reflecting her stormy relationship with her husband, artist Diego Rivera, along with 70 mesmerizing watercolor illustrations. The text entries in brightly colored inks make the journal as captivating to look at as it is to read.
The Ultimate Painterly Symbol of Suffering
Although she is now considered to be a female "poster child" of Surrealism, Frida never intended to produce surrealistic artworks; she simply portrayed her own tragic life, sharing her deepest expressions, emotions and desires with anyone willing to listen.
Ultimately, her art became the sole reason for her to live, especially as her physical state drastically deteriorated in later years and saw her become completely dependent on others.
On this long and painful journey, many of Kahlo's paintings were a way of reclaiming her body from medical issues and gender conformity. Self-Portrait with Thorn Necklace and Hummingbird, however, was a bittersweet celebration of hope. It presents the viewer with the painter in her most vulnerable state, devastated by all the difficulties life has thrown at her feet. Yet, she does not dwindle nor does not despair - instead, she stays true to herself and does not show a single sign of giving up on the fight for a better tomorrow.
A difficult life lesson all of us would do well to heed.
References:
FP Staff, Jul 06, 2017, Frida Kahlo, femininity and feminism: Why the painter is an icon for so many women, First Post [May 16, 2018]
Best, T., July 13, 2016, Frida Kahlo, Whose Self-Portrait Spoke to the Soul, New York Times [May 16, 2018]
Lambert, M., Frida Kahlo - Self Portrait, Inspiration Trust [May 16, 2018]
Featured image: Frida Kahlo - Self-Portrait with Thorn Necklace and Hummingbird/Autorretrato con collar de espinas y colibrí, 1940, detail. 24-1/2 x 19 inches. (Nickolas Muray Collection, Harry Ransom Humanities Research Center, The University of Texas at Austin) © 2007 Banco de México Diego Rivera & Frida Kahlo Museums Trust. Av. Cinco de Mayo No. 2, Col. Centro, Del. Cuauhtémoc, 06059, México D.F., by libby rosof via flickr.com. All images used for illustrative purposes only.