Frieze Art Fair brought together art collectors, creatives and curators from all over the world for the fourteenth time in London. As usual, Frieze London coincided with Frieze Masters (a yearly display of significant artworks from our past) and Frieze Sculpture Park, an exhibition placed outdoors and made accessible to the public. Due to its outstanding reputation, we are inclined to expect only the best at this fair, as much as a fair can be relevant to the state of the art as such. Accordingly, Frieze invited, once again, some of the most famous galleries in the world to take part in the show, including Gagosian Gallery, Hauser & Wirth, White Cube, Victoria Miro, Pace Gallery and Spruth Magers, among many others. Still, the peaks of its versatile program, and admittedly what most of us come for, can usually be found in other parts of the show - Frieze projects, curated sections and live events. This year was no exception. Frieze offered a series of talks and discussions to accompany the show as well, and there was not much time left for doing anything else during the Freeze week in London - just going through the main section once could take an entire day.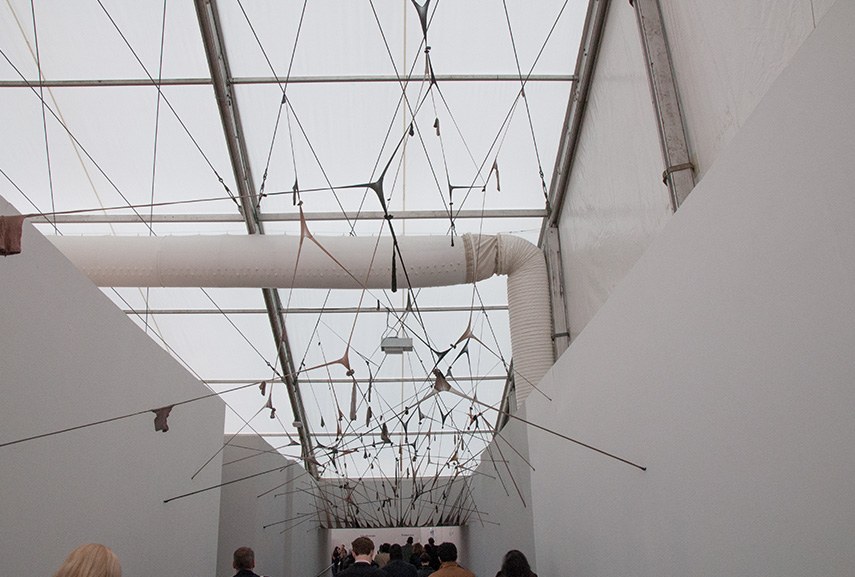 Digesting the Main Section at Frieze London
With so many things to see, it is hard to pick a standing point. Furthermore, even though everything is literally in the spotlight, it is quite easy to miss something extraordinary and to just pass by an artwork that would attract much more attention in a different context (for example, I needed to go twice through Spruth Magers' booth in order to notice Cindy Sherman's new works - that's how drained you become after three hours of Frieze). While most of the galleries make their selection with regards to the fair, some have gone off the beaten path to explore other means of representation. Such tendencies can be found in Hauser & Wirth's booth, which was transformed into a messy-slash-creative space loaded with all sorts of objects, deliberately reminiscent of an artist's studio. It is not clear if any of this is for sale (or maybe all of it was). Gagosian had an approach that was similar in intent, but nonetheless executed in a very different manner. Since they chose to represent a single artist, they turned their booth into a mini version of any typical Gagosian gallery, with a body guard in tow. Edmund de Waal's sculptural works made the space all the more sterile. Then there was Pilar Corrias Gallery with a bunch of orange balloons in form of a speech bubble - a new type of inflatable object produced by Philippe Parreno that was really hard to miss, one that accompanies his current exhibition at Tate Modern's Turbine Hall. Another thing that was hard to miss was a visually arresting installation composed of all sorts of pink stuff and arranged on a table by Portia Munson. It drew much attention to P.P.O.W. from New York, and as you can imagine, it was possibly one of the most "instagrammed" things at Frieze.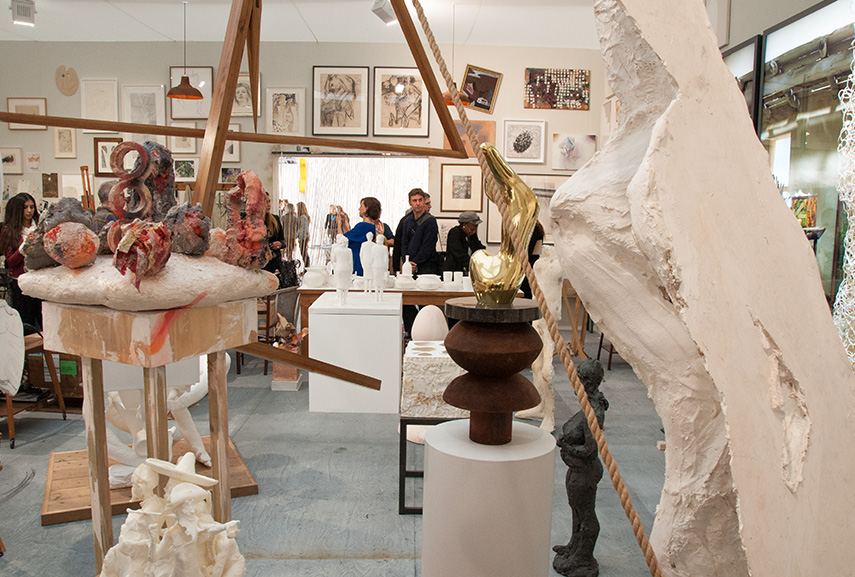 Frieze Focus - A Ghostly Presence of de Chirico
Frieze's Focus section is definitely something we can be thankful for. It gave us all a chance to come across the international galleries that are currently emerging, and some of them offered a truly fresh outlook on art. To be honest, while it was great to see another one of Hirst's animals trapped inside a box and Koons's wood-goes-plastic ballerinas, getting to see what's truly new is what stole the show. There was something odd in the way most of these galleries shared a certain thematic concern. It is clear that sculpture is back - big time, even with the whole Oculus Rift thing in the picture (featured in Seventeen's booth). There is something intimate, nostalgic and inviting in all these new sculptural pieces. A new kind of metaphysical art, maybe, as seen in what seems to be a cluster of uncanny ruins at the Gregor Steiger. Or in an assemblage of pure white forms presented by Exile (just slightly suggestive of what Louise Nevelson used to make). Or rather, in the fact that most of the videos were played on TVs rather than projected on walls.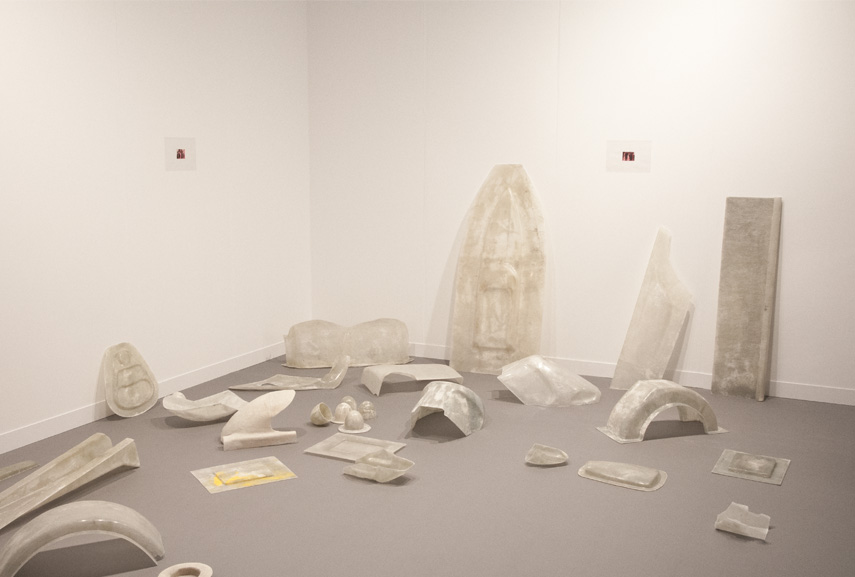 Nostalgia for the Nineties
The resurgence of "tangible" art is not the only advocate of nostalgia at Frieze. A curated section dedicated to the nineties was probably one of the longest anticipated parts of the fair. Geneva-based curator Nicolas Trembley had a task to select the significant exhibitions from this period and to re-stage them for this occasion. To all of us who were babies in the nineties, this was the best way to see some truly iconic works, such as Ray's a Laugh series of photographs by Richard Billingham, or three Characters To Be Reactivated by Pierre Joseph, performed by three people at Air de Paris' booth.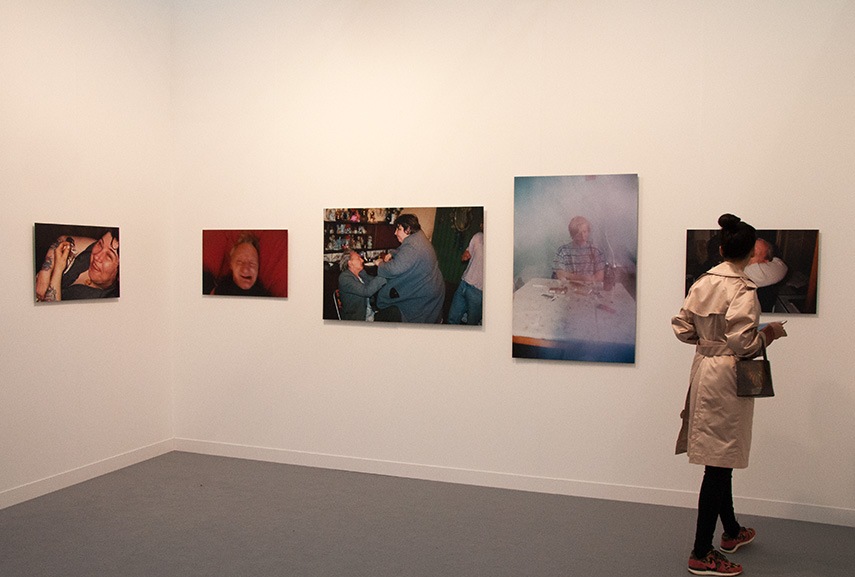 Frieze Projects and Artist Award
Finally, this year's projects were staged quite strategically, in the areas that do not intersect with the rest of the fair, so as to be truly considered as separate exhibitions. This is not the case only with Yuri Pattison, whose piece was, on the contrary, very much related to the place and its visitors (but still evidently alienated from the common art fair atmosphere). A special kind of a relationship between sculpture and video work is at play here, as is with most of his art. The unusual assemblage is composed of TV screens, displaying, along with other site-specific footage, a live-stream of ourselves in front of the installation (also, I couldn't help but notice the emergence of vertical video format, as predicted by Francesco Urbano Ragazzi). Pattison was this year's winner of Frieze Artist Award, compelling the audience with more than this one piece (another one was on view at mother's tankstation limited).
Wrapped, With a Bow
A beautiful, symbolic image awaits as we exit the building. The fair we just saw, wrapped in a white sheet, designed as a piece of classical architecture (with a frieze). Surrounded by flamboyant nature and trees, leaves falling and all the bright lights glowing - everything around us presents itself as a lovely, desirable commodity.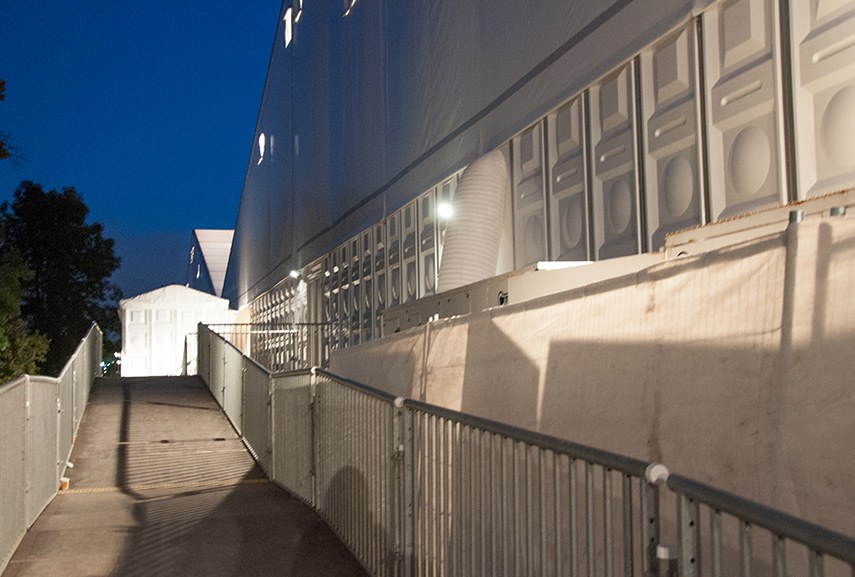 Featured images: Cindy Sherman - Untitled, 2016, at Spruth Magers booth; Various Small Fires (VSF) in Focus section; Frieze Live: Martha Araujo, Galeria Jaqueline Martins/PM8; Konig Gallery, sculpture by Alicja Kwade in the foreground. All images (c) Widewalls.