Just two days after Art Basel announced it would reduce the participation costs for small and mid-sized galleries, another major art player is following its footsteps. The organizers of Frieze Art Fair have announced they would establish a tiered pricing model for its booths at their inaugural event in Los Angeles this February. In this way, larger galleries would subsidize smaller businesses, helping ease the burden.
As Victoria Siddall, the director of the Frieze fairs, explains, Los Angeles seemed as the logical place to try this fresh approach, although there are plans to experiment with similar models in London and New York.
With major players like Art Basel and Frieze leading the way, this could be a significant momentum in favor of smaller and mid-tier galleries.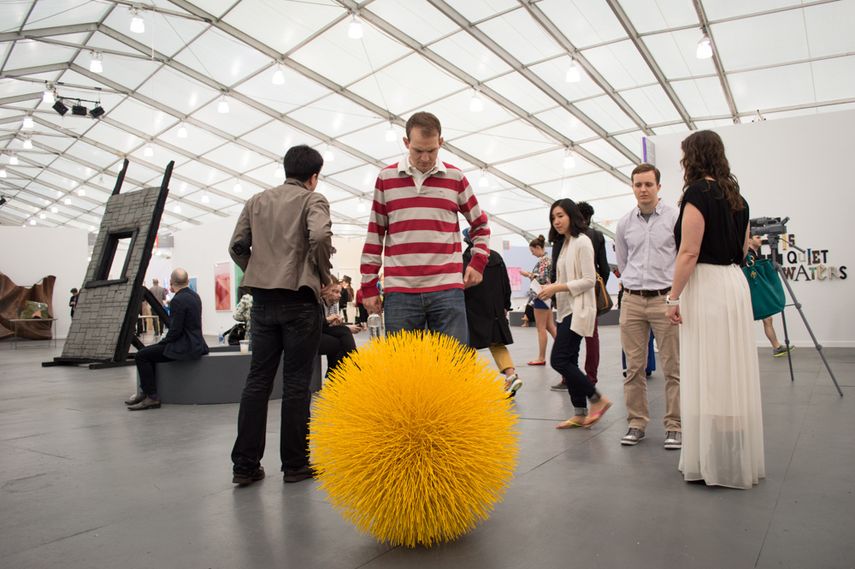 The Pricing
While galleries have been paying a flat fee in the main galleries section at Frieze London and New York, the pricing at Los Angeles would vary according to the booth size.
The smallest stand measuring 215 sq.ft (20 sq.m) will cost $38.50 per sq.ft; the stand measuring 323-431 sq.ft (30-40 sq.m) will cost $68.50 per sq.ft; the stand measuring 538-646 sq.ft (50-60 sq.m) will cost $78.50 per sq.ft; and the stand measuring 753-861 sq.ft (70-80 sq.m) will cost $88.50 per sq.ft. Flooring, wall fixtures and wifi are included in the price.
Siddall explains this change is not only about galleries which are new in business, but it also takes into concern their geography and the type of artists they represent.
Frieze New York 2017
A Game Changer
Frieze does have a history of subsidizing stands for young galleries, but this latest move would definitely be a game changer.
Although a part of an ongoing discussion, the issue has been made public at the New York Times art conference in Berlin in April when David Zwirner suggested that top galleries like his should pay a "Robin Hood" tax. This subsequently encouraged further talks about the costs of participating in art fairs for small and mid-sized galleries. The fact that major art dealers like Zwirner would be open to this idea, contributed to it becoming the reality.
Art Basel's decision has already been welcomed by the big galleries, and the latest move by Frieze presents another important step in the right direction. However, the long-term effects of this strategy remain to be seen.
Featured image: Frieze New York 2017, via j-No.