On the day of Frieze New York's public opening, a monsoon turned New York City into a gridlocked, rainy hellhole. Times Square shut down. Upper East Side society ladies without umbrellas began to melt on the sidewalk. But Mother Nature be damned, art lovers still found their way to Frieze's big white tent located on the remote Randall's Island.
Thanks to a variety of initiatives and projects, this year's edition of Frieze feels more welcoming and international than year's past. Containing over 200 galleries from 30 countries, there seems to be a concerted effort to showcase non-Western artists from locations such as Latin America, especially from Brazil. There is even a wonderful, if surprising, inclusion of Papuan "spirit boards" thanks to the inclusion of Galerie Meyer Oceanic Art booth.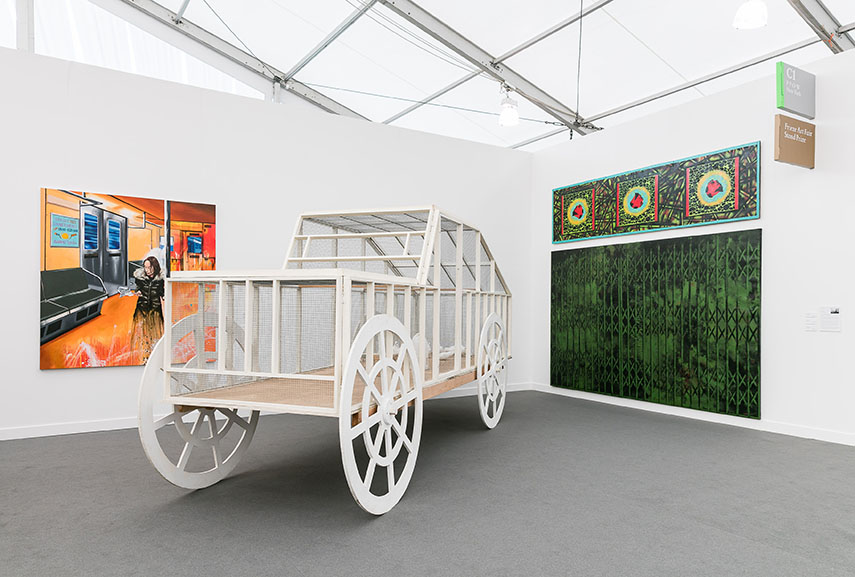 Tackling Donald Trump At Frieze New York 2017
Although enthusiastically international, many of the galleries on view still find the time and space to cast an unscrupulous glare toward the American political persona non grata, Donald Trump. The inclusion of Trump's jowled mug hits varying degrees of potency. Unfortunately, many galleries on view believed it would suffice to present text-based works on empty canvases, shouting empty protest slogans like "Resist!" and "PRAY" amongst a sea of vapid color field paintings and the like. Others, however, should be commended on curating shows with such a strong political bite - particularly for a collector-facing fair like Frieze. Galerie Nathalie Obadia's solo exhibition of Andres Serrano's America, a series of post-9/11 portraits, is one of the must-see booths at Frieze's sixth edition. Not only does the exhibition suit the art crowd's liberal zeitgeist, but it also provides deep insight into the contradictory visions America has of itself. Serrano began his series by photographing normal people from different segments of American society - Native Americans, boy scouts, firefighters, bull riders, etc.; however, the artist soon started to do portraits of celebrities. And that, ladies and gentlemen, is how Galerie Nathalie Obadia had the exquisite pleasure of presenting a large format portrait of Donald Trump between a portrait of Mexican migrant Cheneke Nanoaxi and Snoop Dogg - two parties that the president has had substantial feuds with in recent days. (For reference, Snoop Dogg pointed a gun at a clown-faced representation of Donald Trump in one of his recent music videos. Donald Trump later fired off an angry tweet claiming that the famous rapper had a "failing career.")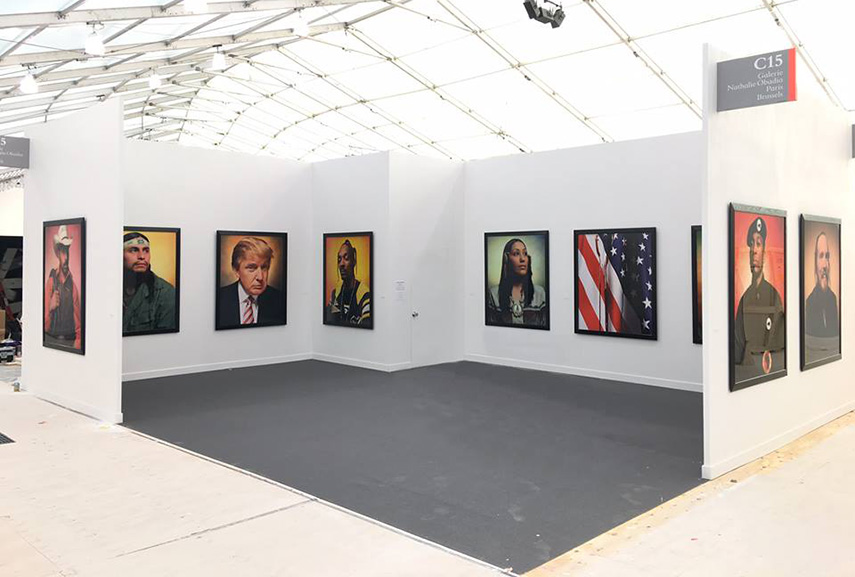 Returning to Humor
Elsewhere, galleries take a subtler approach to address illiberal intolerance. Casey Kaplan Gallery presents a haunting milieu of Kevin Beasley's sculptural trash veils. There is something architectural and baroque about Beasley's artworks, haunting in their ability to signify the remnants of bodies. Gathering on the gallery booth's left wall, these veils culminate into a large, almost Baroque sculptural relief - a solemn monument to Muslim women who face hatred for wearing their hijabs in public.
Thankfully, Frieze also offers plenty of cathartic humor this year, mostly coming from the Conceptual pieces on view. Marian Goodman Gallery shocks and wonders with Anri Sala's Bridges in the Doldrums, which contains a series of snare drums suspended in midair. Intermittently, the drumsticks will begin tapping on the upside-down drums, and music will fill the space. It's a hilarious spectacle to see in the middle of Frieze's overwhelming football field of paintings. Southfirst, one of the art fair's young "Spotlight" exhibitors, presents a show of Jared Bark's photography from 1969 to 1976. Created at the height of Conceptualism's dominance within the art world, Bark's photographs are replete with funny outtakes and investigations into photomontage. He uses photo booth pictures to create interesting mosaics, tessellations of repetition and spontaneity that form strange and exciting patterns. (One work is solely devoted to Bark's heft beard.) We also have Aura Rosenberg's Head Shots: Mike Kelly on view at Martos Gallery's booth. For 24-years, Rosenberg has photographed men in ecstasy and orgasm in order to balance the art world's preoccupation with the female orgasm. Here, Martos Gallery unearths Rosenberg's photos of the famous artist, Mike Kelly, who writhes in delight.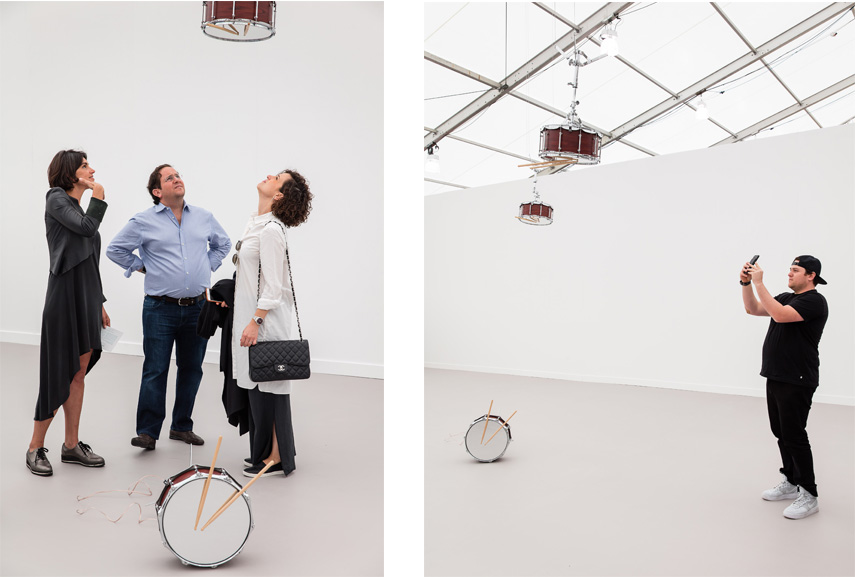 The Oohs and the Aahs
Special mention also goes to Bruce Silverstein Gallery and CANADA. Bruce Silverstein is exhibiting a massive, agonizing painting by Alfred Leslie. Leslie was a painter who began the 1970s as an Abstract Expressionist and ended the decade as a Courbet-inspired exponent of figurative realism. His Americans, Youngstown, Ohio depicts an imposing assortment of figures dressed in everyday clothing who look out onto viewers with united disdain and distrust. Oppositely, CANADA presents a more cheerful image of community. The gallery has bequeathed its exhibition space to curator Marc Hundley, who transformed it into his Williamsburg apartment. The space is outfitted with some custom furniture, prints, and paintings from his friends. The result is an assortment of mundane items and wall-text quotes with striking art from the likes of Matt Connors, Noam Rappaport, Sherrie Levine, and Grandma Moses.
And then there is Jon Rafman's Dream Journal, a wild and nightmarish jaunt through amateur 3D-rendered animations. One of Frieze's tony "Projects," Rafman's work takes the randomness of internet culture and combines it with the low-fi, surrealist splendor of digital animation from the early 2000s. The narrative jumps around a bit, but know it includes a child having a snake removed from his throat, a gaggle of red-cloaked demons descending a staircase, and an evil seahorse. Expect to be delighted, if also confused - which is a fair assessment of Frieze New York's diverse assortment of ooh's and ah's this time around.
Featured images: Frieze New York 2017. Photographs by Mark Blower. Courtesy of Mark Blower/Frieze.