Frieze London and Frieze Masters, the annual autumn art fairs that were next due to take place under the white tents in Regent's Park in October, have been canceled for 2020 and will take place online. The main motivators behind this decision were logistical challenges and restrictions on travel and large events.
However, Frieze Sculpture, an event usually held in the spring as part of the wider programming of Frieze New York, was readapted this year due to the COVID-19 pandemic. It will be held at the Rockefeller Center this fall, featuring site-specific works by artists Ghada Amer, Beatriz Cortez, Andy Goldsworthy, Lena Henke, Camille Henrot and Thaddeus Mosley.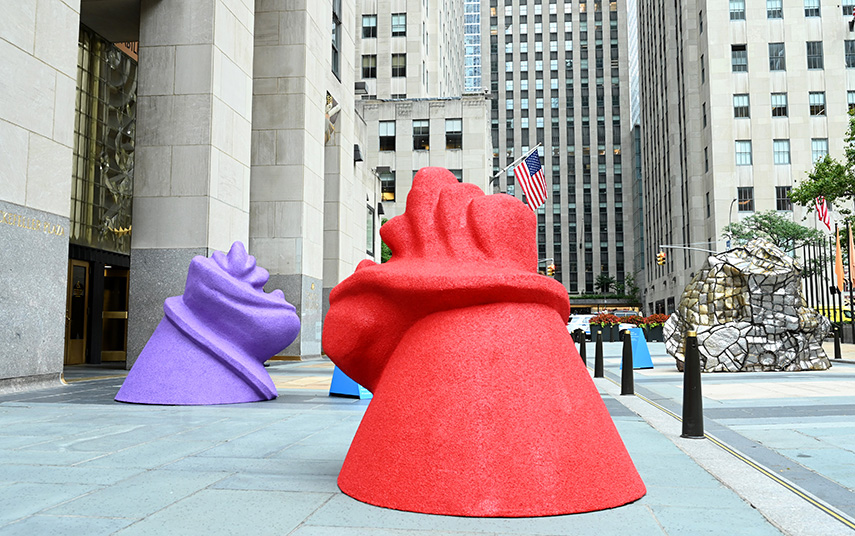 Frieze Sculpture 2020
Presented in partnership with Tishman Speyer, Frieze Sculpture 2020 will explore themes of women's suffrage, migration, urban planning, and ecology. This major public art initiative places significant sculptural works by leading artists in open, public locations throughout Rockefeller Plaza. As Loring Randolph, Director of Frieze New York explained, so much has changed since the planned opening in April, "but what has not waivered is Frieze and Rockefeller Center's commitment to putting the art of our time in the public realm."

I am particularly excited to have the opportunity to see Ghada Amer's Women's Qualities take over the Channel Gardens, and self-taught 94-year old artist, Thaddeus Mosely, showcase his first bronze sculptures at the apex of those gardens on 5th Avenue.
This year's edition is curated by Brett Littman, Director of the Isamu Noguchi Foundation and Garden Museum in Long Island City, New York, and will be inspired by the site's and the city's natural materials of earth, rock, and plants, as well as by the 50th anniversary of Earth Day, the original date when the event was scheduled to debut. Littman explained:
Given our world's current urgent concerns with ecological sustainability, climate change and racial inequality – and the impact these issues have had in spreading COVID-19 – the idea of creating an outdoor sculpture installation within this discourse, could not be more relevant.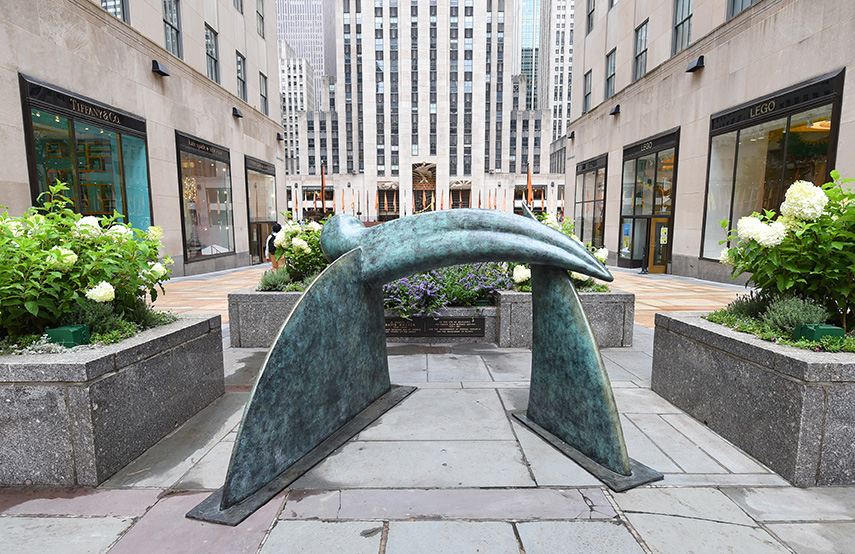 Participating Artists
This year's participating artists responded to this year's themes, many creating major new site-specific works.
Egypt-born and New York-based artist that mostly deals with issues of gender and sexuality, Ghada Amer will present an ambitious garden installation, titled Women's Qualities. The work was first installed in Busan, South Korea after a simple study where members of the public explained what qualities they found most important in women. Beatriz Cortez, a cultural and literary critic, and a visual artist based in Los Angeles, will present a new commission titled Glacial Erratic, evoking an ancient boulder like the numerous glacial erratics that populate the landscape in New York City.
A British sculptor, photographer and environmentalist who produces site-specific sculptures and land art situated in natural and urban settings, Andy Goldsworthy will present a major new installation exploring the inherent and potential meanings of flags in one of New York's most iconic flag flying sites. A German sculptor, photographer and installation artist, Lena Henke will present two new sculptures, R.M.M. (Power Broker Purple) and R.M.M. (Organ, Organ, Organ Red), which combine Henke's personal experience and the history of New York City's urban planning, in particular the controversial designs of architect Robert Moses.
The French artist Camille Henrot will present a bronze sculpture Inside Job that explores concurrent themes of threat and tenderness, evoking both the shape of a shark and also the beak of a bird. An American sculptor Thaddeus Mosley will present three site-specific monumental freestanding sculptural editions titled Illusory Progression, True to Myth, and Rhizogenic Rhythms, based on his unique sculptures with salvaged Pittsburgh timber and discarded wood fragments.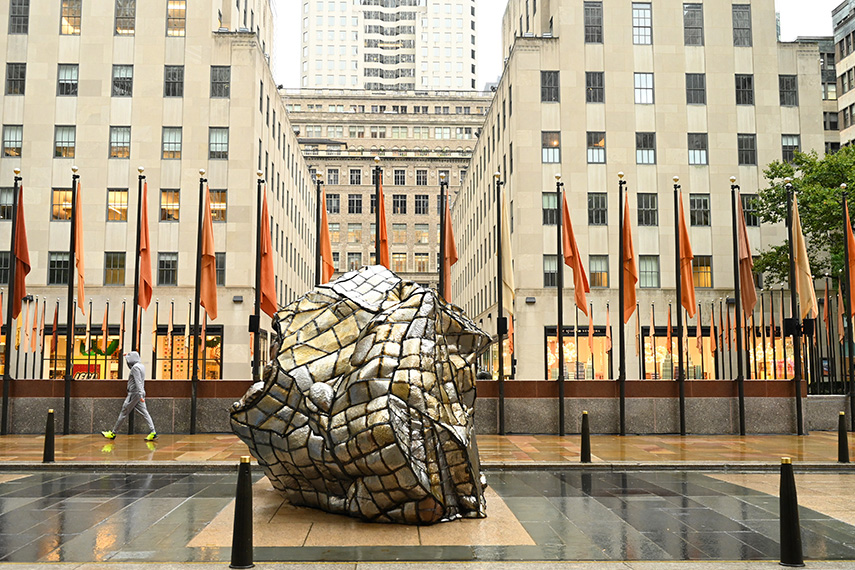 Practical Information
Frieze Sculpture 2020 will be on view at Rockefeller Center from September 1st until October 2nd, 2020. The admission will be free to all and it will allow for ample social distancing space in compliance with all City and State guidelines.
Featured image: Artworks by Andy Goldsworthy, Thaddeus Mosley, and Ghada Amer, Frieze Sculpture 2020. Courtesy of Diane Bondareff/AP.