The world that the Japanese artist Fuco Ueda has created resembles a hallucinatory daydream. In her surreal paintings of enigmatic girls in incandescent dreamscapes, there is a whole universe of lush neon chrysanthemums and florid skins. Fuco Ueda art exhibition titled Odd-Eye is now coming to Thinkspace Gallery. Her second solo show at the gallery will present a new body of work that seems like an apparition pulled from the shadowy depths of the subconscious. Depicting cryptic girls with dreamy eyes surrounded by larger than life flowers and creatures ranging from moray eels to butterflies, her characters are innocent and devious, at times playful and others sinister, suspended somewhere between the waking world and the beyond.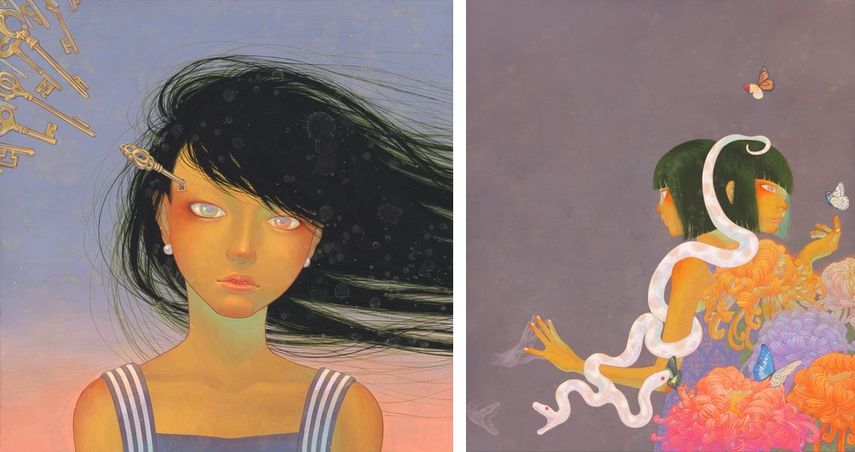 Light and Darkness Collide
Conveying the lonely meditative feeling of dreams, a world distant and self-sustained by isolated dread and reverie, Ueda's works reinforce a sense of displacement and transience. Using a variety of recurring symbols such as skeletal hands, fiery orbs, souls of the dead as represented in Japanese folklore or a chrysanthemum that symbols loss, death, and vulnerability, there is a certain darkness that pervades where her characters seem like figments crossing over into ghostly recesses. Yet, with her characters often surrounded with whimsical creatures such as small birds, butterflies, underwater creatures, beribboned pets, and dazzling flora, there is also a tone that shifts towards a lighter extreme. With beautifully illustrated girls with bare skinned knees that drip with honey while being surrounded by snakes, fish, cobwebs, or bright fungi, these two extremes often collide making her works unexpected and psychologically evocative.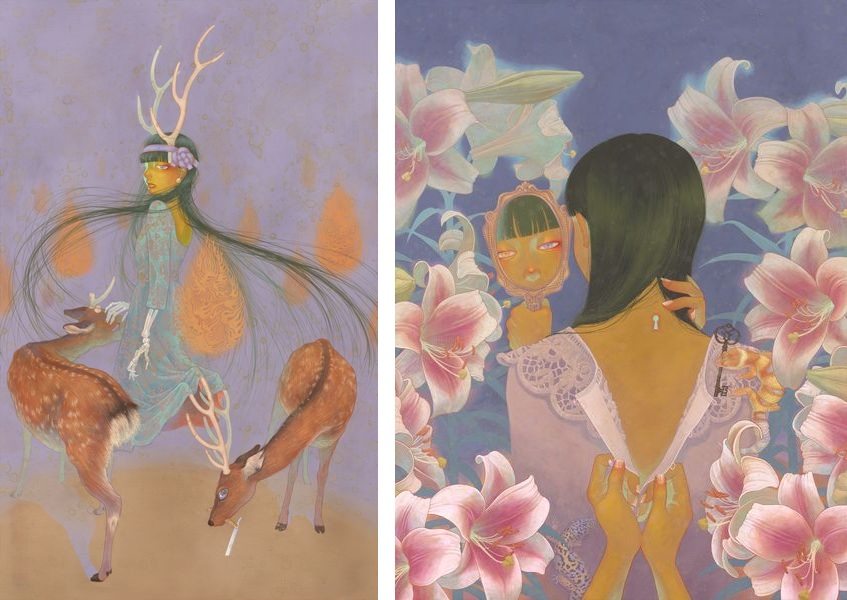 A Unique Process
Ueda often uses contrasted palettes, combining the mixture of deeply pigmented hues, dark blacks, bright neons, and iridescent pastel purples and blues. She works primarily with acrylic paints and powdered mineral pigments on canvas, paper, and wood. Since she uses a unique technique of diluting her acrylics to create the consistency of watercolor, her surfaces are both chalky and luminous. Since she is deeply attached to her works, comparing her process with loss, she releases each piece into the new world with the sprinkling of water that signifies completion and passing.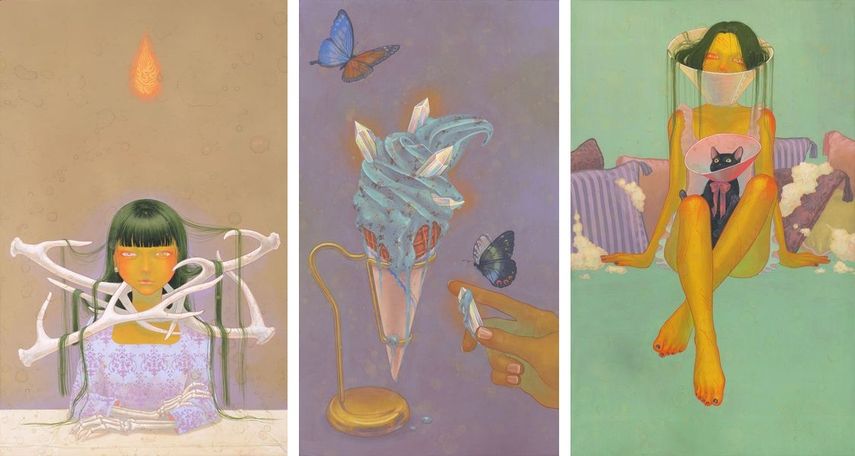 Fuco Ueda Art Exhibition at Thinkspace
It seems that Ueda's world is in a constant state of transition and contraction, emerging and receding through the stitches of tenuously bound worlds. The exhibition Odd-Eye will be on view in the main room of Thinkspace Gallery in Culver City, California, from December 10th, 2016 - December 31th, 2016. The opening reception with the presence of the artist will be held on Saturday, December 10th, from 6 to 9pm.
Featured images: Fuco Ueda - Odd Eye (detail), 2016; Fuco Ueda - Persona I (detail), 2016; Fuco Ueda - Sacrifice I (detail), 2016. All images courtesy of Thinkspace Gallery.