When we take a look at Fulvio di Piazza art, we see extraordinary imaginary worlds, fantasy landscapes filled up with detail, deep forests and fairytale villages painted with the utmost skill. Even though these works look like the aftermath of some kind of an apocalypse, we can't help but sense a glimpse of hope in the artist's vivid depictions. His latest exhibition, entitled Entangled, will soon be presented at Jonathan LeVine Gallery in NYC, and it will follow his first successful show at the space, which presented his most famous series of paintings, Ashes to Ashes. The new body of work will give us another look at di Piazza's versatile practice.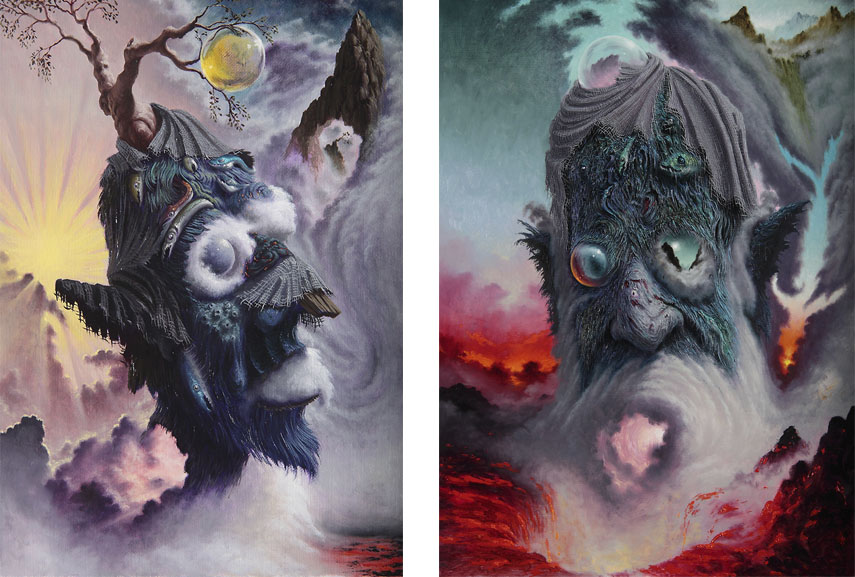 Entangled
If his previous series of artworks he focused on the landscapes and the notoriety it can bring, for his newest paintings Fulvio di Piazza put solitary faces and animals at the center of his canvases. They become the focal point of each scenery, and at first glance, these subject appear to be comprised of subject matter. After closer examination, however, we realize that the artist returned to his initial goal and we start recognizing delicate environments in form of mountains, forests, smoke, lava, stars, debris and the combinations thereof, constructing the entire form of these creatures. The characters also appear ominous, as they ooze in Fulvio di Piazza's dark color palette, yet beyond the gloom there is a strong sense of renewal.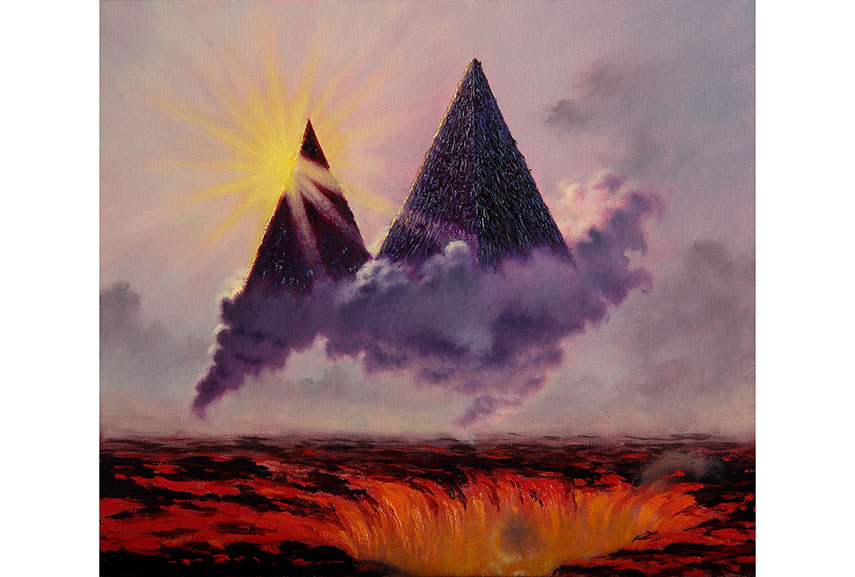 Horror Vacui
Fulvio di Piazza art is characterized by anthropomorphized landscapes, where natural elements entwine, merge and overlap to create mesmerizing forms, humans and creatures. He is dedicated to "horror vacui", a term used for the filling of the entire surface of an artwork with precise detail, and with great skill as well. Reminiscing of sci-fi movies, fairytales and fantasy novels, the paintings carry heavy compositions of dystopia that could even recall the ones of Hieronymous Bosch. This attention to detail has been described as representing contemporary models of communication, where the background noise becomes the message. The viewers are then invited to recognize it, in the midst of the disorder and the overwhelming impact on all senses. Although this might appear as challenging, it is also quite revealing, and even rewarding.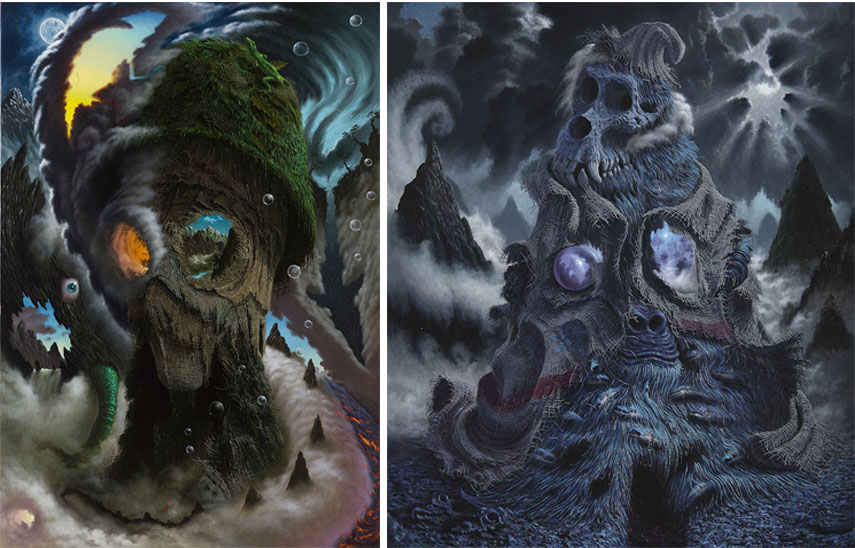 Fulvio di Piazza Art at Jonathan LeVine Gallery
Entangled, an exhibition of works by Fulvio di Piazza, will be on view at Jonathan LeVine Gallery in New York City, USA, from January 7th through 28th, 2017. The opening reception is scheduled for January 7th, from 6pm to 8pm. This will be the artist's second solo show at the gallery and their final showcase in New York City before relocating to Jersey City in February 2017.
Featured image: Artwork by Fulvio di Piazza. Courtesy Jonathan LeVine Gallery.