Biggest stars make the biggest waves, and Futura's crest seems to be holding its position for decades. On November 1, 2014, one of the legends of street art, an abstractionist among the letter-makers, opened a show at Magda Danysz Gallery in Shanghai. Entitled "Kinetic Action", the entire show was created in the Chinese megalopolis, through a powerful, energized action painting process. In the exclusive interview given to Widewalls shortly before the opening, Futura talks about his active approach to painting, Chinese inspirations, techniques, and one of his greatest influences - Bruce Lee. We asked Futura how he defines his style,what role performance has in his work, and learned his opinion on contemporary situation in urban art movement. Highlighting the differences between the situation in urban art "back then" and today, the artist disclosed his vision that there are no limitations for the movement, as it is and it will continue in taking the world by storm.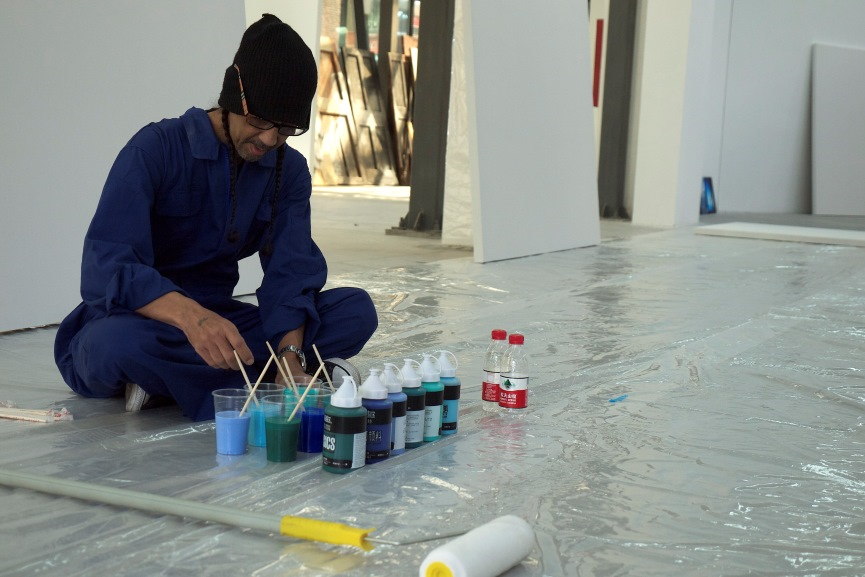 Kinetic Action and Bruce Lee
Widewalls: Recently, you had a show at Magda Danysz Gallery in Paris, focusing on introspection ("Introspective"). What can we expect from the exhibition in Shanghai concept-wise?
Futura: The name of the exhibition is "Kinetic action": a very powerful explosion of energy. As a painter that's how I approach my work. I am looking forward to my show in China, it is very exciting to be here. The entire exhibition was created here in Shanghai. Something quite new that I have introduced in my Paris show earlier this year is that there is also some photography. These are from my social platforms like Instagram and such, that I gather through the years and are also my insight on the world. I hope the audience will get to discover all this facet of my art. There are a few paintings that are very new here. Inspired maybe by the Pudong skyline. Seeing the architecture and the city it inspired me a lot of course. One of my greatest influences when I was a young man was Asia and Bruce Lee. As a young man I was respecting his style. He is the guy of "the art of fighting without fighting". I'd like to be the one for "the art of painting without painting".
Widewalls: How do you feel about going to China? [Is this the first time you will be visiting the country? Any expectations, hopes?]
Futura: I came for the first time to China, Shenzen to be exact, in 1988. Then I travelled in China for a little bit. I came back later and I remember travelling from Beijing to Shanghai by bus! It was a 30 hours ride and I was stopping everywhere, visiting. But I remember being happy when we finally arrived to Shanghai! Back then all was so different. Now I just want people to get to discover my work and share my insight on what I see.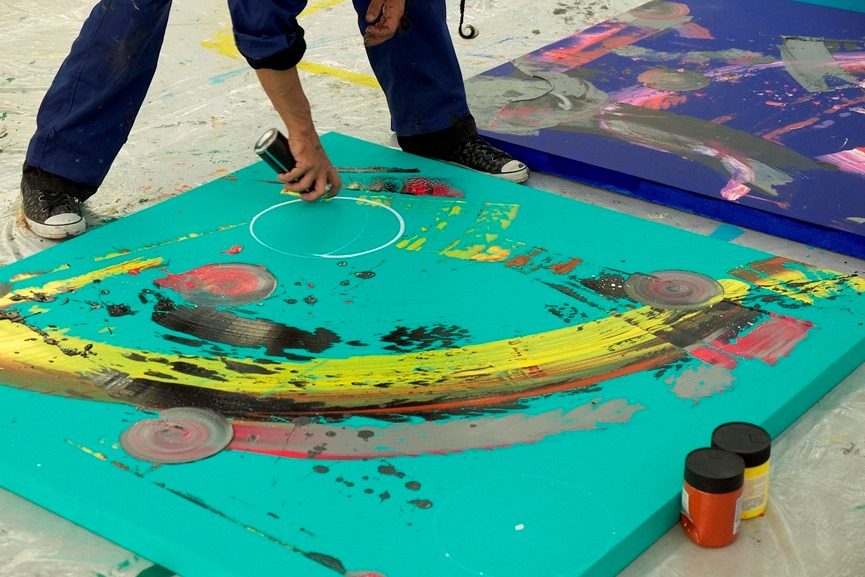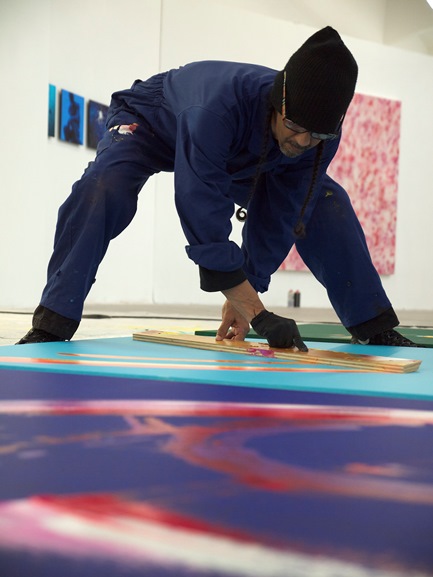 Performance and Calligraphy in Futura's Action Painting
Widewalls: Your exhibition in China is divided in two chapters, the first one being "work in progress"', the open-for-public viewing of your creative process. What role does performance have in your body of work?
Futura: It plays a part. And I wanted to share this experience with a calligrapher Chen Yanfei. During our first meeting for the preparation of the performance we do together, painting together, I discovered we see the world in a very similar way. And we teach other tricks and ways of painting, even writing in Chinese.
Widewalls: Are you thinking going in this direction more in the future?
Futura: I explore many directions through the years. It inspires me. For instance after my first meeting with Chen Yanfei, the next day I came and did the lines freehand inspired by what the calligrapher showed me and how he was using his brushes. These lines are cracks or maybe lighting. Lighting being this thing eating the negative space. And in calligraphy the negative space, the empty space, is as important as the line…
Widewalls: How would you describe your own style? Is it abstract graffiti, urban art, contemporary art?
Futura: I describe my style as Abstract Expressionism. This explosion of colors and feelings all together in a free style way.
Futura on Design and Techniques
Widewalls: You've done a lot of design collaborations in your career. What kind of design do you enjoy most?
Futura: In the 90s I had a clothing company and it was the direct influence from an Asian Bruce Lee style, it was about mixing the urban culture and the Asian style. But now I am less fashion conscious than before and paint most of the time in my working clothes…
Widewalls: You've been painting for a while. Have the recent years brought any new techniques that you nowadays prefer, other than spray can?
Futura: As far as I am concerned I will always be traditionalist on that. Spray can will always be by main tool. But our community is not married to this tool anymore, wheat-pasting, stencil and many other techniques have opened new ways. I myself play a lot with the cans with my tricks and ways of spray painting, that are quite unique. In this exhibition the work is about the exploration between spray paint and paint in a more traditional way.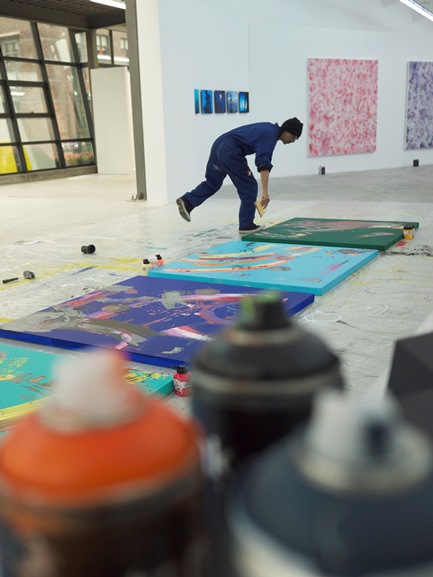 Urban Art Then and Now
Widewalls: Are the opportunities street artists enjoy today much greater than the ones you had when you started? How would you describe the difference? What do you think of graffiti scene today?

Futura: Certainly. The scene is obviously very different from back then. The scale of what people are doing now completely changed. They can go up in the air on cherry pickers and paint giant murals. We couldn't do it back then. The score of things is also totally different: now people can get support. Some walls are even given for artists to paint. Companies like Montana always try to support the artists and help them to paint. We didn't have that back in the days. I see the movement has gone so global but still some people every 10 years say that the street art is dead. And it never dies. In fact it is a legend already. It is like a monster that is constantly growing, changing, evolving. It's encouraging looking through time and see where we are today. The techniques have evolved too. Now there is a wide range of way of working. There is no limitations of medium, projections, sculpture everything is happening now! People are incorporating all sorts of traditional art to our culture and make new things. So the problems of back in the days are not a problem anymore.
Widewalls: Being one of the most famous artists of the movement, where would you say urban art is going next? Street, gallery or museum? Or all of them?
Futura: All of the above! And whatever else they have! Cyber from LA for example is doing skywriting! There is no limit because there will always be level of teaching, and then once you get your stuff up there is no limitation in how it evolves. We come from a similar teaching in street art, but then everything is open. Even now, I am just coming back from my solo show at the Architecture Museum in Moscow which is a huge thing for me. As a kid I thought you had to be dead to be in a museum… Now museums are coming in the question so it is very interesting to see what opportunities it will give and more important how it give access to art to everyone. "Kinetic Action" is on view at Magda Danysz Gallery in Shanghai till December 6, 2014.