Much is written about the prolific protagonists of the avant-garde back in the interwar period who were mainly men, although a great number of women were engaged in the movement as well. Certain figures were especially mistreated due to their partners being (more) famous artists and the best example for such a neglection within art history is the case of Gala Dali.
This restless spirit was a really important one, aside from being a muse, a mistress, a poetess. Unmistakably it can be said that she was indeed one of the key figures of the avant-garde. Solid proofs can be found in photographs of her done by Man Ray and Cecil Beaton or in paintings by Max Ernst. Despite the adornment she received during her life, for quite some time her story was slighted or ignored.
Therefore, the exhibition titled Gala Salvador Dali at the Museu Nacional d'Art de Catalunya is about to reveal all the possible layers of her activity by exposing over a total of three hundred and fifteen different objects and artworks.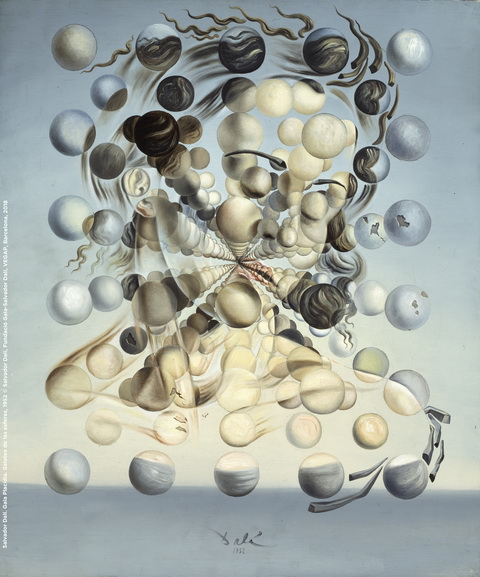 The Story of Gala Dali
Gala Dali was born Elena Ivanovna Diakonova in a family of Russian intellectuals in 1894. At the age of seventeen, she became ill of tuberculosis and was sent to a sanatorium in Switzerland for the treatment. Out there, young Gala fell madly in love with Paul Éluard, so during WW I, she traveled from Russia to Paris to reunite with him. The couple got married in 1917 and a year later their daughter was born.
Through Éluard, Gala became acquainted with the Surrealist movement, and very quickly became the muse of several artists. Interestingly so, together with Eluard and Ernst, she spent three years in a ménage à trois. In the late 1920s, the couple traveled to Spain to visit the emerging Surrealist painter Salvador Dalí. Gala instantly fell in love with him despite the age difference, but she stayed in good relations with Eluard after they split.
Gala and Dalí got married in 1934 in a civil ceremony and remarried in a Catholic ceremony in 1958. Since the early 1930s, Dali centered his practice on her image to such an extent that he even signed his paintings with his and her name. They had a strong, yet open relationship so encouraged by him Gala had several affairs throughout the years. In the late 1960s, Gala received a gift from Salvador in a form of a castle located in Girona, which he could only come visit if permitted in writing.
A decade later, the muse had a relationship with millionaire multi-platinum rock singer Jeff Fenholt of Jesus Christ Superstar, who became a business representative for the Dalí's for the United States market. Interestingly, Fenholt claimed that, while in her hospital bed in Spain, Gala told him that Dali had assaulted her, and the injuries that came as the result of it eventually led to her death in 1982.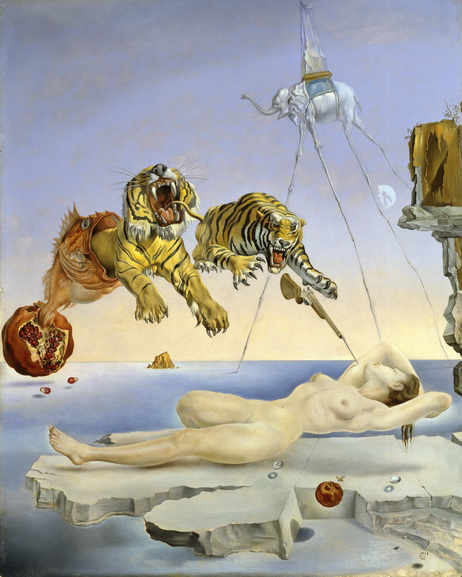 Gala Salvador Dalí - The Selection of Works
The curatorial concept for the Gala Salvador Dali exhibition was brought by Estrella de Diego, who is a professor of Art History (UCM), and Montse Aguer, director of the Dalí Museums, of the Fundación Gala-Salvador Dalí. Their idea was to underline the complexity of the relation between Gala and Salvador and a huge impact she had on his practice.
In order to do so, the curators have decided to include Dalí's works, as well as the selection of photographs, drawings, and paintings by other artists associated with the Surrealist movement such as Man Ray or Pablo Picasso. Aside from the actual artworks, a number of personal objects like books, postcards, and letters, as well as Gala's dresses are displayed.
All of these artifacts are perceived as valuable tools for better understanding of a rather authentic and fascinating persona, who was not only a wife, muse and an artist but somehow a trendsetter. In regards to that conclusion is the statement of the mentioned Montse Aguer:
Thanks to this exhibition, Gala Dalí, previously a 'femme invisible', will become a 'femme visible': at long last the star of her own exhibition. She always felt more comfortable in the shadows, but like Dalí she also wanted to become a legend one day. This mysterious, cultured woman, a gifted creator, colleague and peer of poets and painters, lived her art and her life in an intensely literary manner. From the time she left her native Russia, she was always surrounded by books. She was a writer, a creator of surrealist objects, a designer and art dealer who guided and advised her husbands Paul Éluard and Salvador Dalí. She was a woman among the surrealists, a friend to René Char and René Crevel, a lover of Max Ernst, a character from Thomas Mann.
Salvador and Gala Dali at Home
Gala Dali at Museu Nacional d'Art de Catalunya
This exhibition is of great importance since it reveals the significance of Gala Dali in a broader cultural and historical context, and this is the first time such a survey is released on an international level. It tends to deconstruct trivia about this intriguing persona and underline the domains of her development as a poet aside from Dali's practice.
It should also be noted that the show would not be possible without the loans from Dalí Foundation, as well as from private collections and international museums such as the Dalí Museum in St. Petersburg or the Centre d'Art Georges Pompidou in Paris.
This important showcase at Museu Nacional d'Art de Catalunya in Barcelona will be open until 14 October 2018.
Editors' Tip: Wicked Lady: Salvador Dali's Muse
This account of the life of Gala Dali describes an extraordinary love story. When she died at the age of 87 in 1982, Salvador Dali locked himself in her room, drew the curtains, and refused to eat. The couple was married for 50 years, Gala being instrumental in pulling Dali back from the verge of madness and nursing him through depressions and illnesses, real as well as imaginary. This biography describes her profound influence on Dali's painting and attempts to establish the fact that Gala was the key to understanding much of the work of the great surrealist painter. The book also covers Gala Dali's early years in Paris in the 1920s and her first marriage to Paul Elouard.
Featured image: Salvador Dali - Portrait of Gala with two lamb chops in equilibrium upon her shoulder. C. 1934. © Salvador Dalí, Fundació Gala-Salvador Dalí, VEGAP, Barcelona, 2018. All images courtesy Museu Nacional d'Art de Catalunya.