Galerie Celal in Paris is proud to present a joint exhibition Baraka featuring the works of the three urban artists, Popay, Bault and Max Tetar. The united creativity takes shape in the form of diverse imagery of shamans, pirates, dreamlike landscapes and imaginary cities that dwell and are a part of phantasmagoric worlds. Offering its public a glimpse into the new trends of urban art, the exhibition is a rare opportunity for lovers of art to experience the vibrant visual poetry that helps us transcend the everyday.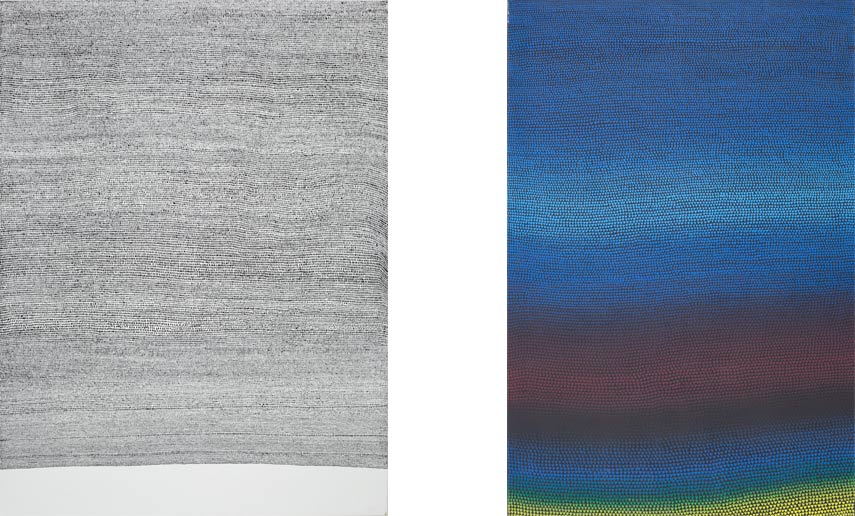 The Rich Imagery
The rich poetic visual vocabulary of the featured artists in the exhibition Baraka tells of dreamlike landscapes, organic buildings, and are a celebration of color and diversity of art materials and influences. From Hieronymous Bosh to Goya, and mark-making, resembling the dots and hidden stories of Aboriginal Art, the diversity of influences is paralleled with the mixture of materials used, showcasing the shared love for graffiti art, mural paintings, and paintings on canvas evident for the three artists. The featured paintings are rare examples of stylized and abstracted figuration, complex analysis of the landscapes and plants that form a trail into the movement and imagination of the three- artists that work across a wide range of artistic disciplines as well.
The Featured Artists
As one of the most original muralists of the Paris scene, Bault moves from street to the studio and his workshop and is described as an Insider and Outsider artist. With the mix of acrylic paint and low-pressure spray, Bault creates his vibrant creatures, which take inspiration from the primitive masks he discovered in Haiti. Along his vibrant images stand paintings by the Barcelona-born street artist, painter, and illustrator Popay. Developing his style from Baroque fresco paintings and references to Hieronymous Bosh, Popay creates a multitude of semi-human characters, goblins, and imaginary landscapes. Similarly to Bosch, each portion of this artist's work is a subject unto itself. Hidden messages and ancestral writings stand at the core of the abstract paintings and murals by Max Tetar. Facing his work, the viewer is automatically transported and taken through his contemporary graphic works that echo the stories and ancestral writings of different cultures.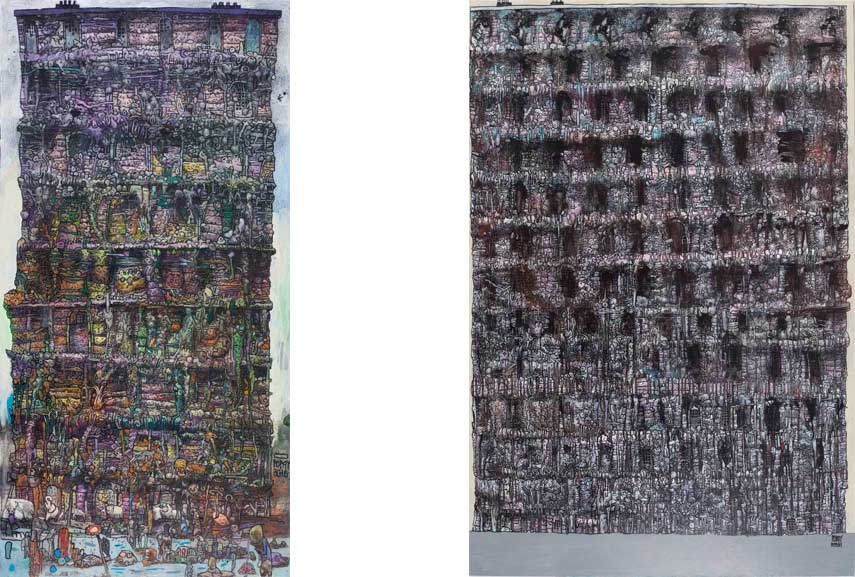 Exhibition Baraka at Galerie Celal in Paris
The displays of creativity and variety of artistic disciplines and styles stand at the core of the joined exhibition Baraka by the three urban artists. Lasting from 30th June until 30th July 2016, the exhibition transforms the space of the Galerie Celal in Paris into a phantasmagoric world itself. The powerful, vibrant, and mesmerizing works of the featured artists all tell a tale of humanity and spirituality that is rarely felt in today's world. It is because of this and much more that this exhibition is one of the Widewalls' highest recommendations.
All images courtesy of Galerie Celal. Featured image in slider: Bault – Figures Porcines, detail.