The art of Berlin based painter Daniel Lergon can be described as experimental process in constant search of new discoveries. It happens many times that he employs science to aid him in his research. Although Daniel Lergon declares himself as a painter, the materials he uses are not the usual stuff one might find in a painter's studio. This prolific emerging artist will soon showcase his newest body of work at Galerie Christian Lethert in Cologne. The exhibition is titled Eigengrau that translates as Intrinsic grey, a term used to describe that uniform dark color we perceive due to the absence of light.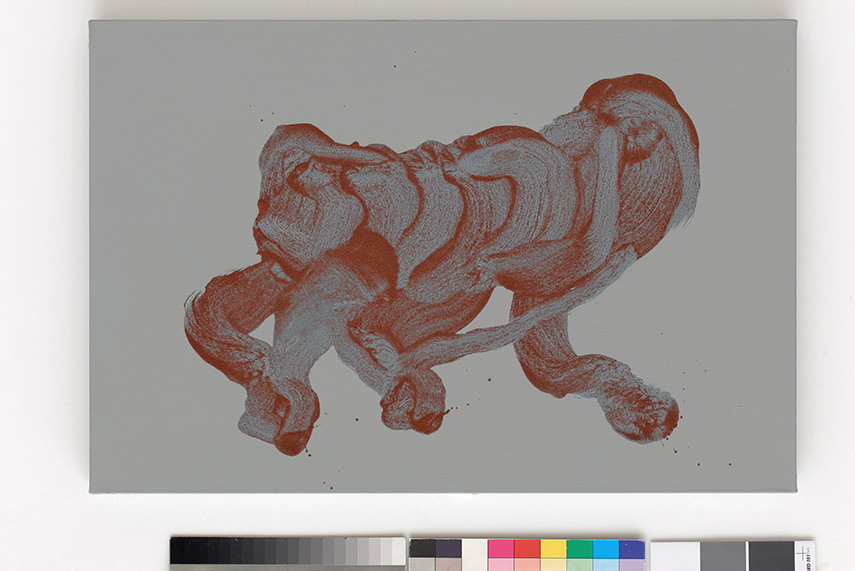 Daniel Lergon's Gray Vision
As explained, the term Eigengrau is the color we see in the dark. While some might describe it as black, it is in fact the vast amplitude of grays. And for some, more perceptive people, shapes and structures may appear. One can reflect on Gerhard Richter's series of gray paintings and their richness of hues. These are more subjective images as are the impressions of Daniel Lergon's new works. For this particular series he placed copper on zinc on canvas and painted over it creating more or less controlled composition with intuitive brushstrokes. He grounds the canvas with metal and instead of using pigments paints over it with acidified water. In the process of chemical reaction that occurs the copper surface becomes red, dark red or damask rose. The results of his actions are the aftermath of chemical reactions between acidified water and powdered metals. This kind of experimentation conducted with metals such as copper, zinc or iron have become Daniel Lergon's trademark since he first started using them in 2007.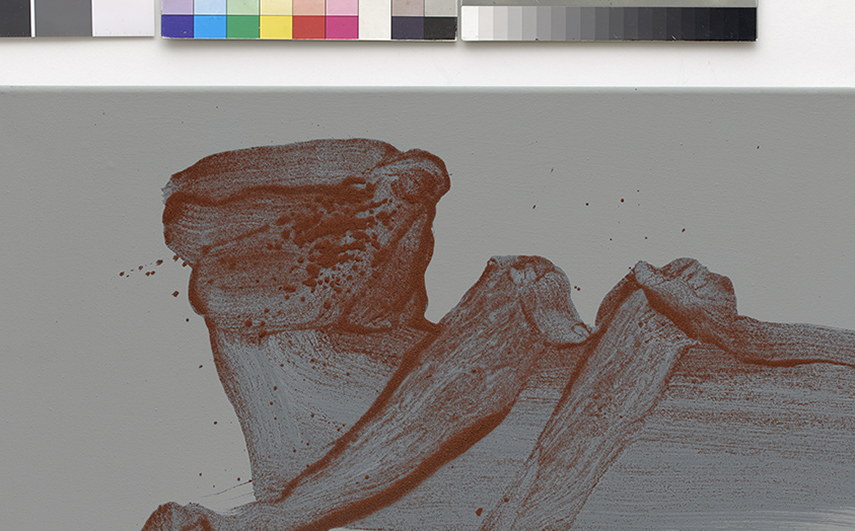 When Art and Science Collide
In his works, Daniel Lergon often reflects on scientific processes and the geological history of Earth in particular. His series Siderian period is in some manner homage to the geological time that began about 2500 million years ago, when the so-called Great Oxidation Event took place. That event made it possible for the current chemical compositions and the atmosphere to exist as we know them today. It seems that scientific processes and experiments have always been at the core of Daniel Lergon's interest. Even as Professor Lothar Baumgarten's student at the University od Art (UdK) in Berlin, he has been interested in reciprocal relationships between optical effects and perception or the one between the light and surface.
Daniel Lergon - Siderian Tides

Galerie Christian Lethert Presents: Daniel Lergon
Even though implication of science in the art of this young German artist is extensive, he persists in his claims that he is foremost a painter. Despite the use of unorthodox materials, his results are very painterly and they range in a variety of abstract shapes and forms that offer viewers with the possibility to have their own conclusions. Eigengrau opens on June 5th at Galerie Christian Lethert in Cologne, Germany. Daniel Lergon's exhibition will last until July 18th 2015.
Sign up for My Widewalls to enter the vast and colourful world of contemporary and urban art.
Images in Slider: Daniel Lergon - Ohne Titel - Kupfer auf Zink auf Leinwand, 2015 and Daniel Lergon - Ohne Titel - Kupfer auf Zink auf Leinwand, 2015
All Images are Courtesy of Galerie Christian Lethert.