This year's ART.FAIR Cologne truly oozes with exciting presentations and unique events. While there is certainly a lot to see in the three days at Koelnmesse, there is an extraordinary exhibition at Munich's Galerie Kronsbein that is simply a must for all urban art lovers and art enthusiasts in general. As many as seventeen original artworks by none other than Banksy himself will be on view, and for sale, for the very first time at Germany's third-largest fair. This will be one of the finest occasions for collectors to get their hands on genuine pieces by the world's most famous street artist, deriving from an esteemed private collection.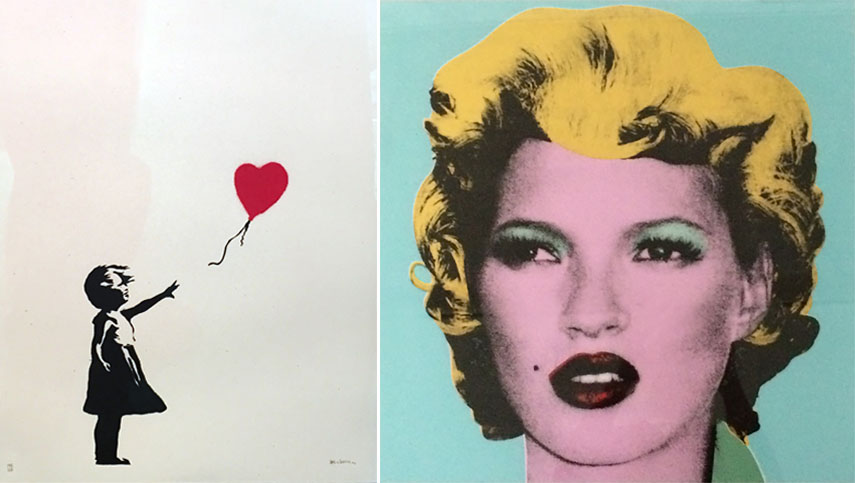 Banksy - King of Urban Art
Between April and September 2016, Galerie Kronsbein hosted a comprehensive museum-quality exhibition of Banksy's works, featuring 47 pieces from the private collection of gallery owner and art collector, Dirk G. Kronsbein. As the first such show in Germany, it was a great success, and now 17 of these originals and editions will be on display in Cologne. Among them, there are key works popular on a global scale, such as Choose Your Weapon, the iconic homage to another street legend, Keith Haring, the picture of Kate Moss inspired by Andy Warhol's Marilyns, or Girl with Balloon, one of the most recognized Banksy images. The visitors can also expect the original Toxic Mary Double, for instance, as well as the artist's proof of Nola (Pink to Yellow Rain).
A Worldwide Phenomenon
To say that Banksy is a boy-wonder of urban art is a little bit of an understatement. His street art can be found around the world, causing entire walls to be ripped off buildings in order to be sold of unbelievable amounts of money. His commentary on the world, ironic yet brutally honest, sends a strong message and a critique on the socio-political situation almost constantly, which is why he is in the spotlight even when he's gone underground for a while. But despite his immense popularity, Banksy and his identity remain a complete mystery to his fans and followers; in today's day and age of social media and internet frenzy, this seems to be bothering so many - to the point where entire studies are being conducted in order to answer that old, tiring question: who is Banksy, really?
Galerie Kronsbein at ART.FAIR Cologne 2016
While we don't really care about Banksy's identity, we do appreciate his artwork and we're thrilled to be able to attend the show of his works in Germany. Banksy - King of Urban Art will be on view at ART.FAIR Cologne from October 27th to 30th, 2016 in Koelnmesse's Hall 2, stand CO2. You can also visit the booth during the vernissage and preview day, on October 26th!
Featured images: Banksy - Flower Thrower; Banksy - Barcode, 2004. Screen print on paper, 50 x 70 cm. Edition 53/150. Certificate available, signed, tagged, dated and numbered. Price 51.700,00. All images courtesy Galerie Kronsbein.