David Walker is a newly emerged street artist based in London. In the last few years since he started exhibiting his art career has been on a steady rise. What is so special about David Walker is that he creates both large scale works and smaller ones, using only spray cans. He has perfected his skill to such extent that he uses no stencils or brushes for his elaborate portraits. Two years since his first show in Paris, Walker is back for his second exhibition at Galerie Mathgoth. This time he will be exhibiting portraits on canvas titled Alchema/Spectra.
David Walker painting for Art basel 2013 Wynwood - shown in Timelapse
Walker's Experimental Process
The very name of the exhibition Alchema/Sprectra refers to David Walker's experimental relationship towards his work. The name is also related to the use of color which was not present in his earlier works. Initially, he painted solely with black, white and pink sprays, partially because they are the cheapest but more importantly, because they did not distract him so he could focus on his subjects. However, colors found their way to David Walker's paintings and he became very skilled at incorporating them to his portraits only adding to their quality. Walker uses photography as reference and starts painting ad hoc, without much prior planning. This way, the whole creative process is more based on the feel for work than on the preconceived notions on how the piece should look like in the end. Everything is decided along the way and it is precisely this uncertainty, even suspense, that keeps him alerted and excited about doing art.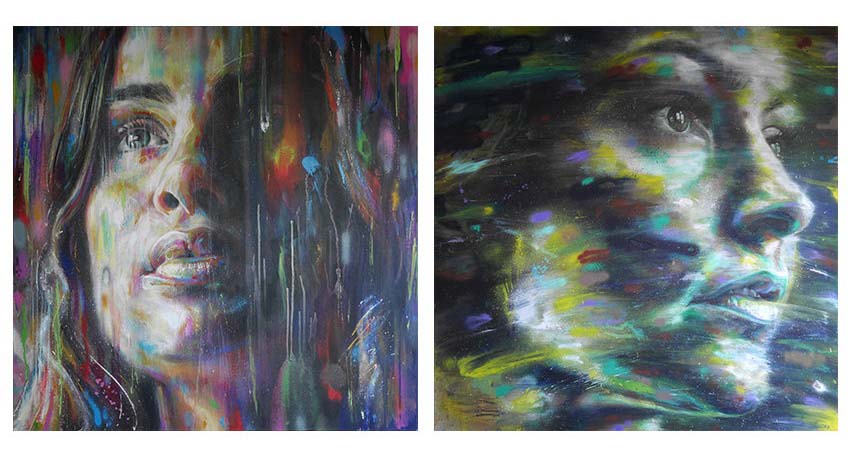 David Walker's Holy Spray Can
Another striking element of David Walker's art is the exclusive employment of spray paint. He knowingly rejects use of any other media in order to fully explore the potentials of sprays and push the limits of this expanding contemporary medium. Walker displays outstanding level of spray control that enables him to create shadows, fine lines, textures and overall richness of detail. Movement appears as a novelty in this new series of his paintings. Even though it has been present in his works before it was merely episodic, without any real stress on it. Now, the movement takes on a fresh role of showing Walker's more direct approach to the very process.
Supremebeing™ x David Walker Paris Exposé
Galerie Mathgoth Presents: David Walker - Alchema/Spectra
David Walker is based in London and is a long-term member of the Scrawl Collective that includes Nick Walker, Will Barras and Mr. Jago. David Walker's first job was creating T-shirt designs for The Prodigy which helped him realize the creative potential of design and start his own street wear label Subsurface. David Walker is exhibiting his artworks regularly and they are becoming highly collectible. His upcoming exhibition Alchema/Spectra that reveals innovations in his expression proves that David Walker is the artist we should look out for. Alchema/Spectra opens on June 5th at Galerie Mathgoth in Paris. The show will be open until July 4th 2015.
Sign up for My Widewalls and discover exciting art ever day!
Featured Images are Courtesy of Galerie Mathgoth.