The eight and final season of one of the biggest shows on television, Game of Thrones, will air in less than 2 weeks, on April 14. The wait was long but hopefully, it will be worth it. Although the season will feature only 6 episodes, the producers announced they would be much longer than before.
Finally, we will get to see what happens with R.R. Martin's world and characters after the winter has finally arrived and the wall has been breached, after eight thousand years of standing between the Seven Kingdoms and the lands beyond. Excitement levels are high as fans all over the world speculate on who will survive, who will die gruesomely and who will end up on the Iron Throne.
In anticipation of the season premiere, Spoke Art will present an art show tribute to the series. Titled Winter is Here, the exhibition will present an array of original works from artists around the world.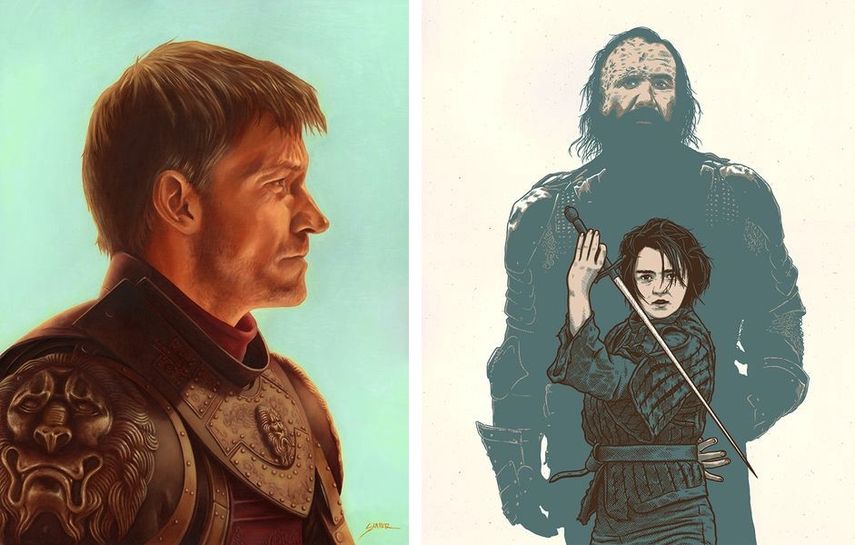 Winter Is Here
A wildly successful series, Game of Thrones helped bring the fantasy genre into homes across the globe. Captivating the audiences all around the world, it has penetrated every pore of popular culture.
Inspired by the series that captured all of us, the exhibition at Spoke Art will celebrate the intricate world of Westeros and all its facets. It will bring over 70 international artists working in diverse mediums, from paintings and sculpture to embroidery and limited edition prints. The audience will have an opportunity to see a dazzling display of character portraits, elaborate environments and iconic themes and motifs from the series.

The Complexity of the Fantasy World
Over the course of eight years, Game of Thrones has presented us with a complex world characterized by a stunning amount of detail and vastness, complex storylines and epic narratives, culminating in a beautifully woven saga of fate and human triumph. A cultural behemoth of sorts, it has been referenced throughout pop culture, celebrated at fan conventions, inspiring everything from pop-up bars to art exhibitions.
As intricate as it is, the world R.R. Martin has constructed will offer an abundance of inspiration and a bountiful plethora of subject matter for each participating artist in Winter is Here. Be sure to check out all the works here.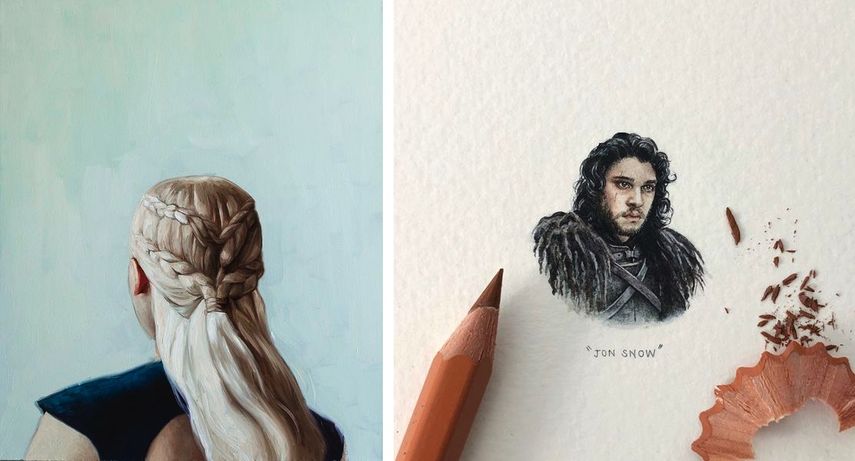 Game of Thrones Exhibition at Spoke Art
The exhibition Winter is Here will be on view at Spoke Art Gallery in New York from April 6th until April 7th, 2019. The opening reception will take place on Saturday, April 6th, from 6 to 9 p.m.
Participating artists are Daliah Ammar, Christine Aria, Audra Auclair, Raul Barquet, Betsy Bauer, Cory Benhatzel, Phoenix Chan, Elsa Chang, Nick Comparone, Concepcion Studios, Mai Ly Denna, Harmony Deimling, Pippa Dyrlaga, Kayla Edgar, Tom Eglington, Cristian Eres, Kiersten Essenpreis, Dan Grissom, Nicole Grosjean, Cameron Hajagos, Lori Herbst, Kevan Hom, Jackie Huang, Primary Hughes, Sarah Jamison, Candace Jean, Hailey Jensen, Kelly Johnson, Alex R. Kirzhner, Nan Lawson, Brin Levinson, Adam Lister, Lorraine Loots, Samantha Mash, Rebecca Mason Adams, Sarah Maxwell, Harry Michalakeas, Scott Mitchel, Ji Young Na, Reuben Negron, Jeany Ngo, Johannah O'Donnell, Michael Ramstead, Fernando Reza, Jay Riggio, Em Roberts, Ellie Rusinova, Leonardo Santamaria, Bennett Slater, Jack Soren, Andy Stattmiller, Meghan Stratman, Dean Stuart, Brandan Styles, Anna Tillett, Geoff Trapp, Josey Tsao, Mandy Tsung, Michael Tunk, Justin Van Genderen, Liz Vowles, Bruce White, Jan Willem and Lawrence Yang.
Featured image: Lorraine Loots - Jon Snow (detail); Cristian Eres - Drogon; Left: Josey Tsao - Skies of the Seven Kingdom / Right: Justin Van Genderen - The White Wolf; Fernando Reza - Little Birds. All images courtesy of Spoke Art.