An anonymous graffiti artist based in the Bay Area, GATS (Graffiti Against the System) is known for his iconic mask imagery that serves as a response to injustices in society, particularly tensions between citizens and law enforcement. The latest GATS art exhibition will soon be on view at SPOKE NYC. Titled Against the Grain, the exhibition will be the artist's inaugural show at this renowned gallery. Known for his distinct graffiti insignia, the latest series is a continuation of this interest which the artist will further explore through a variety of mediums while incorporating elements from found objects. In this latest body of work, the artist will once again present his distinct mask imagery which represents a global identity that breaks down all barriers and prejudices.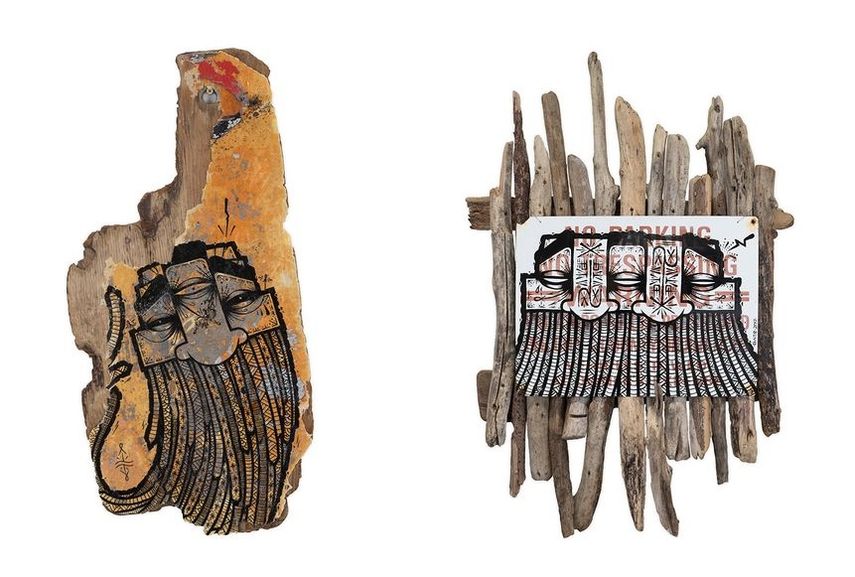 Graffiti Against the System
An international graffiti legend from Oakland, GATS started writing graffiti in 1997, changing many names and monikers over time. He adopted the moniker GATS in 2005, as a short for Graffiti Against the System. While most graffiti names are about the self, GATS puts an image of universal humanity out. His iconic mask imagery, resembling a wise man's face, with tired eyes and tangled beard, emerged after a trip to the Middle East. It can be spotted peering of from an alley way or stretched across a rooftop, greeting passersby with its all-seeing gaze. Yet, this iconic totem is imbued with a sense of duality. Filled with intricate symbols over the years, it speaks to the artist's personal reflections.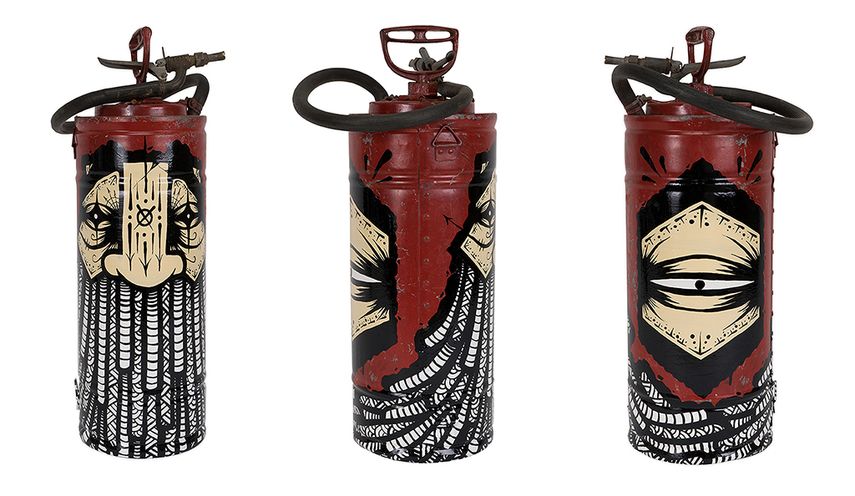 Reclaiming Discarded Objects
Over the years, GATS has re-contextualized his work for the gallery space, exploring a variety of mediums. He uses a plethora of discarded objects as a canvas, reclaiming them and reviving them with new life with his intricate insignia and iconography. Many of the found objects he uses carry a specific meaning to the artist, such as the driftwood that represents his desire to reconnect with nature. The lettering he incorporates throughout his work pays homage to individuals he admires and notable political movements in the history. Commenting his work, the artist explains, "On a micro level, I'm thinking about the chain link fence standing between me and the wall I need to paint. On a macro level, I'm thinking about the conceptual borders between nations preventing us from collaborating as citizens of the world. My gallery work is usually referencing graffiti and thus naturally questioning the social construct of property."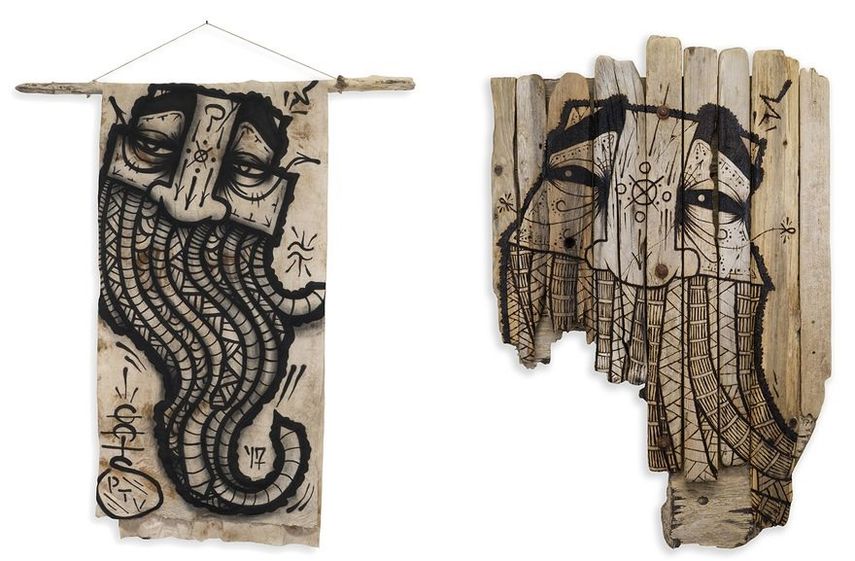 GATS Art Exhibition at SPOKE NYC
The work by GATS can be found in various locations around the world, from Palestine to the Philippines and Rome. Despite not having formal art training, the artist does not consider himself to be self-taught, but rather as a part of the community, learning from those around him throughout the years. The exhibition Against the Grain will be on view at SPOKE NYC from June 3rd until June 25th, 2017. The opening reception will be held on Saturday, June 3rd from 6 to 9 p.m. Complimentary beverages will be served.
Featured images: GATS - Death By Pebble Vintage Skateboards; GATS - Traveler; GATS - Trail Marker; GATS - Household; GATS - Gong; All images courtesy of SPOKE NYC.