Earlier in history, specifically during the Renaissance, there was a hierarchy of painting genres designated according to their subject matter. One of them was named genre painting (as confusing as that may sound). Genre painting, as opposed to genre of painting, refers to those works in which the narrative told by the painter illustrates mundane scenes from day-to-day life.
However, it was not until the late Renaissance that this type of expression became increasingly popular among the artists and their patrons. The shift from history painting and portraiture, both of which were the most favorable, was not entirely self-induced or autochthonous.
Rather, it was to a great extent connected to the rifts that marked Christianity in the 16th century. However, it is also important to note that a difference between categories was never entirely clear, meaning that a lot of paintings from this period belonged to more than one particular genre.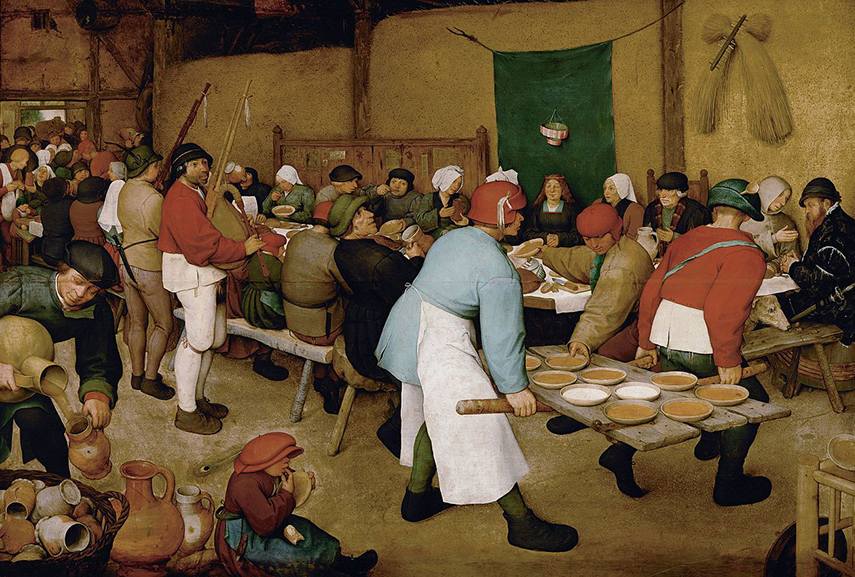 Hierarchy of Genres
From this standing point, we might be asking ourselves why paintings were ranked, in the first place. To understand this, we need to go back to the Renaissance and try to envisage the mood of the era. The academic hierarchy of the genres was adopted as a system representing the values appreciated by the academics from this period. According to this hierarchy, individual artworks were assessed and placed into various categories: history painting, portraiture, genre painting, landscape and still life. Since the Renaissance was pretty much about reclaiming and following the antique ideology and their moral code, they believed that the highest form of artistic expression was figurative depiction dedicated to the human form. In that sense, pictorial representation that centered around the human body was more important, or as some would say, more noble than the one that depicted still life or landscapes. Also, the hierarchy was partly organized according to one other principle, which is the display value of each category. A difference was being made between public and domestic expositions.[1]
Academic Evaluation in the Renaissance
This system faced a lot of controversy even back in the day. Because of a greater appreciation of history painting and portraiture, many still life and landscape artworks were marginalized, even if they were, stylistically and technically, much more outstanding. Furthermore, history painting was given the title of the grande genre, meaning that it was considered the most "artistic" of all. Most of history paintings pictured religious scenes, often allegorical and therefore seen as morally uplifting and affirmative. This left little space for other types of art to be considered in the same light and to progress. Furthermore, it was mandatory for the artists to adapt to the rigorous academic system in order to be considered as worthy practitioners at all, or in other words, to remain part of the academy.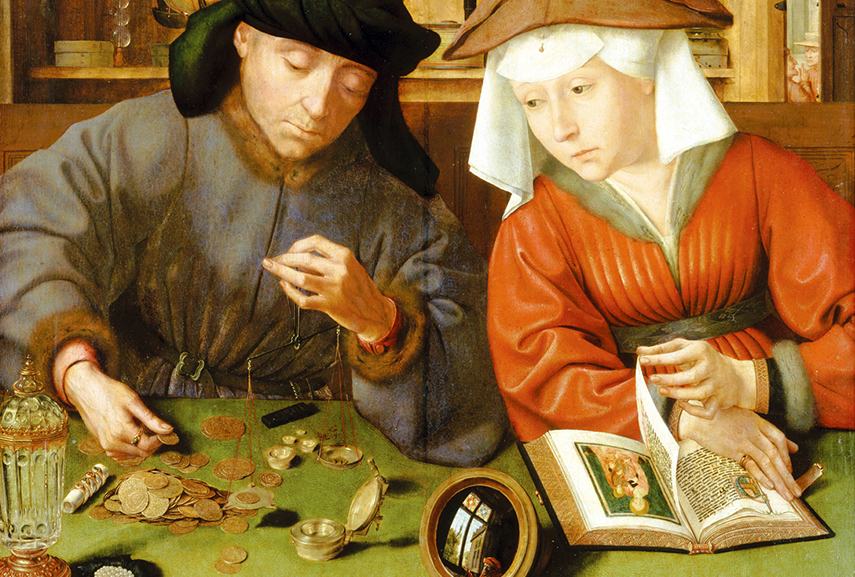 Reception of Genre Painting
Genre painting was a peculiar crossover between these categories. It did, undoubtedly, regard the human figure and experience, but its narrative was not as inspiring (at least not to the academy). In terms of their potential to amaze, these artworks were considered less powerful than history painting and portraiture (the latter referring to the larger-than-life portraits of patrons who were often rich and influential, or sometimes the portraits of historical or mythical beings). They were more often displayed in homes and domestic environments, than in any other context. In that sense, genre painting was closer to the two less appreciated genres.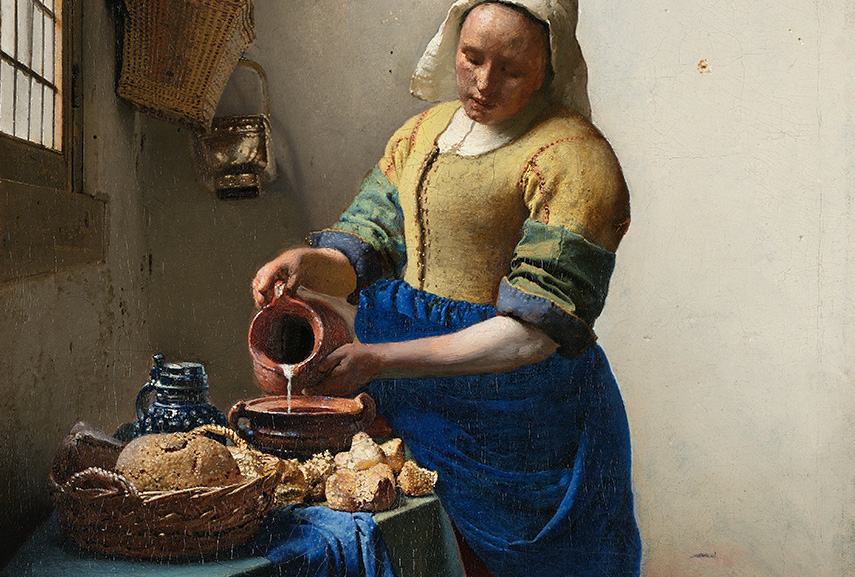 How Genre Painting Became the Number One Genre in Northern Europe
After 1517, the countries from northern Europe abandoned Roman Christianity and started pursuing the Protestant faith. This is remarked as one of the crucial moments for the development of genre painting and the significance it has gained over time. Instead of insisting on expensive decorations to furnish their churches and luxurious public displays, the Protestants rejected frescoes entirely. This had a major influence on the authors from the northern-European countries, such as the Netherlands and Germany. They started turning to patrons who belonged to the middle class and whose interest was simply to embellish their homes with small scale "feel-good" paintings that they were able to relate to. This is not to say that the Italians were unfamiliar with this genre, but simply that the Catholic outlook was negligent towards its potential. Interestingly enough, this turn from fresco to oil painting was followed by a piece of trivia. Hstorians believe that the climate in the northern countries played an important role in this switch to easel painting, since the air was too humid for preservation of frescoes.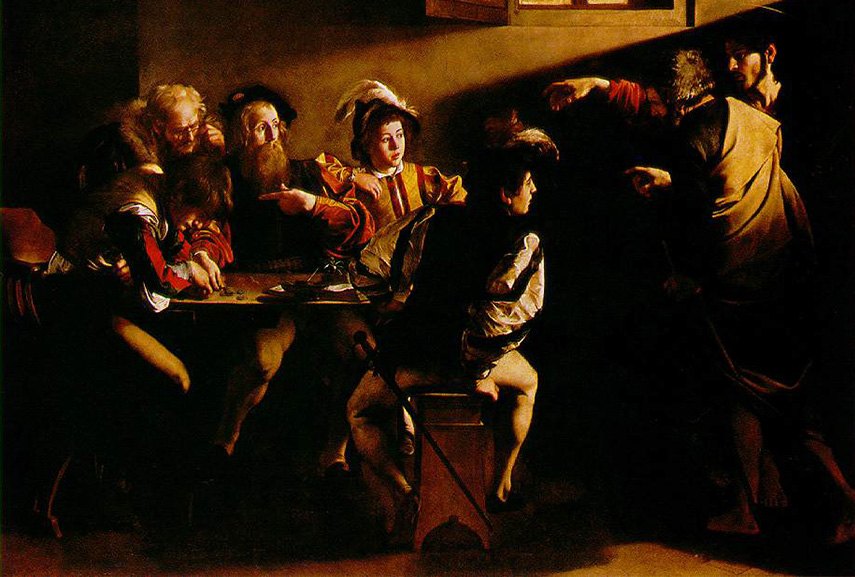 From the Dutch Realists to Post-Impressionists
The first wave that was primarily dedicated to genre painting was the Dutch Realism movement. It emerged in the 17th century as a form of Dutch baroque, and it helped this style grow as an independent artistic branch, operating through five main schools: Utrecht, Haarlem, Leiden, Delft and Dordrecht school. The most common subjects included situations from peasant or soldier life, daily pleasures, social events and scenes of drunkenness. Dutch Realists combined people, nature, architecture and still objects as parts of their simple, civic narratives. Moreover, artists such as Johannes Vermeer, Jan Steen and others influenced a majority of their contemporaries across Europe, including the ones from Flanders, England, Italy, France and Spain.[2]
Later in the 19th century, there had been a gradual decline of religious motifs as an engaging subject matter. As opposed to the religious or allegorical content, ordinary scenes had become more interesting sources of inspiration. This particular transcendence was followed by a significant change in terms of scale - finally, genre painting had met the large canvas. This was a period in which some of the most notable genre painters became known, such as the French Gustave Courbet and Jean-Francois Millet, or the British painters such as William Powell Frith and David Wilkie. In Italy, one of the first proponents of this new, "heroic" type of genre painting was Pietro Longhi, although many would argue that Caravaggio played with a unique, sublime type of genre painting in his own time (see Caravaggio's Calling of Saint Mathew, which seems like a genre painting at first glance, but nonetheless contains many hidden religious motives). Another peak had happened during the Impressionist and Post-Impressionist era. Monet, Cezanne, Manet and Degas are just some of the artists whose works you'll find representative in this regard.
Art in the 20th Century
The first half of the 20th century was marked by an emergence of a few historical realisms, such as the American Realism and Socialist Realism. The former was directly influenced by the Ashcan School which placed emphasis on the social aspect of realism as such, introducing the category of social realism (not to be confused with Socialist Realism mentioned above). Their painters portrayed the American city life in a non-idealized manner, just like the realists did with the characters of non-representative nature, such as prostitutes, drunks and middle-class men. This Courbet-derived type of realism deployed genre painting as a technique that served as a social-class agent in 20th century art. Whether intentionally or not, this particular category was politically engaged in the development of a collective consciousness that renders an ordinary man as integral part of the art world.[3]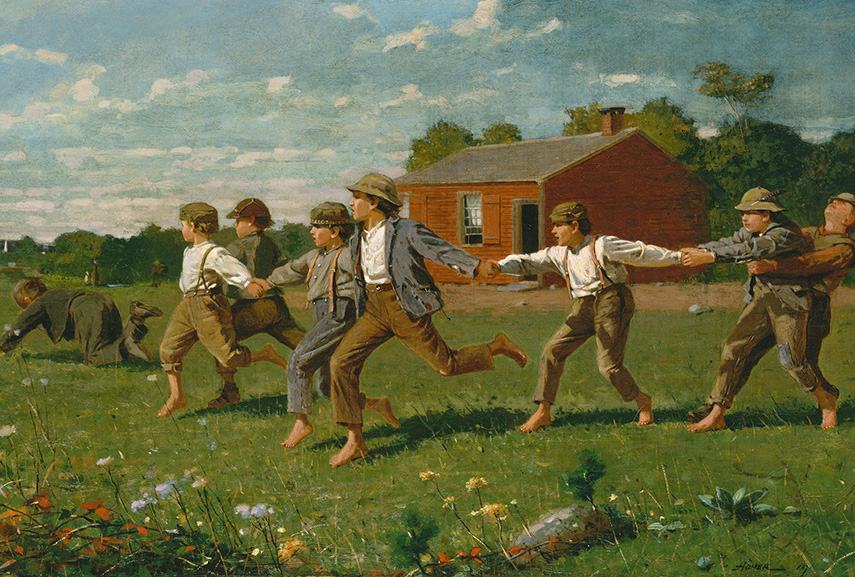 Painting During and After the Modern Art Era
But when talking about art in the 20th century, figurative painting is not really the first thing that comes to our minds, is it? Given that the era was marked by significant adjustments in thinking, it is the well-known shift from figuration to abstraction that changed the face of painting as we know it today. During the past 100 years, the ideas about art and what it could mean have been changing. Modernism introduced the universal language, which gave impetus to a different way of looking at painting. Instead of imitating scenes from everyday life through a mimicking depiction, artists started producing shapes and figures of their own imagination. They no longer felt a need to represent reality, rather, it was more likely that they would invent a different reality. Intellectualized rather than sensational, visual arts became as complex as language itself, without any narrative attached.
After the Modern era supposedly ended, it was clear that figuration will probably never be entirely abandoned. However, art didn't go back to its pre-modern state. Rather, it became liberated so as to take on any form the author may find suitable. Still, the question is whether genre painting, as an increasingly popular thematic constraint from the early Modern and pre-modern period, remained the same in the 20th and the 21st century. Is its role in the society the same? Does it inform and illustrate, as it used to, the new working class and their lives, in the same spirit?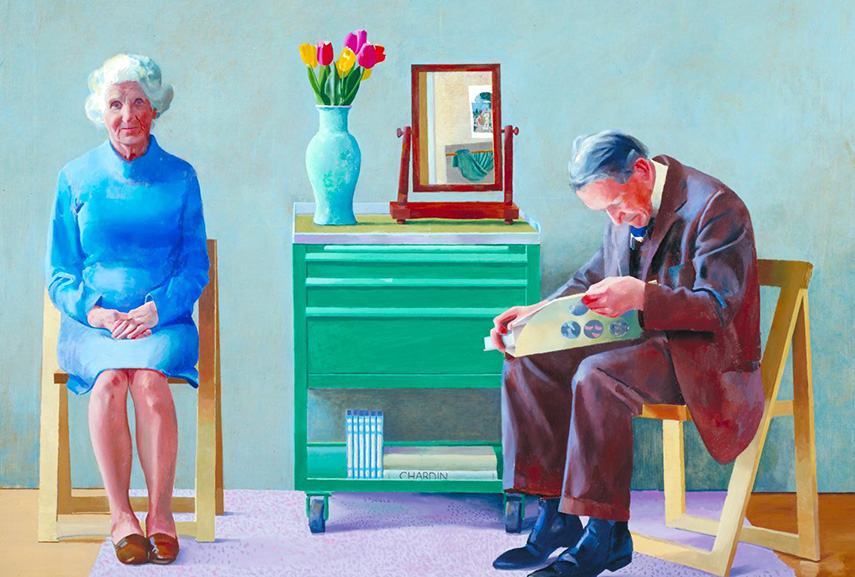 Recognizing Genre Painting in Our More Recent Past
After De Stijl, Bauhaus, Suprematism and similar movements that attempted to establish a different kind of expression in art, there was a slight reversion back to figurative painting in Europe during the 1930s and the 40s. However, this period was considered regressive and politically-charged due to its link to the Nazi movement. When the Second World War was over, one of the closest links to everyday-life on canvas was found in Pop Art and its new kind of appreciation for the mundane object. Hockney is certainly one of the painters whose work from the late 60's and the 70's was somewhat similar to the initial principle behind genre painting, even if slightly idealized or affected by a particular social status (take a look at some of his paintings from this period). Even if not all pop artists depicted situations that included people, the choice of their subject matter exemplified a certain fascination with the ordinary and the common. In that sense, even Wayne Thiebaud's still life paintings represent the pleasures of ordinary life in a genre-painting sense of the term.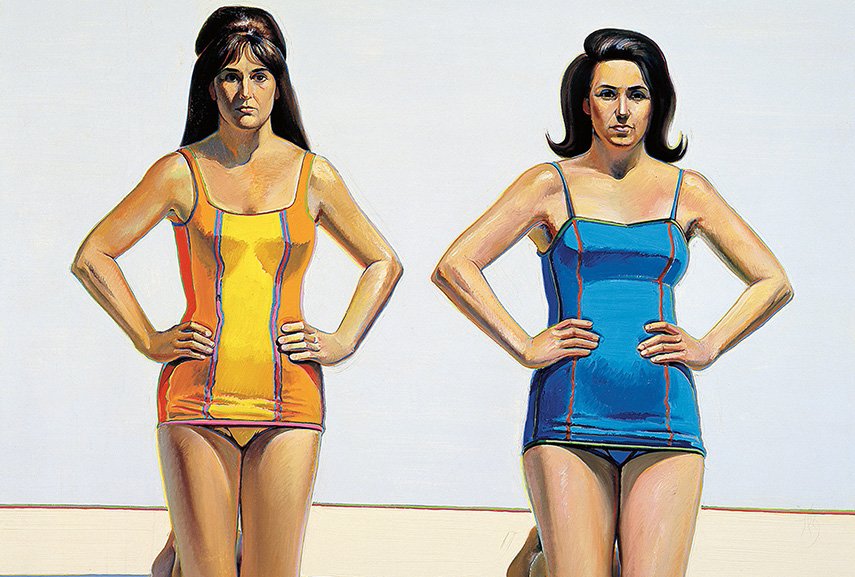 Genre Painting in Contemporary Art?
Finding connections between contemporary art and genre painting seems easier than it truly is. A lot of contemporary painters apply themselves to figuration, and many of these artists seem to be dealing with scenes from everyday life. However, due to a lack of lucidness in this era, we are not entirely certain which of these situations are real, and which are invented or imagined. Furthermore, the fact that the painter depicts a seemingly common situation does not need to be an end in itself, because, quite like Caravaggio, a contemporary painter may use his/her characters as proxies in order to convey messages and hide meanings. On the other hand, the author may intend not to strike us with the narrative as much as with the color, the atmosphere, the texture or any other aspect of the artwork.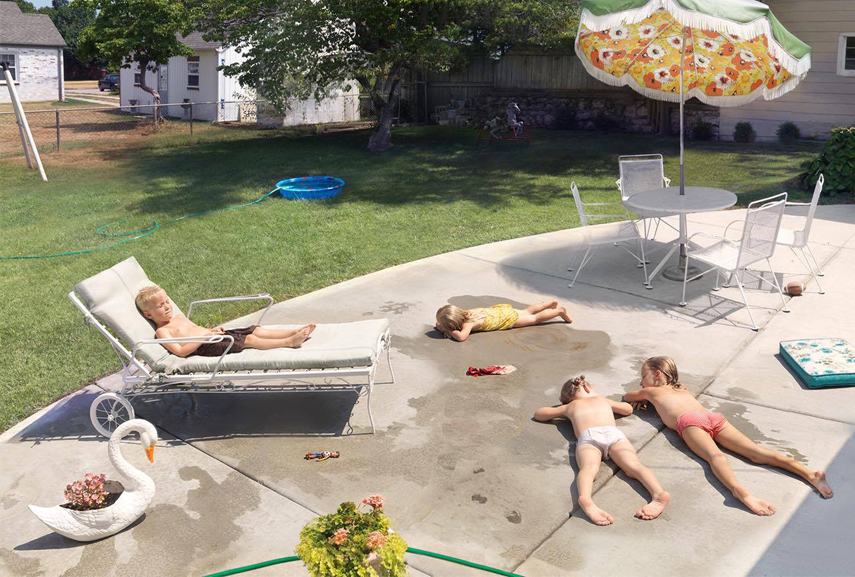 Possible Relationship Between Genre Painting and Photography
Another thing worth considering is the fact that they didn't have cameras in the Renaissance. We are familiar with the factual nature of photography and how valuable it is as a source of knowledge and information. This is also the reason why it has always been positioned between art and documentation, and why it was not considered art at all until recently. Still, photographing everyday life has become a fascinating trend, being introduced to the art world by Andy Warhol (even if it was not his initial idea to present his photographs as artworks at all). Ordinary people and life as it is have turned out to be just as amazing as fantasy. One's ability to recognize and capture these moments is comparable to that of the painters from the 17th, the 18th and the 19th century - having in mind that our age is the age of post-medium.[4] Such are the works by Juergen Teller, Richard Billingham or Julie Blackmon, for example. That said, Blackmon's inspirational statement from her website may come as a perfect closing line for this debate.
"The Dutch proverb 'a Jan Steen household' originated in the 17th century and is used today to refer to a home in disarray, full of rowdy children and boisterous family gatherings. The paintings of Steen, along with those of other Dutch and Flemish genre painters, helped inspire this body of work. I am the oldest of nine children and now the mother of three. As Steen's personal narratives of family life depicted nearly 400 yrs. ago, the conflation of art and life is an area I have explored in photographing the everyday life of my family and the lives of my sisters and their families at home. These images are both fictional and auto-biographical, and reflect not only our lives today and as children growing up in a large family, but also move beyond the documentary to explore the fantastic elements of our everyday lives, both imagined and real."[5]
Editors' Tip: Dutch Seventeenth-century Genre Painting: Its Stylistic and Thematic Evolution
Historians call the period between 1600 and the opening years of the 17th centuries the Golden Age in Dutch Realism. During this period, genre painting went through a significant evolution, having been articulated by the hands of the great masters, such as Vermeer, Steen, de Hooch, Dou, etc. Looking at these artworks also helps us see the stories behind them, and most of them are interpreted and explained in this book, by a well-known scholar interested in this subject matter, Wayne Franits. This comprehensive evolution of genre painting in Holland is accompanied by over a hundred illustrations, and it is recommended to anyone interested in getting a deeper sense of what was going on in this part of history.
References:
Armenini, G.B., De vera precetti della pittura, 1587. "On the True Precepts of the Art of Painting"
Fuchs, RH., Dutch Painting, Thames and Hudson, London, 1978.
Morris, P., Realism, Routledge, London, 2003.
Osborne, P., Anywhere Or Not At All, Verso, 2013.
Blackmon, J., Domestic Vacations, Julie Blackmon official website, 2008 [October 23, 2016]

Featured images: Jan Steen - Beware of Luxury, 1663; Diego Velasquez - Las Meninas, 1656; Adriaen van Ostade - Peasants in an Interior, 1661. All images used for illustrative purposes only.