Are you familiar with the origin story of geometric abstract art? When in 1918 Kazimir Malevich painted his White on White, it was the most revolutionary work to date - it truly changed the art as the world knew it. Completely unprecedented, it redefined the medium in the most abstract of ways, introducing '"the supremacy of pure feeling or perception in the pictorial arts," even more than its predecessor, the 1915 Black Square. Today, we know both of these pieces as the primary artworks of geometric abstract art, and it's simply not possible to talk about the movement or its influence on the contemporary scene without mentioning them. Of course, they were only a part of a very rich history and the evolution of this form of painting, which marked the beginning of the 20th-century art alongside the very movements which led to its existence - Cubism and Futurism. Next to the gestural abstract art, geometric abstract art or geometric abstraction stood as part of a greater camp of expression, which aimed to depict the non-representational and the non-objective through the means of painting, but also drawing, sculpture and architecture, among others.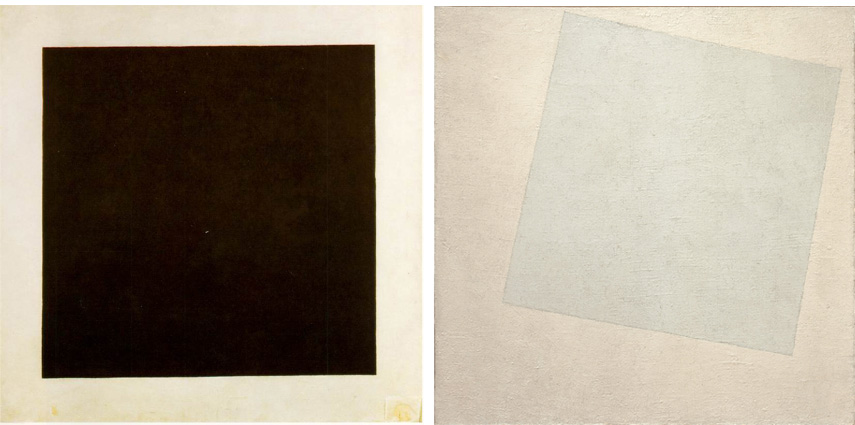 The Art of Form - How Geometric Abstraction Came to Be
With the arrival of photography and the introduction of the first film, painters strived to move away from its growing realism, which was imposed on the art world in general, it seemed, rather looking to depict their inner landscape, their thoughts and emotions. In order to do so, the pioneers of Geometric Abstract art leaned onto geometric forms, blocks of uniform colors whose purpose was two-fold: on one hand, these shapes presented the viewer with a completely different look at the world, the things in it, rigorously reducing reality to its purest, most basic structure; on the other hand, it called attention to painting as a medium, its plasticity and two-dimensionality. Geometric Abstract art, in a way, rejected a predisposed idea that there necessarily has to be "something" to paint, and re-affirmed painting as something one simply does. The visions of geometric abstraction were utopian, seemingly impossible because they were non-existent, or at least non-palpable.
Guided by a similar light, although in a less radical manner, there were movements like Cubism and Futurism, which were more oriented towards reality. Cubism offered a more simplified and more geometric reality, as the paintings by Georges Braque and Pablo Picasso introduced bold lining and angular contours, while Futurism played with concepts of space and time. Geometric Abstract art saluted their ideas and went even further, eliminating elements like perspective or physical reality and focusing on primary colors, flatness, studied grids and patterns, strict composition.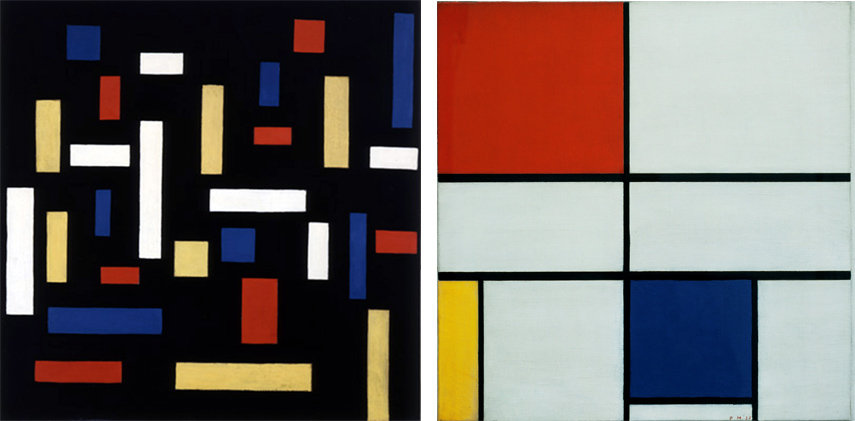 Painters of the Primacy of Pure Feeling
Aside from Malevich's, among the first encounters of geometry and abstraction there were those of Wassily Kandinsky. The Soviet Union, fresh out of the revolution, proposed itself as the perfect crib for new developments in art, thus breeding the Constructivism and graphic propaganda works of El Lissitzky, for instance. Such dynamic shapes and colors were further explored by Piet Mondrian, who was a part of the Dutch De Stijl movement, still considered the purest and most ideal of all movements. His iconic grids, formed of vertical and horizontal black lines and three primary colors, represented the backbone of his non-representational geometric artwork, which he called neoplasticism, and remained the artist's practice till the end, concluding with one of his most famous works, Broadway Boogie Woogie.
The fascination with the purity in geometry and color went on well into Post-War and Contemporary art, interpreted in new, exciting ways by a variety of artists. Among them, we have Josef Albers, whose work visually evoked Color field painting and consisted of layers of squares which examined the interaction of color and our perceptions of it. Geometric Abstract art often coincided with other movements, as it often happens. The practice of Robert Delaunay and Sonia Delaunay was rooted in Orphism; Sol LeWitt transformed squares into cubes in a conceptual environment; the three-dimensional Minimalism of Richard Tuttle also stand as an example, while for Victor Vasarely, Geometric Abstract art was an important base for his Optical artworks.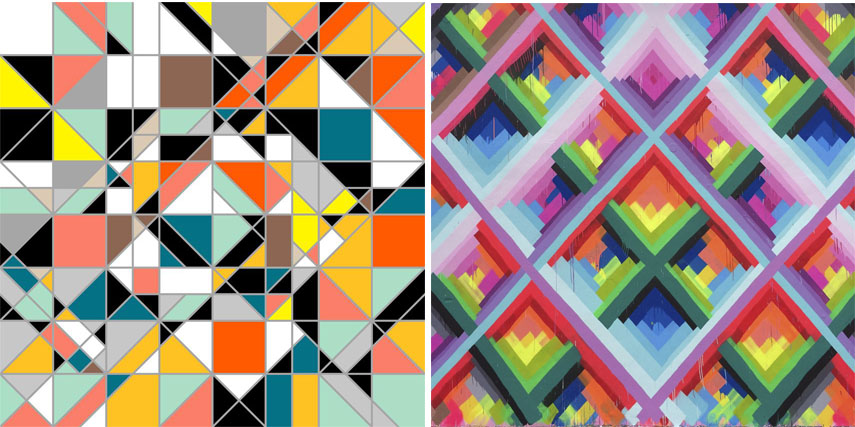 The Geometric Abstract Art on View Today
That Geometric Abstraction is still one of the forces to be reckoned with in today's art scene, but also the market, show numerous exhibitions taking place at the world's most important institutions, museums, and galleries. Let us remember last year's Adventures of the Black Square, held at London's Whitechapel Gallery, which was one of the biggest events of 2015. It followed Tate Modern's grand Kazimir Malevich retrospective in 2014. There were also Pace London's recent review of three big abstract art names, John Hoyland, Anthony Caro and Kenneth Noland, on view as we speak is Larry Bell's solo show at Hauser & Wirth in New York, as well as the Frank Stella's exhibition at the Whitney Museum, for a couple more days. In such climate, we're quite used to seeing names like Ellsworth Kelly, Sean Scully, Agnes Martin or Ad Reinhardt, as part of regular exhibition programs everywhere.
These legendary geometric artists also continue to inspire new generations of talented creatives who work in the field. Among them, we can find Sarah Morris and Mai Braun with her vivid pattern paintings, Italian Matteo Nasini with his sculptures, Helen Miranda Wilson, Ricardo Mazal, Norman Zammitt, Marley Dawson and many others. Geometric abstraction also found its way to street and urban art, through the works of Maya Hayuk, Augustine Kofie, Alexey Luka, Jan Kalab and Thomas Canto, to name a few. In such a splendid variety of styles and approaches, the geometric abstract art movement continues to thrive and judging by the looks of it, it is not going anywhere, any time soon.
Editors' Tip: Contrasts of Form: Geometric Abstract Art 1910-1980
The Museum of Modern Art's CONTRASTS OF FORM: GEOMETRIC ABSTRACT ART 1910-1980 was an international survey of constructivist and geometric art, which opened on October 7, 1985. The exhibition and its accompanying publication presented selections from the recent gift of 249 works of geometric abstract art to the Museum from the Riklis Collection of McCrory Corporation. Augmented by important works drawn from the Museum's other holdings, the exhibition provided an in-depth view of one of the most vital and persistent traditions in modern art. This publication accompanied the show, and it was written by Magdalena Dabrowski, assistant curator in the museum's Department of Drawings.
Featured images in slider: Wassily Kandinsky - Composition 8, 1923; Kenneth Noland - Untitled, 1961; Josef Albers oeuvre; Ellsworth Kelly - White Relief over Gray, 2013; Frank Stella - Grajau I, 1975; Larry Bell - Homage to Baby Judy, 1960. All images used for illustrative purposes only.