After an elaborate show presenting his investigative visions of human character at Simon Lee Gallery, and the elaborate ink drawing show at Skarstedt gallery that ran paralelly, George Condo worked relentlessly on a new body of work, this time immersing himself into a more conceptual experiment. His current exhibition Double Heads/Black Paintings/Abstractions continues his thorough analysis of portraiture, but in the recent works his focal point revolved around the idea of action painting - a term coined by Harold Rosenberg, to describe the performative, explosive energy that inspired Abstract Expressionist painters such as Jackson Pollock and Willem de Kooning.
The entire series of action driven paintings the artist created in 2014 in his East Hampton studio is currently on view at Skarstedt Gallery in Chelsea, New York.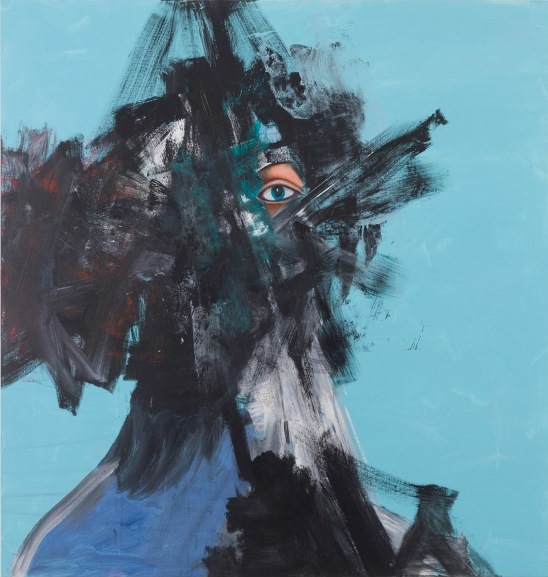 Action Painting by Condo
George Condo is known as the portraitist, the one who deliberately distorts the aesthetics of human aspect, in order to communicate in a certain way. Portraits are his preferred theme, as his own personal collection is known to contain mostly such paintings. The favorite subject of Condo is still there at the Skarstedt exhibition, but the approach has changed, as the painter engaged in creation of a series of "action portraits", by composing, layering, erasing and deconstructing his previous efforts in the attempt to achieve new solutions. Images are smudged, broken into pieces, almost cubist facets at times (reminding of Picasso perhaps), while torsos and bodies appear out of nowhere, floating against entirely abstract backdrop, sometimes merging with it.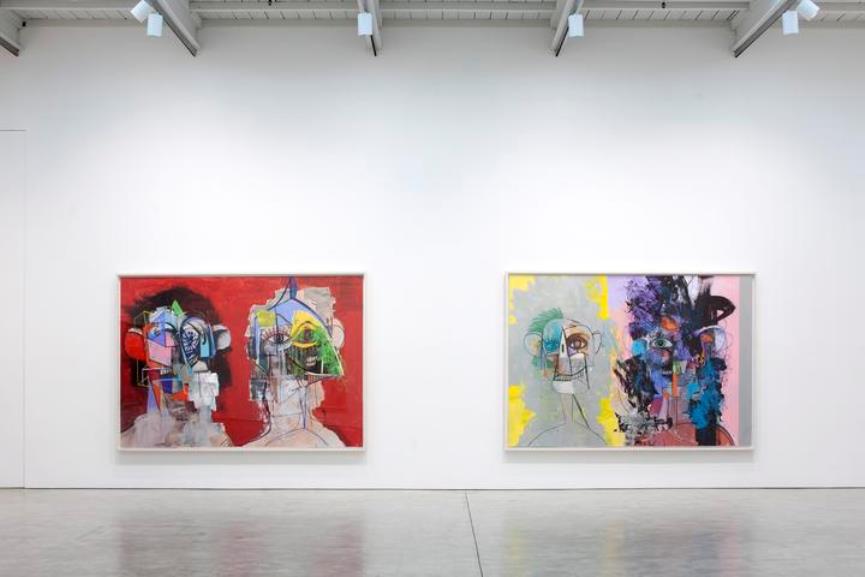 Color and References in Condo's Paintings
Double images and the use of silver metallic paint in works of the series references Warhol's Double Elvis image from 1960's (Triple Elvis recently sold for a whopping price at Christies). The referencing even emulates the screen printing process, and while done by hand it evokes the action painting. Condo would prepare the canvas with silver paint, apply ivory black on loose paper sheets, and then he would press the paper onto the canvas, leaving a painted mark. He would extract the figures by hand from such an abstract surface, but leaving the entire painting done in grisaille, remaining monochrome.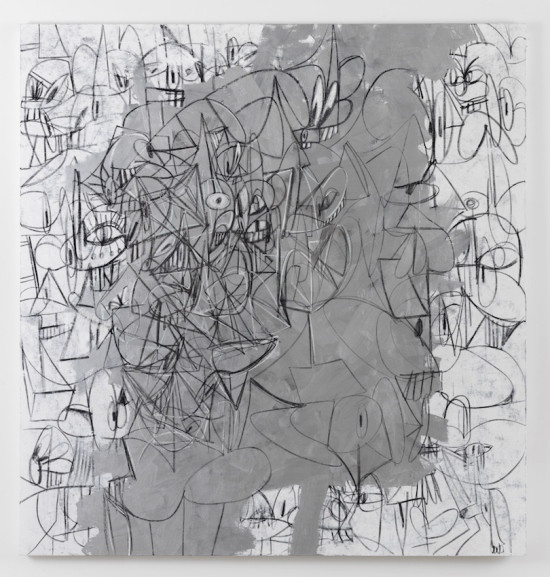 Gesture as the Core of Action Portraits
His gestural improvisations were limited by the confines of his studio, where Condo couldn't observe the painting from afar, but had to stay close, working on the image from within it. The search for the hidden image was a dedicated and exhausting one, allowing the figural to emerge from the saturated paint. The work Beginnings even suggests a different turn of events, appearing to have been semi-covered by blue and dark color, and that it might have been a complete portrait. Focusing on painting itself, as the key action in the creative process, George Condo composed his works by adding, taking away, painting over the existing and incomplete elements.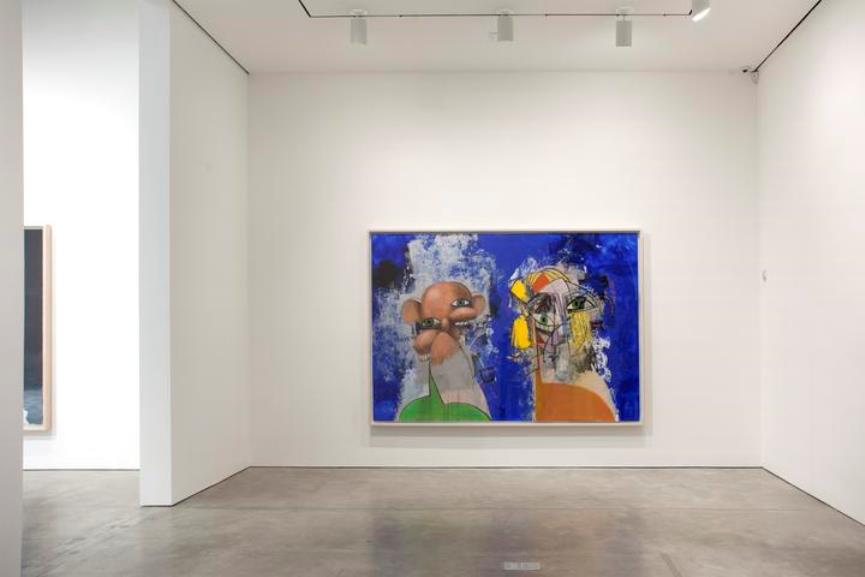 Double Heads/Black Paintings/Abstractions
Double Heads, Black Paintings and Abstractions by George Condo lead the observer on an emotional roller-coaster, spanning from the fine and poetic expression, to the almost violent, screaming explosions of sentiment, color and stroke. The hidden or glimpsing figures allude to the multi-faceted human character and to the buoyancy of human feelings. Double Heads on Yellow, Pink and Silver is also a portrait of Condo's late fellow artist and friend, Jean-Michel Basquiat, represented in vital color, bold stroke, as if reminiscing of the painter's explosive nature.
Double Heads/Black Paintings/Abstractions opened on November 8, and it will run through December 20, 2014 at Skarstedt Gallery in New York showing 12 paintings of the series.
Images - Skarstedt Gallery.
Featured image: George Condo - Double Heads on Yellow, Pink and Silver, 2014
If you are an admirer of George Condo and his contemporary master peers, sign up for My Widewalls and never miss the news about their new exhibitions!