Although influenced by the leading European tendencies, the development of American modernism is characterized by two dominant inspirations - on one hand, increasing urbanization and, therefore, industrialization, and on the other, vast landscapes. The artists willing to experiment explored various media whilst being influenced by diverse immigrant cultures.
Now considered the Mother of American modernism, Georgia O'Keeffe (1887–1986) was mostly inspired by nature and she emerged as a pioneering abstract painter who quickly started merging different techniques. The artist positioned herself as an autonomous female figure (some may say a proto-feminist) which was rather novel at the time regardless of her private and professional relationship with Alfred Stieglitz.
To revisit the early impulses that shaped O'Keeffe's impeccable aesthetic and the development of her own style of modernism, the Seattle Art Museum (SAM) organized an exciting exhibition titled Georgia O'Keeffe: Abstract Variations with a selection of seventeen abstract paintings and drawings.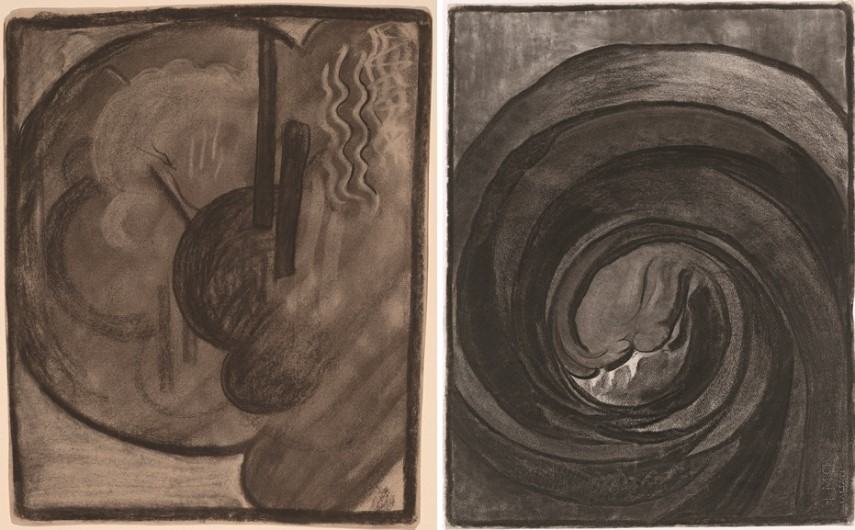 The Abstractions of Georgia O'Keeffe
The current exhibition curated by Theresa Papanikolas, the museum's Ann M. Barwick Curator of American Art, tends to unravel the crucial aspects of Georgia O'Keeffe's artistic development as she plunged into abstraction. It features two paintings from SAM's collection with loans from the Whitney Museum of American Art; the Georgia O'Keeffe Museum; the National Gallery of Art, and few other public institutions and private collections.
In a brief statement, Papanikolas emphasized her intention by focusing on the exhibition's centerpiece:
Music, Pink, and Blue, No. 1 is a marvelous painting and a cornerstone of our collection of early 20th-century American modernism. Studying it closely for this past year—my first at SAM—has been a powerful experience, as has been bringing it together with such an exquisite selection of O'Keeffe's works for the first time in Seattle. These drawings and paintings trace O'Keeffe's trajectory from the practitioner of abstraction to the painter of nature and place. I hope visitors will enjoy following her path as much as I have.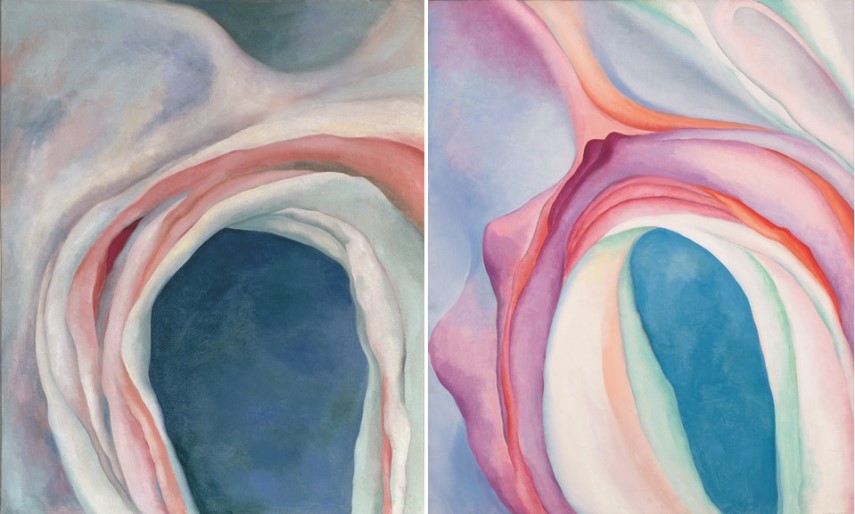 The Installment
The installation consists of ten oil paintings, including the exhibition highlight - the pairing Music, Pink and Blue, No. 1 (O'Keeffe's first major oil painting and a recent addition to the museum's collection gifted by the late Barney A. Ebsworth), and Music, Pink and Blue, No. 2 (loaned from the Whitney Museum of American Art), both made by the artist in 1918.
Five charcoal and pastel drawings that predecease these beautiful abstractions and other paintings are displayed as well, alongside a projection of images of additional early drawings and two photographs of O'Keeffe by a pioneering photographer, art dealer, and her husband, Alfred Stieglitz.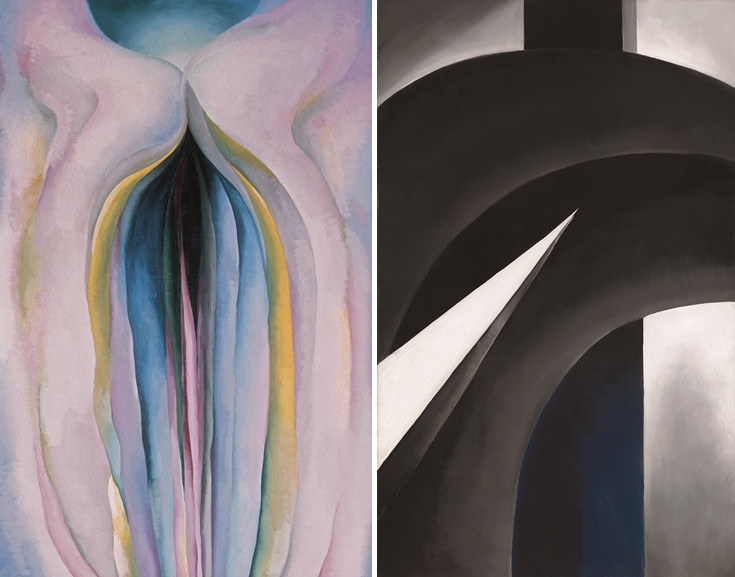 Georgia O'Keeffe at the Seattle Art Museum
This exhibition offers a fresh insight into the artist's compelling lasting practice and honors her as one of the first American artists who practiced pure abstraction.
As the Seattle Art Museum is reopening on September 11, Georgia O'Keeffe: Abstract Variations is extended past its original closing date on September 7, with the new date to be announced.
Featured image: Georgia O'Keeffe - Grey Lines with Black, Blue and Yellow, ca. 1923. Oil on canvas, 48 x 30 in. The Museum of Fine Arts, Houston, Museum purchase funded by the Agnes Cullen Arnold Endowment Fund © 2019 Georgia O'Keeffe Museum / Artists Rights Society (ARS), New York. All images courtesy the Seattle Art Museum.