One of the leading American modernists from the beginning of the 20th century was a woman and it was none other than Georgia O'Keeffe, an artist embraced the paradigm of modernity not only in the context of her painterly practice but of her personality as well. Apparently led by the belief that art is life and vice versa, O'Keeffe paid earnest attention to her style (similarly, though not that flamboyantly, as Frida Kahlo), which was indeed in sync with her painting.
The exciting exhibition Georgia O'Keeffe: Living Modern explores this American icon through a prism of self-fashioning and posing for the camera and is about to be on display at the Nevada Museum of Art.
The Traveling Retrospective
At the heart of this traveling exhibition is Georgia O'Keeffe's wardrobe, for the first time contrasted with key paintings and photographs that reveal her need to articulate and present her own identity as a woman and an artist.
Here it is important to note that this exhibition was launched by the Brooklyn Museum in 2017 and curated by Wanda M. Corn, Robert and Ruth Halperin Professor Emerita in Art History, Stanford University and made possible by the National Endowment of the Arts.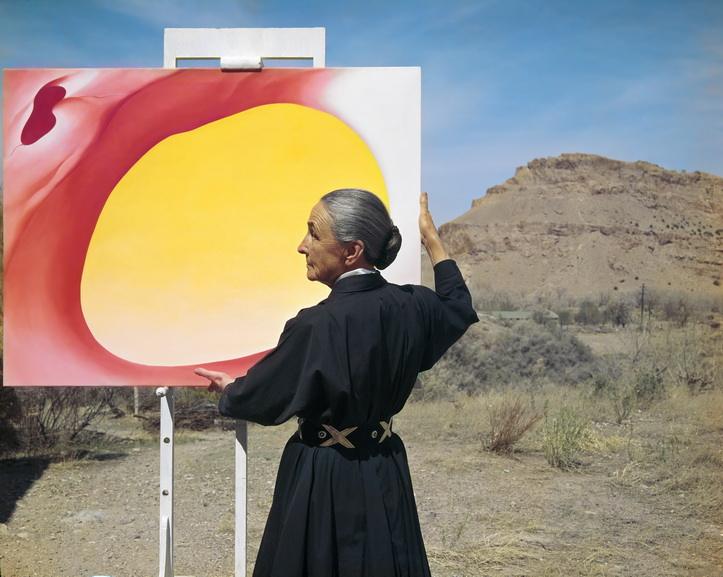 The Installment
Georgia O'Keeffe: Living Modern develops in chronological order and it sets off with a display of photographs from the artist's high school days when she started tailoring her signature look. The following four segments further emphasize her growth as an artist and a fully realized persona.
The first segment refers to the 1920s and '30s spent with the photographer Alfred Stieglitz in New York. During that time, she made even more clothes while Stieglitz took hundreds of the artist's portraits which turned O'Keeffe into one of the most photographed American artists in history. The second segment reveals the life in New Mexico and the influence the desert landscape had on her painting, especially the flowers series, and style. The following one shows the influence of Asian aesthetics in her style, while the final section features images made by a new generation of photographers who came to visit her.
As O'Keeffe was getting older, her eyesight worsened to the point she could barely see anything. The artist produced her last oil painting by herself in 1972 but continued working with assistants until her death in 1986.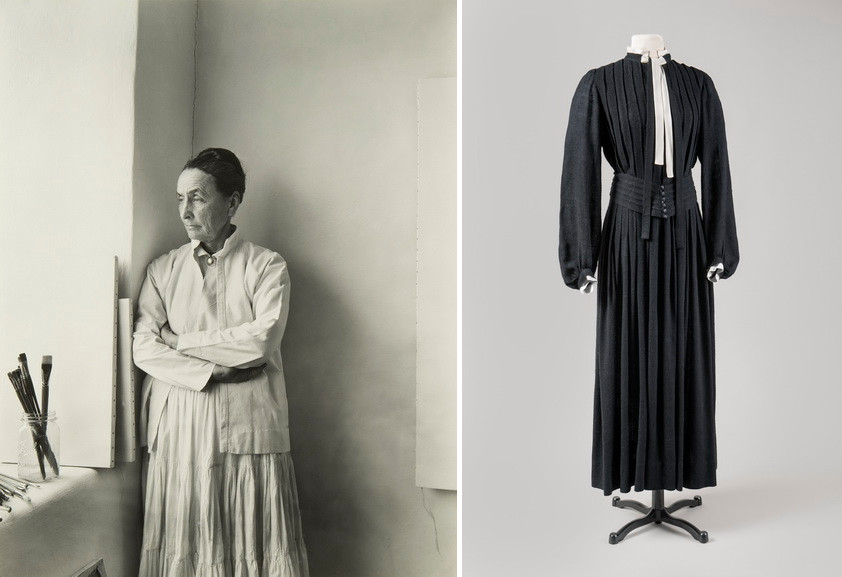 Georgia O'Keeffe at the Nevada Museum of Art
This exhibition is accompanied by yet another one titled Georgia O'Keeffe: The Faraway Nearby, From the Georgia O'Keeffe Museum, Santa Fe, New Mexico which is focused on the artist's New Mexico production, as well as a 320-page catalog titled Living Modern authored by Wanda M. Corn accompanies the show.
Georgia O'Keeffe: Living Modern traveled across the country and it will be on view at the Nevada Museum of Art in Reno from 20 July until 20 October 2019. Afterward, it will travel to the Norton Museum of Art in Florida.
Featured images: Ansel Adams (American, 1902–1984) - Georgia O'Keeffe, Carmel Highlands, California, 1981. Gelatin silver print, 10⅛ x 13⅛ in. (25.7 x 33.3 cm). Georgia O'Keeffe Museum, Gift of Juan and Anna Marie Hamilton, 2003.03.08. © 2016 The Ansel Adams Publishing Rights Trust; Georgia O'Keeffe - Rib and Jawbone (recto) and Tulip (verso), 1935. Oil on canvas, 9 x 24in. (22.9 x 61cm). Brooklyn Museum, Bequest of Georgia O'Keeffe, 87.136.5a-b. (Photo: Brooklyn Museum). All images courtesy Nevada Museum of Art.