Gerald Lovell's portraits are layered: his subjects' faces are encrusted with thick globs of paint, which sharply contrast with the rest of his works' flatly rendered surroundings. These emphatically painted pieces make seemingly mundane scenes - like a man eating at a diner or a woman sitting in a chair - feel special, like they're worth looking at twice.
Lovell's unique approach has captured the attention of the art world: All That I Have, his first New York solo show, which ran at PPOW Gallery from January 22 through February 20, completely sold out. And several of his new pieces, which are currently on display through April 17, 2021 in Atlanta's Mint Gallery, have already sold out as well.
"I think that Gerald's work is very strong and compelling," says PPOW co-founder Wendy Olsoff. "There's a generosity to the work. People really felt it and saw this raw talent. The people he chooses to paint, whether you know it or not, there's a power to them. They're all really interesting artists, some from Atlanta, some from New York."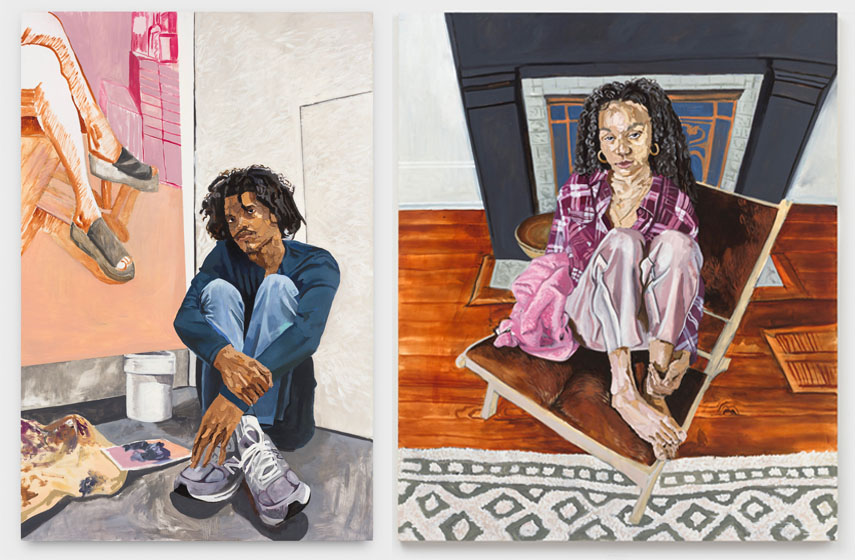 All That I Have
Many of Lovell's canvases from All That I Have put this power on full display. For example, one of Lovell's works, Rochelle (2020), shows a woman looking straight out at the viewer, like she's unafraid to confront us. She wears a brown beret and a knowing smirk; her black box braids fall behind her; and the entire scene is punctuated by a chartreuse background. Another piece, The Night on the Roof (2020), depicts a group of carefree friends hanging out and posing for a picture.
"Some of the figures are just looking straight on, some of them are overhead, one guy is at a booth," she says. "He's playing with perspective a lot."
These everyday portrayals of black life, of the relationships that we foster with one another, are a much-needed breath of fresh air. And Lovell's intimate portraits are especially unique because he renders the faces of his subjects in a thick impasto style, which adds a signature formal element to his works.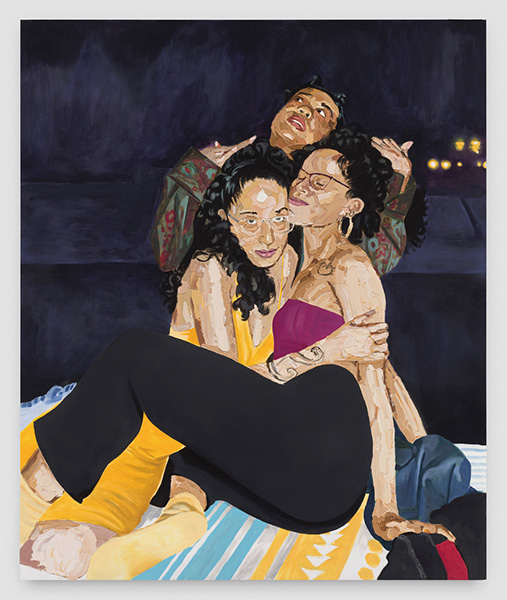 The Art of Gerald Lovell
As Antwaun Sargent observes in the exhibition catalogue:
Lovell […] play[s] with […] skin, making it more visible and textured than his flat, ordinary surroundings, questions the ways in which Black skin has been met with overreaction in routine circumstances.
All of the elements in Lovell's paintings - his compositional choices, the way he applies his paint, and the subjects he chooses to portray -come together to create impactful pictures of ordinary moments.
They're very powerful. And the colors are so vibrant. And the portraits are, you know, you keep looking at them. The different details of hats or jewelry or hair, how they're treated, it's very intuitive, [especially] for someone who didn't go to school. It is very sophisticated portraiture.
Written by Isis Davis-Marks.
Featured image: Gerald Lovell - Quil, 2020. Oil on wood, 48 x 36 in (121.9 x 91.4 cm). Courtesy of Gerald Lovell and P·P·O·W, New York.