He might not be well-known as artists such as JR, Banksy or Futura, but Gérard Zlotykamien is regarded as one of the pioneers of the Urban Art movement. The Gérard Zlotykamien art career has started in 1963 in England, and the artist has never left the streets since. Now aged 77, he is preparing a new solo exhibition at Gallery Mathgoth. Titled Éphémères, the exhibition draws on the analysis of Nazi Germany as a collective trip, as described in 2016 Norman Ohler's book titled The Ecstasy: A Hallucinatory Illumination on the Third Reich. In this original survey of the Third Reich, the author argues that drugs could have played a significant role in its victories and defeats. This haunting image of a nation in the chemical grip and the idea of men machines that ignored pain and fatigue, acted upon the artist as a stupefying agent. "The more I advanced, the more sick I was", explains the artist.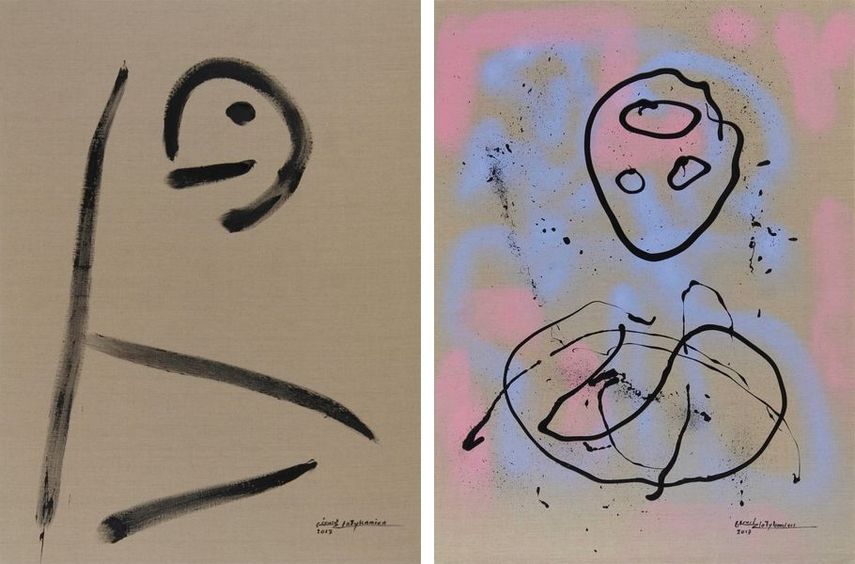 The Practice of Gerard Zlotykamien
Along with Daniel Buren and Ernest Pignon-Ernest, Gérard Zlotykamien, also known as Zloty, was one of the initiators of Urban Art in France. He was introduced to the spray technique by Yves Klein, whom he knew personally. He was immediately drawn to it because it allowed an effective and quick way of creating artworks on the streets. He is best known for his drawings, black silhouettes, which he calls "éphéméres", that evoke human shadows of the Hiroshima victims. A precursor of ephemeral art, his work can be seen all around the world, appearing mostly in places devoted to renovation or destruction. His simple but highly vivid line is instantly recognizable.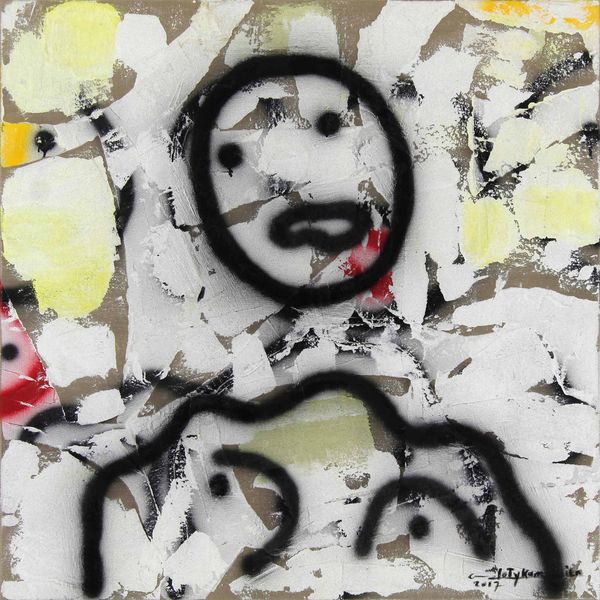 The Ephemerals
As they take shape on linen cloths and burlap bags, Gérard Zlotykamien's ephemerals suffer the effects of intoxication. These companions that have been traveling with the artist for almost 60 years now seem stunned. Born as a wavering memory of a disaster in the mad matrix of Nazi Germany and the atomic bomb dropped on Hiroshima, these ephemerals are now, after reading Ohler's book, projected in a hallucinatory world. The past that gave birth to them becomes their brutal horizon - a machine future, shaped by deep learning, administered by robots. In these new works, the familiar faces of ephemerals offer a more disturbing vis-à-vis: they begin to howl, twist, tpale, vomit their guts, and struggle, gradually giving way to delirium.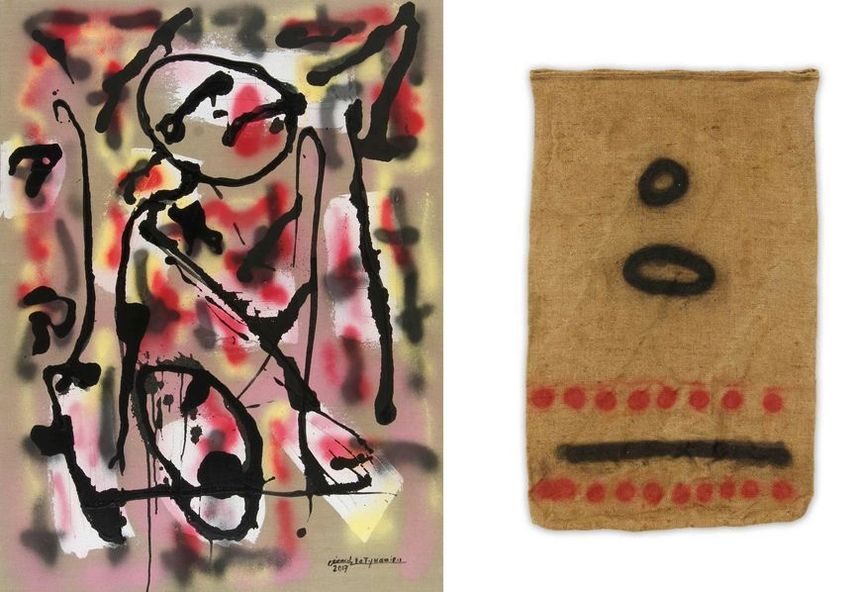 Gerard Zlotykamien Art Exhibition at Galerie Mathgoth
Does Gérard Zlotykamien tell us that these men were in total ecstasy, or that they have turned into machines, that the subconscious was recreated by the machine, or that these were just hallucinations? As the artist explains, they were all of these. "Hitler's brain weighed only 1.4 kg", he explains. "This lightweight brain of 1.4 kg was responsible for destroying tens of millions of lives. This small 1.4 kg of nothing has deployed an unbelievable power". The exhibition Éphémères will be on view at Galerie Mathgoth in Paris from March 18th until April 8th, 2017. The exhibition will be accompanied by a catalog.
Featured image: Gérard Zlotykamien Artwork (detail)