Although transgender people still face a multitude of difficulties in various environments across the globe, a significant increment in their visibility happened in the recent few years mostly through popular culture. Despite the fact trans identity has a very long history dating to various concepts of the third gender found in the ancient civilizations, it was found degenerative, offensive, and therefore marginalized and sanctioned for centuries.
Now, when it comes to visual art, the representation of the same was rather obscure, until the beginning of the 20th century when modern artists started exploring their identities. Although the European societies were conservative, scrupulous and embedded in patriarchy, during that time a significant number of them who identified as lesbian, gay or trans found different tactics most often affiliated with costuming (dragging) to present their queerness without being too much for the public moral.
One of the pioneering artists much of whose practice was focused on depictions of homoerotic sensibility and desire, as well as trans identity, was Gerda Wegener. She was a Danish illustrator and painter under the influence of Art Nouveau and later Art Deco, but more importantly, she was the wife of a trans woman, Lili Elbe, who was also her favorite model. This intriguing couple was the subject of the novel The Danish Girl by David Ebershoff which was subsequently turned into the Oscar-winning feature film.
Characterized by frivolous and campy illustrations and subtle, yet fashionable portraits of women, the oeuvre of Gerda Wegener certainly was in sync with the latest tendencies in fashion. Although more sensuous, tender and not experimental in style, her works can be compared to with other champions of that period, Jean Mammen, or even Tamara de Lempicka.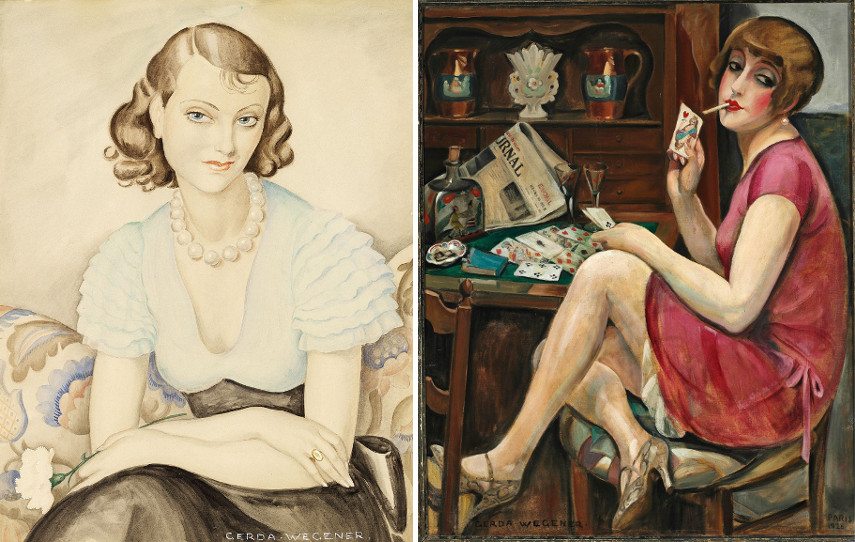 Gerda Wegener - Deep In Vogue
Gerda Wegener was born and raised as Gerda Marie Fredrikke in the conservative Lutheran family in the village of Hammelev near the city of Grenå, Denmark. She had three siblings but was the only one who lived to adulthood. As a young girl, Gerda showed artistic talent, was trained, and a couple of years later she moved to Copenhagen to pursue an education at the Royal Danish Academy of Fine Arts. After graduating from the Academy in 1907/1908, her career was launched after she won a drawing contest organized by the Politiken newspaper.
As mentioned, Wegener was inspired by fashion and she worked as an illustrator for Vogue, La Vie Parisienne, and other magazines. Eventually, she became an established artist in Paris known for the lavish illustrations (mostly for women products such as powders, stockings, etc.) as well as portraits, while in Denmark her work was considered controversial. Wegener won a prestigious competition at the 1925 World Fair in Paris, and was a good friend with a celebrated Danish ballerina Ulla Poulsen (1905–2001), who was frequently depicted in her paintings.
A One-of-a-Kind Muse
Gerda met Lili Elbe, formerly known as Einar Wegener, at art school. The two married in 1904, traveled throughout Italy and France and settled in Paris in 1912. They quickly became part of the thriving bohemian art scene, connecting with various artists, dancers and practitioners, indulging costume parties and other public festivals.
During her Parisian years, Elbe started flirting with drag by adopting a female name and persona, after being asked by Wegener to pose for her instead of a friend, model, and actress Anna Larssen, who was late. Elbe found it appealing and she quickly became Wegener's favorite model, an inspiration that the artist expressed in numerous paintings of beautiful women dressed in chic attires. Although she presented Lili Elbe as the cousin of Einar Wegener, in 1913 after acknowledging that the person who inspired her femme fatal paintings was her husband, the art world was shocked.
By the 1920s, Elbe lived on as a woman, participating in public life and entertaining guests in her house. In 1930 for the purposes of the sex reassignment surgery, she and Gerda Wegner had to divorce since same-sex partnership was not recognized by the Danish law. Elbe traveled to Germany where she underwent the first procedure under the supervision of the renowned sexologist Magnus Hirschfeld.
Though Elbe was a media sensation in Denmark and German, she succeed to change the name and the documents. Throughout the process she was supported both emotionally and financially by Wegener, however, Elbe wanted to conduct the last operation - vaginoplasty which, sadly, didn't go well, and she died in 1931 from complications of the surgery.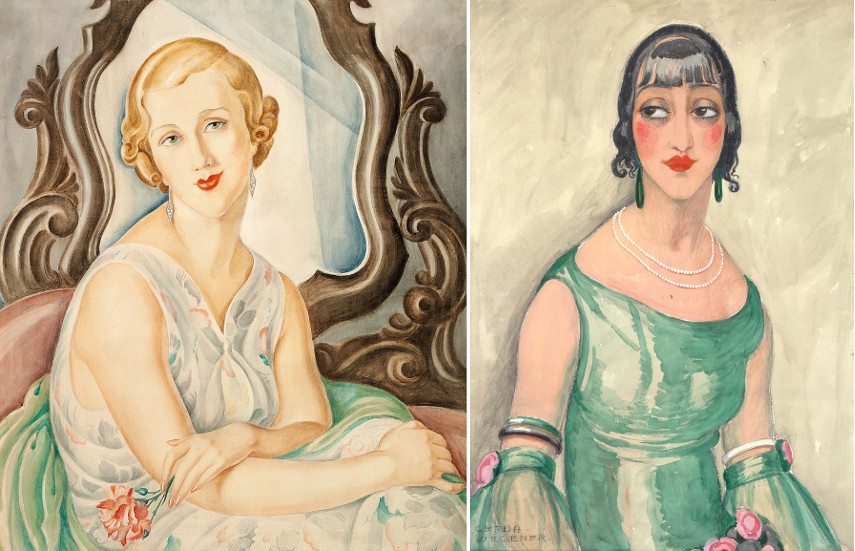 The Domains of Gerda Wegener
After Elbe's death, Wegener was devastated but continued to go on; she married a ten years younger Italian diplomat, Major Fernando Porta and moved with him to Morocco. During the unsuccessful and short-lived marriage, she continued painting. In 1936 Wegener divorced Porta and returned to Denmark two years later. By that time, her career went downwards, the artist was practically without income, so she had to sell hand-painted postcards to support herself. In 1940 shortly after Nazi Germany invaded Denmark, Gerda Wegener died in relative obscurity, her humble estate was auctioned, and there was only a small obituary printed in the local paper.
Throughout the decades the story of the couple earned iconic status, and their artwork was rediscovered, exhibited and auctioned. From late 2016 until early 2017, the Arken Museum of Modern Art hosted a retrospective exhibition of Gerda Wegener's art. This project coincided with the mentioned feature film The Danish Girl which was criticized for not delivering the story truthfully by obscuring certain facts based on a fictional, especially not taking into account Wegener's own sexuality, expressed through her erotic drawings and illustrations.
In conclusion, it is apparent that this Danish painter was a genuine innovator and an important contributor to Modernism. Gerda Wegener didn't just use her art to feature beautiful and well-dressed women; rather, she used any given medium to fight for queerness, the other kind of desire, and a different female gaze which makes her agenda socio-politically charged.
By combining high and low culture at the time when this was considered too banal and deprived of serious artistic quality, by developing peculiar strategies based on masking and dragging, and representing marginalized identities, Gerda Wegener created a unique body of work that makes a predecessor of bold and daring women such as Nan Golding, Cindy Sherman or Gillian Wearing.
Featured image: Gerda Wegener - The Ballerina Ulla Poulsen in the Ballet Chopiniana. Image via Flickr.