Since the mid-1960s, the Italian society found its self on the verge of a serious turmoil; student protests, the economic downfall, and a constant threat of street violence from both the right and left-wing groups made the country saturated with uncertainty and skepticism. Those circumstances reflected on the whole generation of young people engaged in public life and willing to participate in the restructuration of society. The occurrences on the art scene naturally coincided with these shifts especially within the activity of the Arte Povera movement.
The instrumental figure who defined it and empowered the artists to experiment was no other than Germano Celant. Before he came up with the term Arte Povera (translating from Italian to "poor art") in 1967 and developed an outstanding international career, he had earned a diploma in art history from the University of Genoa and worked as assistant editor for a prolific magazine Marcatrè.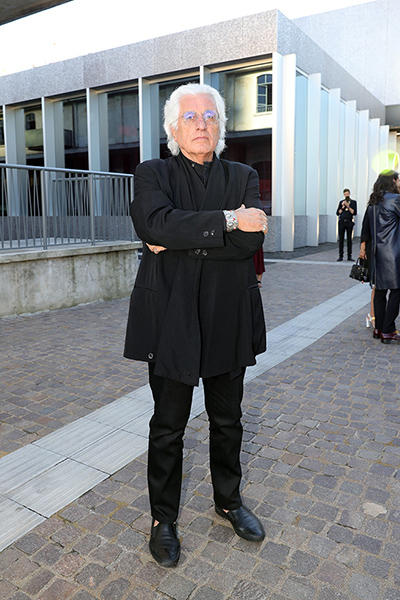 Germano Celant - The Father of Arte Povera
Germano Celant's Arte Povera manifesto called Notes for a Guerrilla War, published in Flash Art magazine, immediately received wide attention. Although short-lived, the movement itself made a big impact since the artists proposed a radical stance by deconstructing the inherited art cannons and attacking the established social and cultural values similarly like Conceptual art that developed a few years later. The proponents of Arte Povera were mostly active in Turin, but also other major Italian cities such as Genoa, Milan, Rome, Naples, Venice, and Bologna.
The same year the mentioned manifesto was published, Celant organized the exhibition called Im Spazio (The Space of Thoughts) that was held at the Galleria La Bertesca in Genoa from September through October 1967. That one was followed by two other exhibitions in 1967 and 1968, while the articulation of these outstanding years was expressed in the book Arte Povera Storie e protagonisti / Arte Povera. Histories and Protagonists, written by Celant in 1985.
The art critic wanted to introduce radicalism in a more international context, but the movement remained centered solely on the group of Italian artists who questioned the notion of revolutionary art, free of any constraints imposed by the institution and the art market. Among the key figures of the movement in Turin were Michelangelo Pistoletto and Mario Merz; in Rome with those were Pino Pascali, Alighiero Boetti, and Jannis Kounellis; while other significant proponents Alberto Burri, Piero Manzoni, and Lucio Fontana, as well as an art dealer Ileana Sonnabend who championed the movement.
When Arte Povera Came to the US: Germano Celant in Conversation with Christian Rattemeyer
Further Career
Already in 1971, Celant moved away from criticism to art history and focused more on international tendencies. The best example is his first large-scale exhibition called Ambiente/arte dal futurismo alla body art (Environment/Art: From Futurism to Body Art) curated for the Venice Biennale in 1976. It included installations by Joseph Beuys, Dan Graham, Bruce Nauman, and others in a dialog with historical examples by the avant-garde artists such as El Lissitzky, Giacomo Balla, Piet Mondrian, and Theo van Doesburg.
During the early 1980s, Celant curated numerous exhibitions on Italian art, including Identité italienne. L'art en Italie depuis 1959< .i> (Centre Georges Pompidou, Paris, 1981), and Italian art, 1900-1945 (Palazzo Grassi, Venice, 1989). In 1988 he was appointed Senior Curator of Contemporary Art at the Solomon R. Guggenheim Museum in New York City. The first show he organized in this notable institution was a Mario Merz retrospective, the artist's first major survey in the US. Interestingly so, Celant was among the first curators to explore fashion as a mode of cultural expression with his memorable interdisciplinary exhibition Italian Metamorphosis 1943–1968, organized in 1994.
In 1995 Celant moved from the Solomon R. Guggenheim Museum to the Prada Foundation in Milan where he served as an Artistic Director until 2014 and in 2015 he became Scientific Superintendent of Fondazione Prada. During his time there, the foundation produced exceptional shows by Louise Bourgeois, Anish Kapoor, David Smith, Walter de Maria, Michael Heizer, and others, both in Milan and Venice.
Celant served as the director of the Venice Biennale in 1997, while in 2004 he curated the exhibition Art and Architecture in Genoa when the city was nominated as European Capital of Culture. 2012 show The Small Utopia. Ars Multiplicata at Ca' Corner della Regina in Venice, tackled the issue of art in the age of mechanical reproduction with a selection of over six hundred artifacts produced between 1900 and 1975.
Of special mention are more recent experimental exhibitions such as the reenactment of Harald Szeemann's seminal 1969 exhibition of minimal and process art, When Attitudes Become Form, from 2013, and Post Zang Tumb Tuuum. Art Life Politics: Italia 1918–1943 curated by Celant in 2018.
Editors' Tip: Book as Artwork 1960-1972
Nearly three decades after its first printing, Book as Artwork 1960-1972 remains a widely-cited landmark in the critical literature on artists' books. Penned by the critic and curator Germano Celant to accompany an exhibition at Nigel Greenwood Gallery in London, it was the first critical consideration of the artist's book. A bibliography lists over 300 historic artist-produced publications from this golden age of the medium.
The Significance of Germano Celant
To comprehend the scope of Celant's engagement it is worth mentioning that he also served as the artistic director of the Fondazione Aldo Rossi in Milan; he was the curator of the Fondazione Vedova in Venice; and curator of art and architecture at La Triennale di Milano. Since 1981, he acted as a contributing editor to Artforum, where he published influential essays about the artists such as Vito Acconci, Jannis Kounellis, Robert Mapplethorpe, and others, not to mention the numerous books on art he wrote.
All in all, Celant was a distinguished protagonist of the art world, the person who approached any phenomenon with well-articulated interpretative apparatus. Although his doings were exposed to criticism, Celant kept the position of a significant curator and writer whose words still mattered regardless of the constant shifts in a dizzying flux of art tendencies mostly conditioned by the global economy and class privileges.
Germano Celant passed away on April 29, 2020 at the age of 80 due to complications from the coronavirus.
Featured image: Germano Celant - Exhibition Post Zang Tumb Tuuum. Photo by Ugo Dalla Porta, courtesy Fondazione Prada.