Government officials and street artists collaborating? You don't see that very often but that's exactly what happened in Mexican district of Palmitas in Pachuca, Mexico, where local representatives asked a group of street artists to paint over twenty-thousands square meters of façade and create a huge public art masterpiece. This massive street artwork wraps itself around the district covering the exteriors of the Palmitas houses while changing the surrounding of the monotonous Mexican district into a vibrant explosion of colors.
Living Inside of a Macro Mural
Ever wonder how it would feel like to live inside of a mural? Just ask the people of Palamitas in Pachuca, Mexico that currently reside in a giant street artwork. According to StreetArtNews, this public art project has affected over 1800 people and over 400 families living in Palamitas district in Mexico. This public art project aimed to create the felling of togetherness in the local community and also to reduce youth violence. The involvement of the community was both Germen Crew's and Mexican officials priority which is why most of Palamitas inhabitants were directly involved in the creation of the mural. Numerous hours of work and cans of paint were spent but the district finally looks like a fascinating street art masterpiece.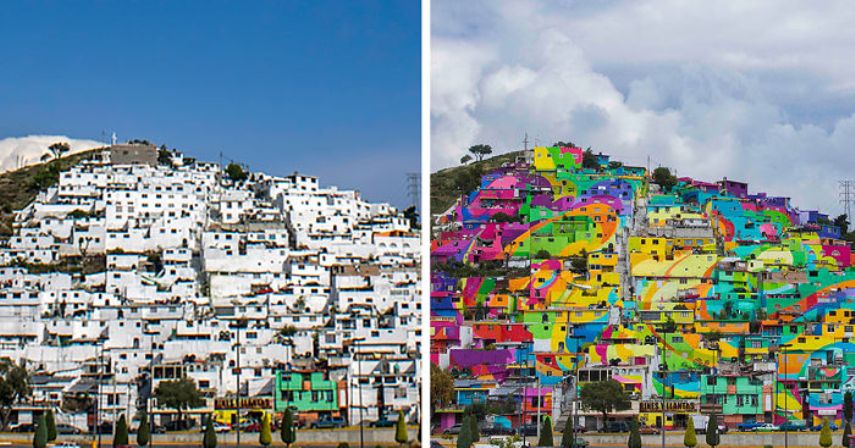 Public Art by Germen Crew
A street art group Germen Crew is an organization from Mexico that develops alternative forms of communication such as graffiti, murals, social research and documentation. For over 13 years the organization creates public art and reinvents public spaces in order to strengthen the identity of the Mexican citizens, its history and cultural practices and establish Mexico as a street art capital of the world. Their name Germen Crew, literary translates to "germ crew" and it was chosen to emphasize the deep social and personal effects of their work as they hope to "germinate" in others and change the way they think and feel about street art.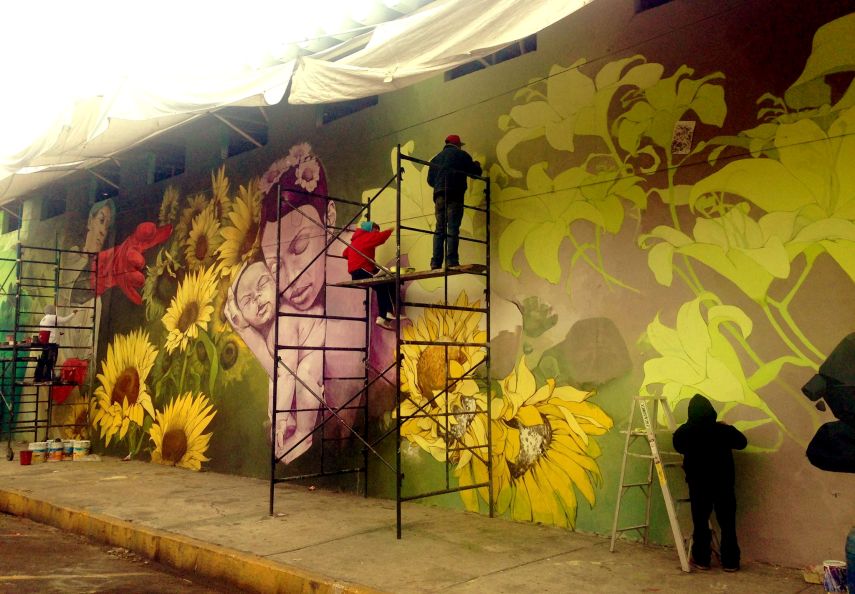 This might be the first Germen Crew and Mexican government collaboration but it's not the first macro mural created by the group. Last year the Germen Crew has painted a similar street artwork in Mexico City. Spanning over two blocks and surrounding a flower market this public art mural elaborates seven centuries of Mexican history, from the times of the Aztec empire till modern days. This street art group doesn't limit itself on murals and has executed many actions that led to the creation of cultural heritage and tourist attraction. Their activities range from street art, public art and documentary, to recovery and writing of current history. Germen Crew is particulary involved in integration of young people and the wider community with workshops and talks and have developed many strategies of youth integration and participation over the years.
Would you like to live inside of a mural? Tell us what you think on our Facebook page.
More street art and public art of all sizes will be coming your way for FREE if you sign up for My Widewalls
Images courtesy of Germen Crew Facebook Page, unless otherwise credited