Have you ever wondered how popular computer game character Sonic would look like if he was fat? Or how Lisa Simpson would act if she was a delinquent? If you have, you're certainly not the only one. Lisbon-based street art crew Germes Gang often incorporates unique transformations of famous cartoon and video game characters into their singular body of work. The residents and visitors of Berlin will soon have the opportunity to view the latest pieces by the prolific art group at Über alles solo show at Urban Spree gallery. Versatile exhibition by Portuguese urban artists will feature thirty original drawings, but also a live tattooing session and a book release.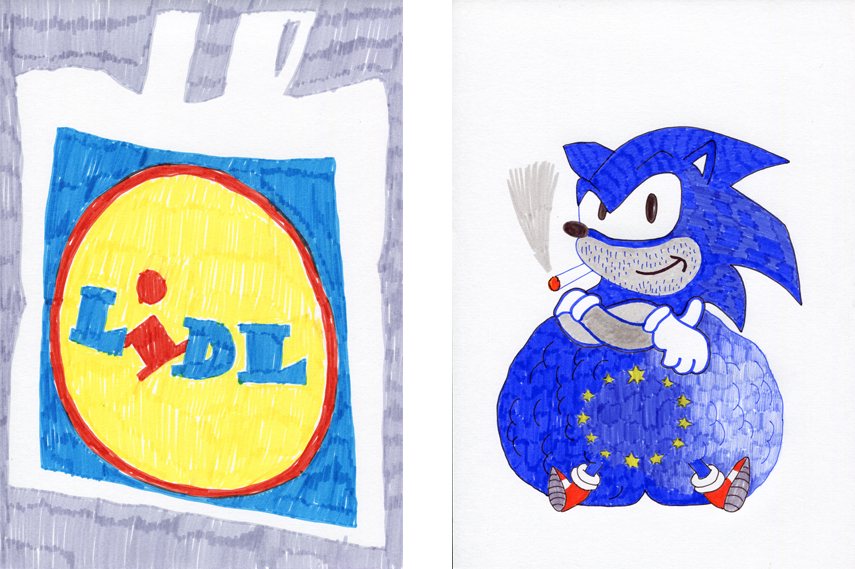 Art Crew's Profile : from Street art to Music and Video Works
Germes Gang crew started its career in the field of graffiti art a decade ago but quickly added drawings, videos, shirts and music into their oeuvre. Popular culture and consumerism represent main topics in their work as they incorporate both real and imaginary icons and famous brands into their intricate art pieces. Logos of food empires such as Lidl and Tesco and sports equipment giants such as Puma and Nike are often featured in Germes Gang's drawings, whether on grocery bags or on the numerous characters' apparels, thus highlighting the omnipresence of these labels in today's world.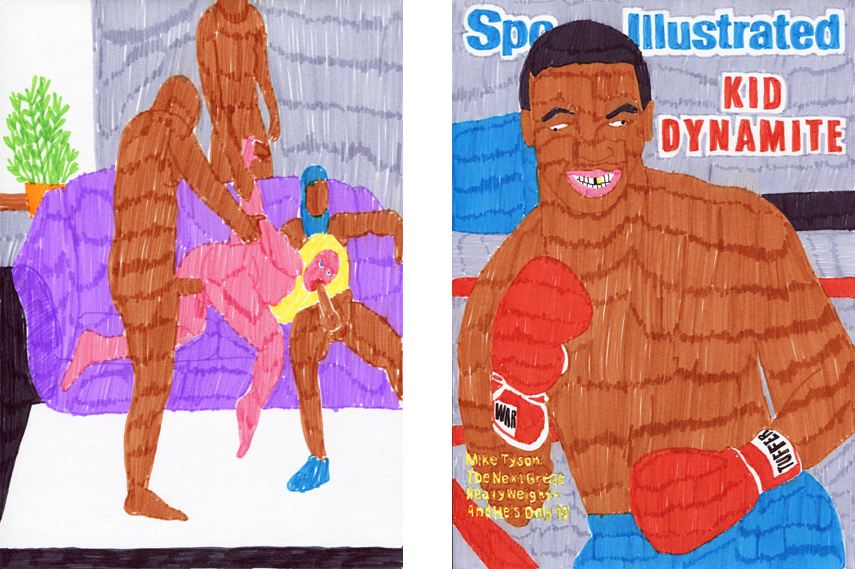 Shocking Transformations of Popular Characters
The artists' recurrent use of cartoon characters can be traced back to their upbringing as all Germes Gang's members grow up in the eighties and nineties when popular cartoons like Simpsons, Snoopy, and Spider-Man were at the top of their popularity. Even today the artists think that these television shows are brilliant and often use the animated characters in their own artworks. Germes Gang portrays its own interpretation of these cultural icons by supplying them with a unique, but contrary set of skills. For example, they are aggressive, fat and really stupid but at the same time they can play the sax, decorate their home or recreate one of Mondrian's abstract masterpieces. By juxtaposing such irreconcilable features, the art group manages to create subjects that appear classy and trashy and stylish and dirty at the same time.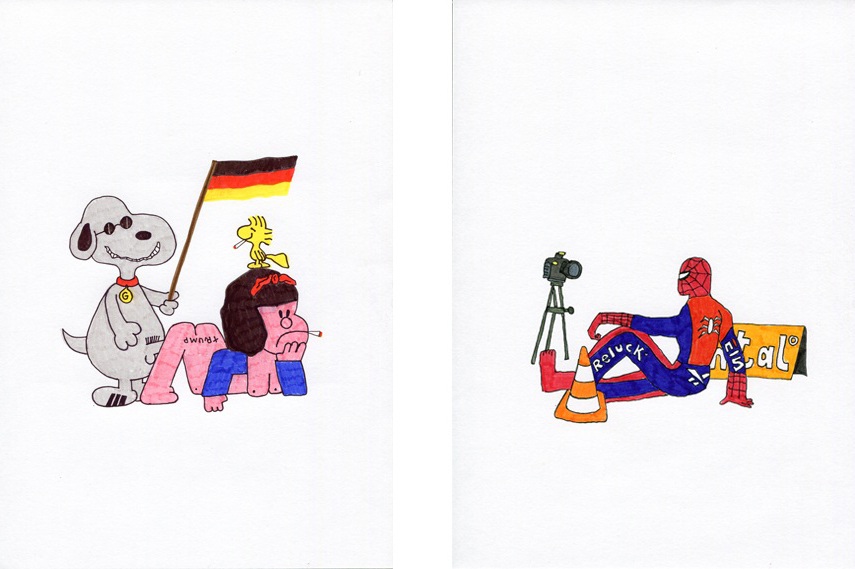 Germes Gang is Coming to Urban Spree
Über alles exhibition will be on view from August 19th until September 4th, 2016 at Urban Spree gallery in Berlin. On the opening night, one-of-a-kind live tattooing session will be held at Urban Spree based Amor de Madre Berlin studio. Original tattoos will be produced by multifaceted artist Diogo Rodrigues who also works in the areas of sculpture, illustration and jewelry design. Über alles exhibition of works by Germes Gang will be accompanied by the release of a new book created by the multi-talented Portuguese art crew.
Featured images : Artworks by Germes Gang ; All images are courtesy of Urban Spree gallery