Despite the rise of modernism throughout the second half of the 19th century, it wasn't until the first decade of the 20th century that women started emancipating and became more active in the public sphere. Despite the prevailing male dominance, it was still much easier for women to develop a career in arts than in any other field of human activity, and even artistic practice was conditioned by class. However, there are only a few of them in the mentioned period who managed to form a solid career or even become highly influential. Such was the case with the American writer and art collector Gertrude Stein.
Namely, this fierce woman was a modernist literary pioneer and a leading figure of the pre-World War I art circles in Paris. Stein established a salon, where some of the leading proponents of modernism in both literature and visual art such as Ernest Hemingway, Pablo Picasso, F. Scott Fitzgerald, Sinclair Lewis, and Henri Matisse gathered. Her modernity was embodied not just through the full-time engagement in organizing the salon, and promoting and collecting artworks, but it was also expressed through her radically queer writing based on her sexual orientation.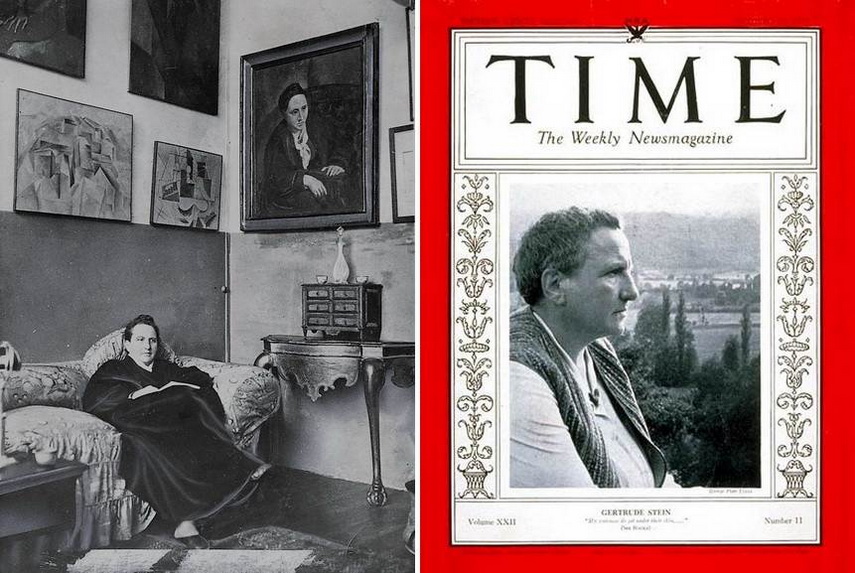 Against Patriarchy
From 1893 to 1897 the modernist icon Gertrude Stein initially attended Radcliffe College (a former annex of Harvard University) and was a student of psychologist William James. During those studies, she was engaged in case study experiments which led her to establish a specific literary style which was later described as a stream of consciousness, associated as well as with modernist authors Virginia Woolf and James Joyce. Despite the fact that Stein was not very much interested neither in the theory nor practice of medicine, in 1897 she started attending the Johns Hopkins School of Medicine. However, in her fourth year, irritated by the omnipresent male hegemony, she lost interest and abandoned the studies.
Stein was very close with her brother Leo, and so she decided to follow him to London in 1902 and then to Pairs in 1903, since Leo hoped to pursue an art career. The two lived in a two-story apartment in 27 Rue de Fleurus near the Luxembourg Garden on the Left Bank of Paris until 1914, and this was where they established the salon attended by various significant artists and writers of the time. That is how Gertrude and Leo started collecting works of art and even encouraged their brother Michael and his wife Sara, who were also living in Paris then, to do the same.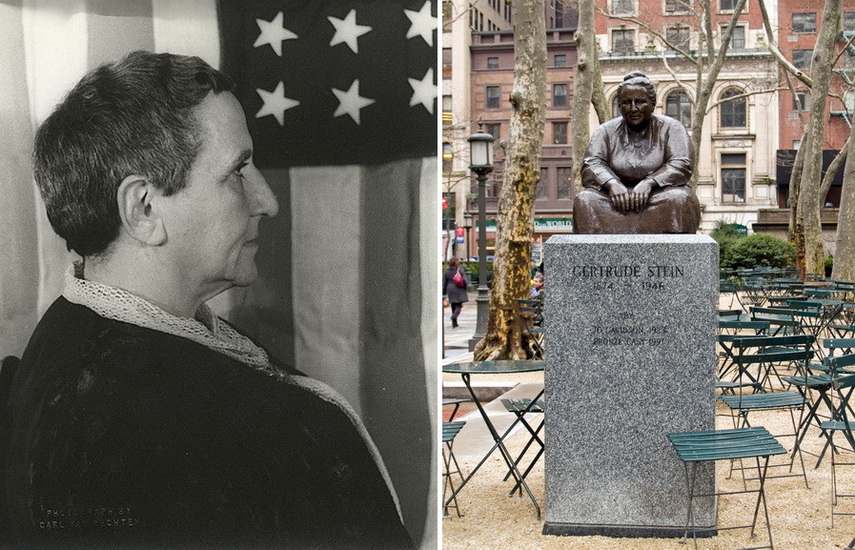 Forming The Art Collection
The gatherings in the Stein home were happening on Saturday so Gertrude could write without being interrupted by the visitors. It was her partner Alice B. Toklas who became the hostess for the wives or lovers of the artists in attendance, as Gertrude met the men in a separate room. Namely, in 1907 Stein met and fell in love with Alice, and three years later she moved to Stein's 27 Rue de Fleurus house; Toklas acted as Stein's lover, cook, secretary, muse, editor, critic, and general organizer.
Gertrude claimed that the Saturday evening salons started happening thanks to Matisse, as people came to the house to see his and Cézanne's paintings. Ernest Hemingway was an often attendee at Stein's salon, and although he perceived Stein as a mentor, as the time passed by the two fell apart.
The room used as the gallery space was furnished with Renaissance-era furniture and the paintings were positioned along the walls in rows; the space was initially illuminated by gaslight, and shortly prior to World War I, they switched to electric light. Leo Stein was the one who frequently visited exhibitions, meeting the artists and talked with critics, and that is how the Stein holdings grew. Very often, the young collector consulted the celebrated art historian and collector himself Bernard Berenson and he was the one who introduced the Steins with Paul Cézanne and the dealer Ambroise Vollard in 1902.
Gertrude and Leo Stein began collecting in 1904 after their brother Michael Stein announced that their trust is worth of 8,000 francs – among the first paintings they bought were Cézanne's Bathers, Gauguin's Sunflowers and Three Tahitians, and two Renoirs. By 1906, the Stein siblings owned numerous paintings by Henri de Toulouse-Lautrec, Pierre Bonnard, Paul Cézanne, Pierre-Auguste Renoir, Honoré Daumier, Henri Matisse, Pablo Picasso, and Henri Manguinand.
On the other hand, their elder brother Michael and sister-in-law Sarah purchased a large number of Henri Matisse paintings, while Claribel and Etta Cone, Gertrude's friends from Baltimore collected similarly, eventually donating their art collection to the Baltimore Museum of Art.
In the midst of World War I, Leo relocated to Settignano, near Florence in Italy, and the art collection was divided; he took sixteen Renoirs and his own portrait sketch done by Picasso, and left the other Picasso and most of Matisse paintings to his sister only. Although Leo was into Cézanne, he took only a Cézanne painting of 5 apples. The brother and sister departed in a quarrel and the two met after World War I briefly on the street in Paris, and never did they spoke to each other again. However, after the great divide, Gertrude continued to collect Picasso's art, which had turned to Cubism, a style Leo was not fond of. After she passed away, her remaining collection was mostly consisting of Juan Gris and Pablo Picasso paintings.
"Paris Was A Woman" - Gertrude Stein & Alice B. Toklas
The Legacy of Gertrude Stein
Aside from being an avid collector and a supporter of arts, Gertrude Stein belonged to the first generation of individuals who lived openly gay. The writer explored the theme of sexuality throughout her writing; for instance, Steins's essay Miss Furr and Miss Skeene was among the first homosexual revelation stories to be published, while the work Q.E.D. was the pioneering coming out story based on is Stein's growing involvement with the homosexual community, although it is based on the lesbian partnership between Maud Hunt Squire and Ethel Mars.
In the mid-1930s, Stein arrived in America after a three-decades-long absence and was welcomed as a celebrity of a kind. She appeared on the covers of magazines and went on a six-month American tour; Stein acted as an effective speaker with an ability to maintain a high level of attention of the listeners. During that period, she drank tea with the First Lady Eleanor Roosevelt and had an encounter with actor and filmmaker Charlie Chaplin.
Nevertheless, despite the fact she praised queerness openly and therefore her public persona generated emancipation at a certain level, Stein saluted disputable ideas which can be associated with the right-wing discourse, making her a sort of a problematic figure. Namely, during the 1930s, she was against immigration laws in America, she even saluted General Francisco Franco during the Spanish Civil War, and admired Vichy leader Marshal Philippe Pétain. Her political attitudes became even more ambiguous after the outbreak of World War II, since she practically supported the Vichy government and lived in occupied Paris regardless of being Jew and queer. The impression is that she willingly became a collaborationist due to the protection offered by the powerful Vichy government official Bernard Faÿ. Stein had met Faÿ in 1926, and the two became great friends; Faÿ was the primary translator of her work into French and helped her organize her 1933–34 American book tour of The Autobiography of Alice B. Toklas. That means that Faÿ gave his best to protect Stein and Toklas as well as a historically significant and valuable collection of artworks. Although Stein publicly condemned the Japanese attack at Pearl Harbor, she never explicitly shared her opinion about the fact that Hitler was the conqueror of Europe.
Throughout the decades, the historical figure of Gertrude Stein was represented in various artistic works. For instance, the famous tune Bosom Buddies from the 1966 Broadway musical MAME based on the stage play Auntie Mame was inspired by Stein and Toklas. Stein is added to a list of great artists in the popular Broadway musical Rent with the song La Vie Boheme.
Playwright/actor Jade Esteban Estrada portrayed Stein in the solo musical ICONS: The Lesbian and Gay History of the World, Vol. 1 at Princeton University in 2005, while the following year theater director/actor Luiz Päetow created his solo, Plays, portraying Stein's 1934 homonymous lecture. In recent years, Stein was portrayed in the Woody Allen film Midnight in Paris in 2011, and her persona was featured in the 2018 season of the television series Genius which focuses on the life and career of Pablo Picasso. In 2014, composer Ricky Ian Gordon and librettist Royce Vavrek's released an opera titled 27 about Stein and Toklas, while in 2017 Edward Einhorn's play The Marriage of Alice B. Toklas by Gertrude Stein was presented at HERE Arts Center in New York.
 Editors' Tip: Three Lives
Three Lives - three short stories by Gertrude Stein - has had a curious history. First published in 1909 by the Grafton Press, this book of short stories has consistently maintained a striking underground reputation. Three Lives is an astonishing masterpiece when one considers that it was its author's first book. Reasonably enough, considering Gertrude Stein's subsequent association with painters, the book is imbued with the influence of Cézanne more than with that of any literary forerunner. The subject matter, two servant girls and an unhappy Afro-American girl, is similar to the subject matter of the realists, Zola and Flaubert, but so different is the treatment that any question of influence may be immediately dismissed.
Featured image: Pablo Picasso – Gertrude Stein, detail, 1906. Image via Flickr.