Having gained fame only late in her long career, Geta Brătescu has often been compared to some of the biggest late-bloomers in modern art history. But what makes Brătescu so appealing and unique is not only her background but also her approach to art in a sense that, although her works can be found in many prestigious museums around the world, this Romanian artist seems to be more focused on what she does here and now than on her past endeavors. It's almost as if she still has the same ambitious mindset now, in her early nineties, as she did when she was trying to establish herself in the world of art.
In many ways, the upcoming show titled Geta Brătescu. The Leaps of Aesop will be celebrating this timeless element of her art. Organized by and held at Hauser & Wirth's NYC location, this exhibition is conceived in collaboration with Magda Radu, curator and art historian based in Bucharest, Romania, who was the curator of Brătescu's exhibition for the Romanian Pavilion at this year's Venice Biennale.
Geta Brătescu. The Leaps of Aesop
Geta Brătescu. The Leaps of Aesop is the first NYC presentation solely devoted to the forerunner in the field of Romanian Conceptualism. The show focuses primarily on Brătescu's diverse oeuvre, presenting drawings, collages, engravings, textiles, photography, experimental films, videos and performance art pieces.
Geta Brătescu, who is a true master of creatively exploring challenging themes of identity, gender and dematerialization, often draws inspiration from the stories of literary figures, so her shows tend to be heavily centered on such characters.
In the case of the upcoming show, the spotlight is placed on Aesop, the ancient Greek fabulist. Geta Brătescu. The Leaps of Aesop will feature more than fifty works that span her fruitful career.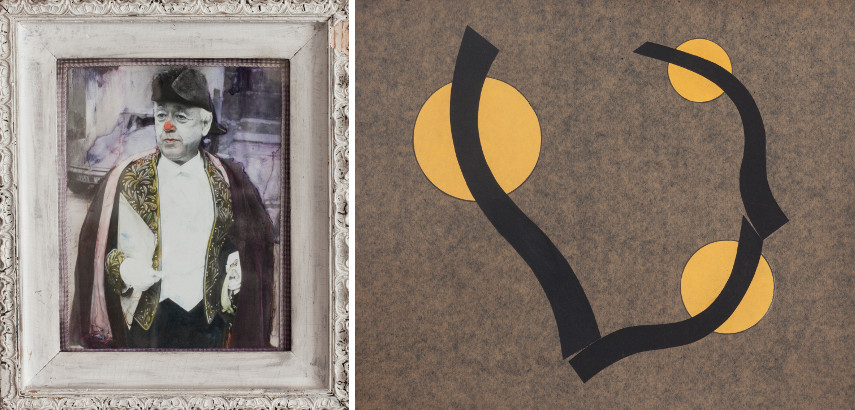 Aesop, the Greek Story Teller
Aesop was a Greek fabulist credited with a number of stories now collectively known as Aesop's Fables. He is a truly fitting avatar for Geta Brătescu and her upcoming show, as he manifests in the prepared works as a symbol of antic irreverence, mocking authority and status.
Brătescu herself stood for ideas of play and disorder throughout her vibrant career, so the conceptual parallel that can be drawn between the artist and Aesop was the key reason why the Greek fabulist and his stories became the focal point of the exhibition.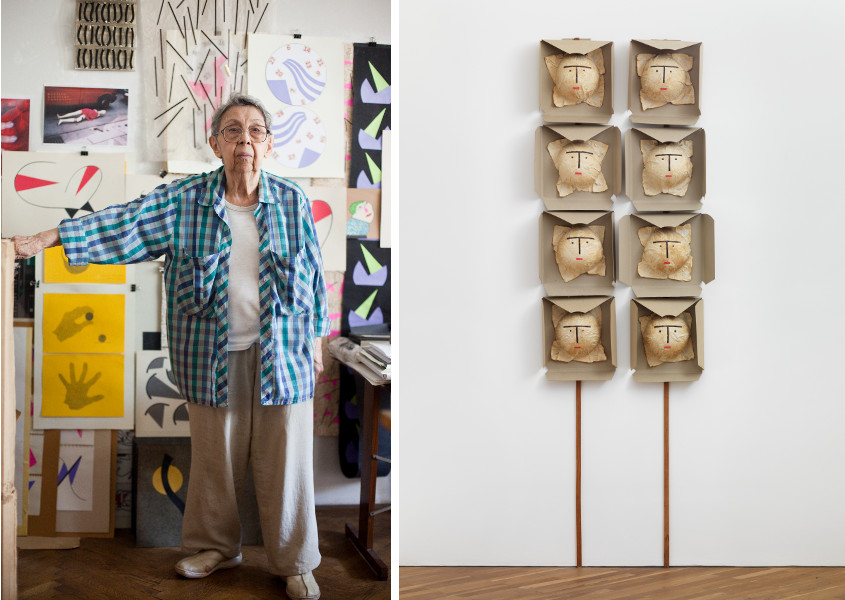 Why Did Geta Brătescu Chose the Ancient Fabulist as the Centerpiece of the Art Show
The works on view track many implications originally generated by Aesop who, at least as far as Geta Brătescu's system of thinking is concerned, became a playful and mischievous character over the course of centuries. He can also be regarded as a metaphor for the Romanian artist's professional struggle to turn wrongs into rights.
Furthermore, right after the fall of the Communist regime in Romania, Brătescu declared Aesop "a symbol of everything that stood against totalitarianism," so it's natural that the ancient Greek holds a special place in the artist's heart. Although his character is transcended and endlessly modulated in her practice, she sees Aesop as an agent of creative freedom - he is the catalyst of ideas capable of channeling creative energies in countless directions.
As far as his literary personality is concerned, Aesop is a relative of Păcală, a character from Romanian folklore equivalent to the Western Joker. In many ways, he is a metaphor for how the weak and marginal can confront the powerful by means of humor, courage and cunning.
Many of Geta's writings have rich genealogy of jesters and fools telling uncomfortable truths to power figures. After all, Brătescu sees herself as "tragicomic in her Chaplinesque destiny," aiming to be a figure that can switch and accumulate identities according to requirements currently at hand.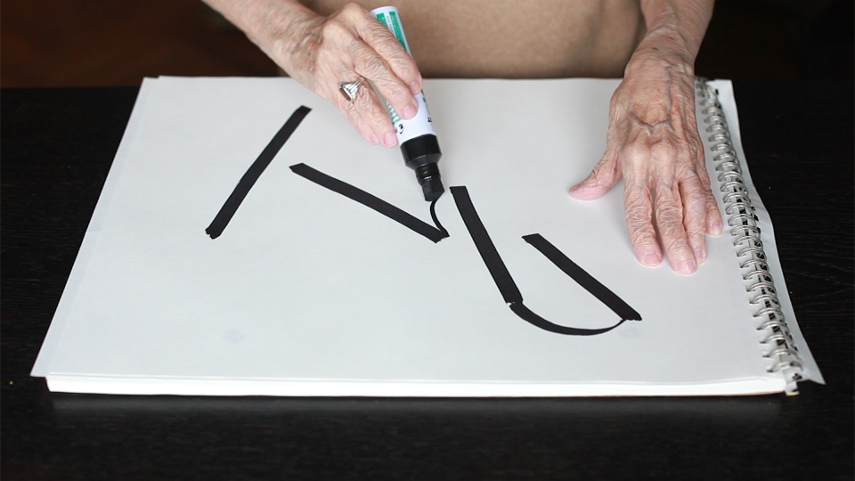 The Inspiration From Aesop's Fables
Aesop's Fables, also known as Aesopica, is a collection of fables with diverse origins, stories descended to modern times through a number of sources that continue to be reinterpreted in different verbal registers and in artistic media. The fables were mostly addressed to adults and they covered religious, social and political themes. Originally belonging to oral tradition, Aesop's Fables were not collected for some three centuries after Aesop's death.
What makes Aesop's Fables so interesting, besides their content, is that fresh stories are still being added to the Aesop corpus to this day and this may be one of the main reasons why Geta Brătescu finds so much inspiration in them. She is in love with Aesop's timelessness, ability to adapt, usage of humor for noble causes and his overall readiness to experiment.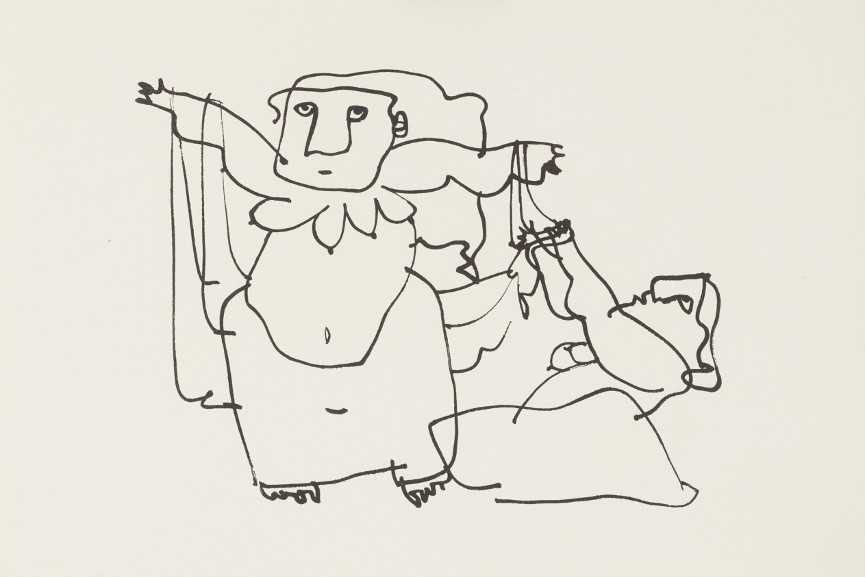 Geta Brătescu Retrospective Art Exhibition at Hauser & Wirth New York, 2017
The upcoming show will be a must-see for one more reason besides the fact it will be the first NYC solo presentation devoted to Geta Brătescu. It will be her biggest and most devotedly covered retrospective to date, an exhibition that will excellently build on the success Brătescu had at the La Biennale di Venezia 2017.
Geta Brătescu. The Leaps of Aesop will be held between the 13th of November and the 23th of December 2017, at Hauser & Wirth in NYC, USA.
Featured images: Geta Brătescu - Magnetii in Oras (Magnets in the City) (detail), 1974, Photographic montage, Photo by Mihai Brătescu; Esop (Aesop) (two details), 1967, Series of 10 lithographs, grey ink on paper, Photos by Ștefan Sava; Linia (The Line) (still), 2014, HD video, 14:50 min; Liniile și cercul / The lines and the circle (detail), 2012, Series of 7 collage and drawing on paper, Photo by Ștefan Sava. All images © Geta Brătescu; Courtesy the artist and Hauser & Wirth.