"Art for all" is the credo of Gilbert & George, an artist duo living and working together since 1967. Embarking on a visionary journey through the modern world, always together and always alone, Gilbert & George have made fiercely singular Anti-Art that is poetic, primal and emotionally driven.
Oscillating between the whimsical and obscene, they have produced a compelling body of work that has explored a wide breadth of subjects pertaining to race, sexuality, religion, and mortality. Fifty years after their Living Sculptures debut, the work of Gilbert & George is as shocking as ever.
To celebrate this important anniversary, the duo will present their latest series of work at Galerie Albert Baronian, exclusively for Belgium. Titled The Beard Pictures, the series tackles the phenomenon of the beard in our contemporary society with their recognizable sense of humor.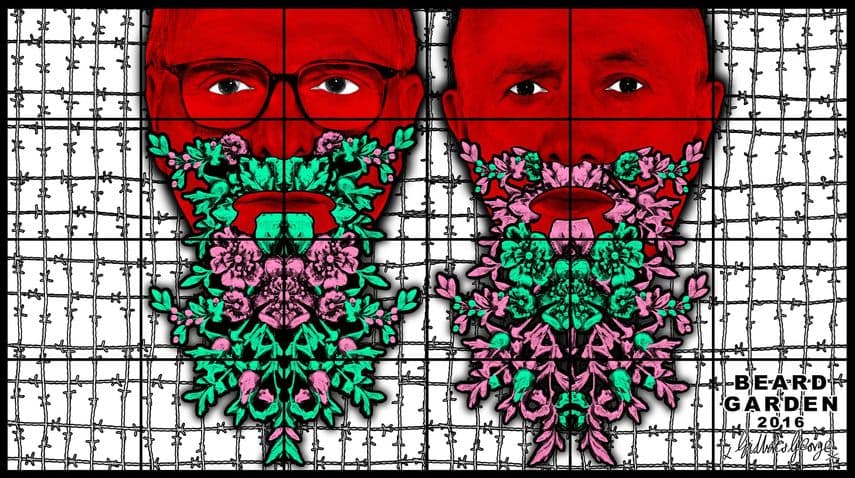 Beards as a Sign of the Times
Violent, eerie, grotesque, lurid and crazed, The Beard Pictures present us with a dreamlike world of paranoia, destruction and madness. Using strange sickly colors and creeping, absurd landscapes, Gilbert & George take the viewer into a world stripped of reason, in which negotiation no longer exists.
Appearing in the works as intense, red, staring and sinister version of themselves, they stare right back at the viewer with bizarrely prettified eyes. Surreal and symbolic, the beards they wear are made of wire mesh, beer foam, leaves or flowers.
Acting as both mask and meaning, a sign of the times, these beards are the throwback emblem of hip millennial youth as well as a mark of religious faith.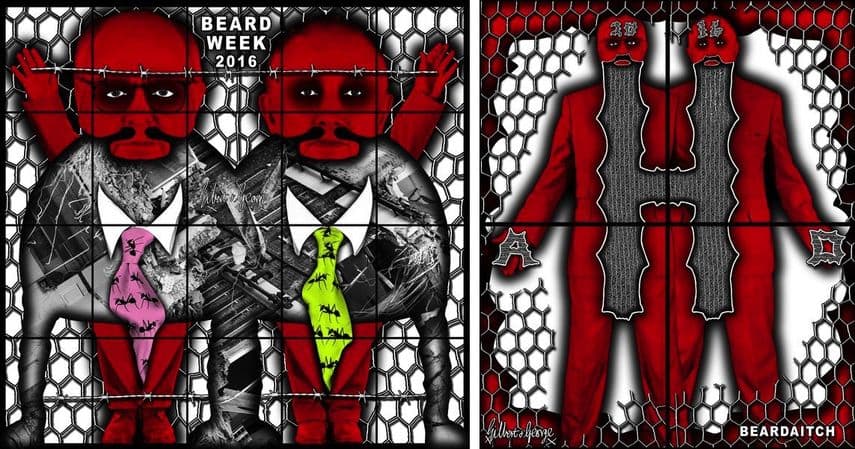 Taking the Viewers into an Absurd World
While in some of the works artists stand either in front or back of the barbed wire or mesh fence, in others, they are surrounded with rusted rods that sprout from collapsing building or a blank silvery void, extravagant ornamental foliage, wire mesh fencing, newspaper advertisements for bouncers, builders and sex workers. Elsewhere, they are serious-looking comic grotesques, with tiny bodies and huge heads.
Turning history into a mad parade somewhere between the science fiction, lucid dreaming and Victorian caricature, they present us with an absurd world that trashes contemporary artistic niceties with an intense symbolism.
Gilbert and George Art Exhibition at Galerie Albert Baronian
The vision and form of this latest body of work by Gilbert & George brings to mind Oscar Wilde's account of Walter Pater's Essays:
...others are medieval in their strangeness of color and passionate suggestion, and all of them absolutely modern, in the true meaning of the term modernity. For he to whom the present is the only thing that is present, knows nothing of the age in which he lives.
The more the viewer contemplates the works, the more Gilbert & George appear as poltergeists placed in a chaos of trashed aesthetics and reversed values that stare back at the viewer.
The exhibition will be on view at Galerie Albert Baronian in Brussels from November 10th until December 23rd, 2017. The opening reception will be held on Thursday, November 9th from 6 till 9 p.m.
Featured images: Gilbert & George - Beard Week, 2016 (detail); Beardtyg, 2016; Beardman Bridge, 2016; Beardcup, 2016; Beard of Judah, 2016; Beard Guard, 2016. All mages courtesy of Galerie Albert Baronian.