The artistic pair Gilbert and George unmistakably belong to the group of best-known artists from the UK. Their authentic style, conservative standpoints, vibrant, bold and often controversial imagery and the fact they are hardly seen without each other, make them an inevitable artistic phenomenon present on the global art scene since the late 1960s.
Gilbert and George are still very much active, they are fiercely producing and exhibiting works, so the upcoming retrospective at Moderna Museet in Stockholm will once again sum up their lasting practice and show how they continuously defy the challenges imposed by the ever-changing art world.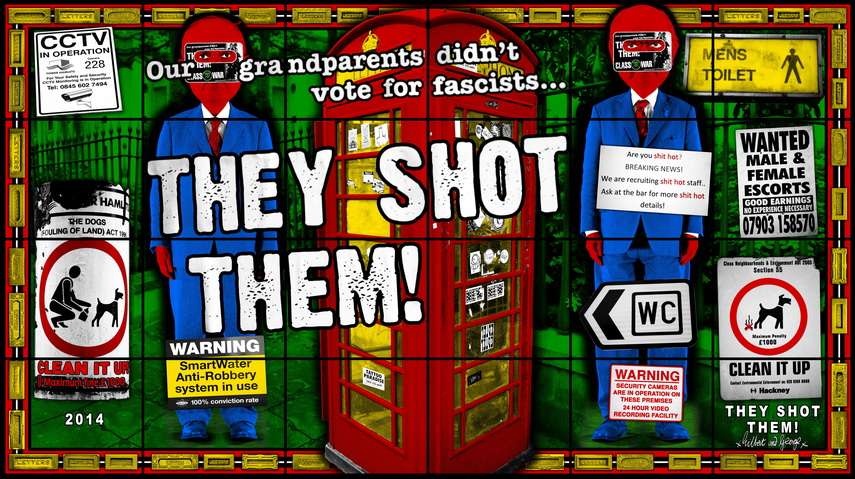 The Artistic Entity
The story of the two men-one artist or, to be more precise, one artistic body or entity, began at famous Saint Martin's School of Art, where Gilbert and George met in 1967, fell in love and started practicing art together.
They managed to create an impeccable and heterogeneous body of work. The artists started by engaging themselves in performance art and proposing the concept of living sculptures. That is when they embraced the suits as their signature look and adopted the slogan "Art for All".
Throughout the years, the pair produced drawings, paintings, posters, employed themes which were considered taboo at the times, aiming to disrupt the paradigm of good taste so typical for British society.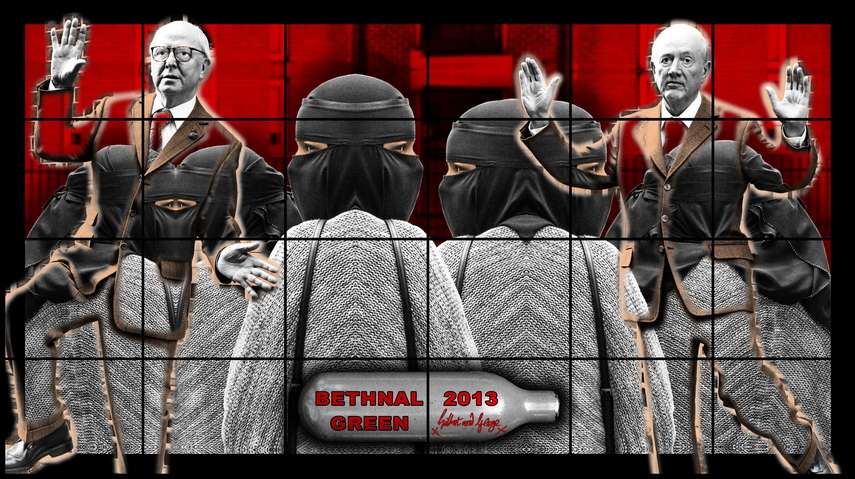 The Selection of Works
The installment in Sweden will gather a number of fifty works, both latest and the ones made during the previous decades. Most of the works are practically portraits of the artists themselves, gazing silently at the observer, suffocated with a myriad of images referring to the popular culture and certain social phenomena. The common topics they explore are money, sex, religion, and race in their cynical, surreal, campy and slightly autistic manner.
However we turn, Gilbert and George pose as ambiguous voyeurs of every day, so their figures are warning or stating the obvious, they make us laugh or think.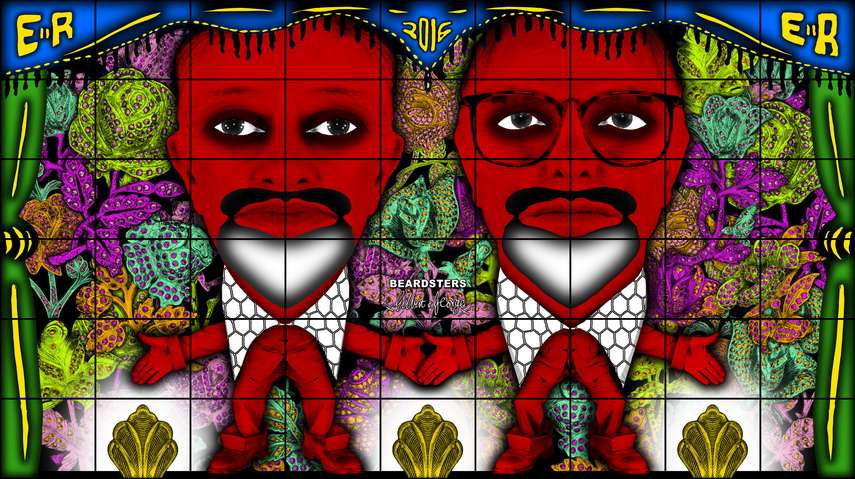 Gilbert & George at Moderna Museet
The internationally recognized curator Hans Ulrich Obrist and art critic and the director of the museum Daniel Birnbaum jointly curated this exhibition with the help of the artists. They apparently wish to show different layers of their practice by focusing on the concepts of artists' presence, continuity, discipline, devotion.
In the case of Gilbert and George - life is art, and vice versa, so the dissection of their creative madness and recognition of their oeuvre in historical terms has to be primarily perceived in regards shock tactics typical for the rebellious young people from the Swinging Sixties context.
The Great Exhibition will be on display at Moderna Museet in Stockholm from 9 February until 12 May 2019.
Featured image: Gilbert George - Beard Review, 2016. © Gilbert & George, courtesy Moderna Museet.