The structure and the composition of the human condition is subject to examination by scientists, theologists, spiritual leaders and artists. Nonetheless, it is heavy matter even for the most intelligent of minds. Even though, small signs and symptoms of this phenomenon can be perceived in the most common of places. Two artists that share the same philosophy towards perception of the human psychology and the art itself are Gilbert & George.  These two artists will present a new collection of work that carries the title the Utopian pictures. This body of work is to be presented at ARNDT Gallery in Singapore, which will be their first solo exhibition held in Southeast-Asia.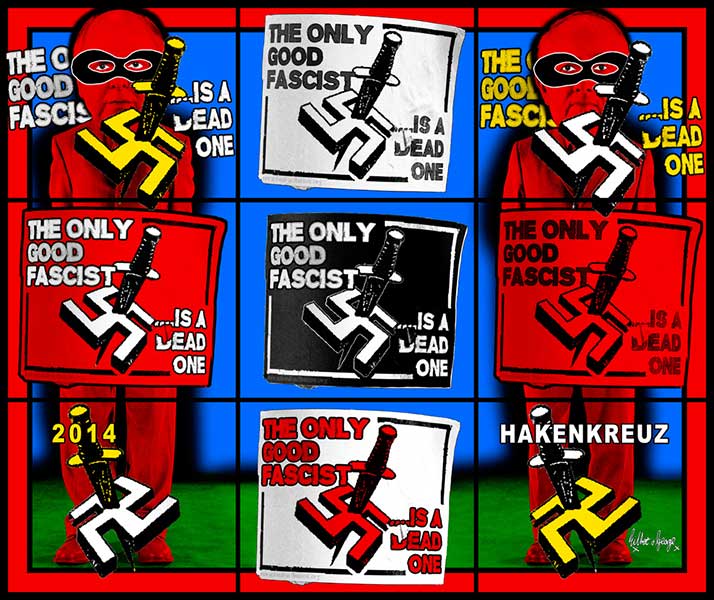 Gilbert & George
Italian artist Gilbert Prousch and his British counterpart George Passmore, are two famous visual artists together known as Gilbert & George. They started creating art jointly while studying at St Martin's School of Art, London in 1967. From the beginning of their careers they have committed themselves to the creation of art which communicates its values in direct, immediate, open-handed, mysterious, confrontational, generous, dizzying, ghost-like, intensely realistic, visionary and profoundly moral manner. Through their art they have always depicted and questioned the collisional world of disparate values and the following result which we see in everyday life. The same visual aesthetics and the story hide behind the Utopian Pictures.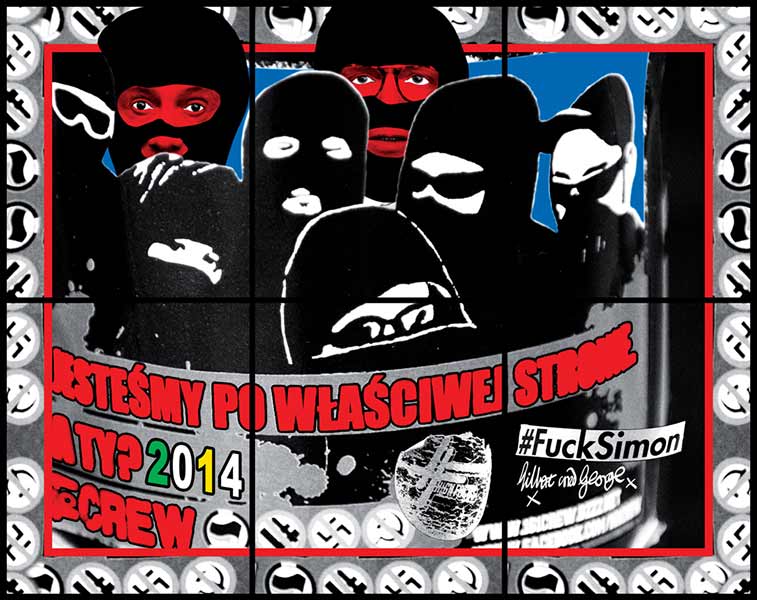 Picture Perfect World
The new body of work is a collection with intensified and layered visual language. A group of 26 paintings that illustrate today's battlefront of confronted values are presented for the first time in the iconic Gillman Barracks. Gilbert & George showcase their unique and complex moral vision with monolithic and declamatory intensity. The pictures breathe the battle of authority vs disobedience and rules vs rebellion. These contraries go hand in hand with covering the public spaces in form of stickers, posters and graffiti. Spheres of sexual, religious, criminal and political are all conveyed in Utopian Pctures, demonstrating the overall imagery of the modern city. All of these works were the result of these two artists taking an occasional strides through their neighborhood. Some of the signs they saw called to exercising social control, others to battle the civic disobedience. Through highly saturated visual narrative they illustrate the tension in the core of social relations, as well the ones between the personal, the moral and the ideological level of the individual persona. It is a truly perfect depiction of the wholeness of a multi-cultural environment, paradoxically reflecting Utopian tendencies. Utopian Pictures will open on the 19th of January, following the book signing (catalogue of the Utopian Pictures) on the 21st and lecture series with these two authors the day after. The exhibition at the ARNDT Gallery in Singapore will close on the 5th of April 2015.
Join the ride and sign up for My Widewalls today!