The development of performance art has been marked by the presence of numerous talented artists who used their bodies as the prime medium for expressing their ideas. Among the key players of the 1970s and 1980s performance art are Gilbert & George, a suited queer male duo that promoted the concept of living sculptures.
Throughout the decades, their practice spanned different media as they received recognition. Gilbert & George are highly regarded and seem to be unstoppable when it comes to their production.
To prove that, White Cube is currently hosting an online, soon-to-be physical, exhibition the NEW NORMAL PICTURES by Gilbert & George that included 26 recently produced pictures made during quarantine.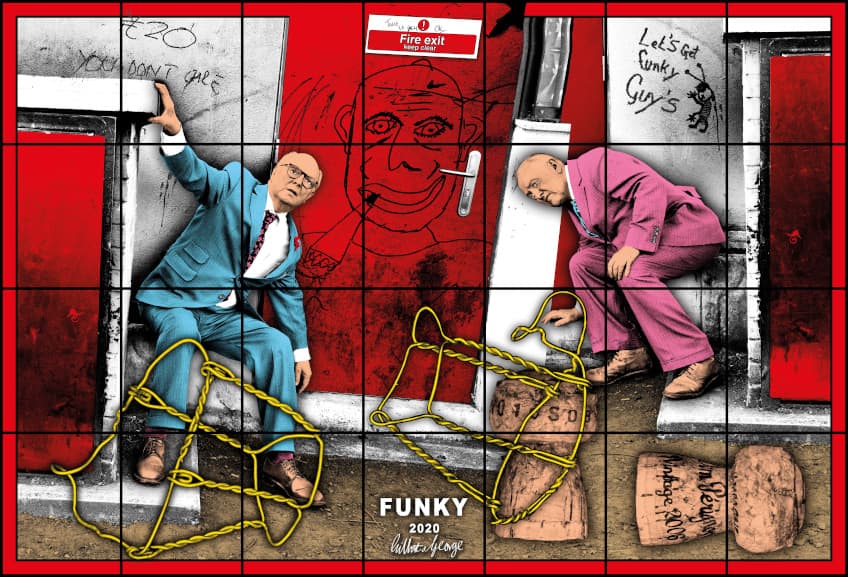 Contemplating The New Normal
To articulate the lockdown and a new zeitgeist described as the new normal, Gilbert & George created the series to stand as representations of the static, ghostly order of things imposed by the pandemic. For that reason, these existential works challenge the notion of normality while addressing the fragility of life and the presence of death.
Aside from the obvious continuation of the visionary and moral trajectory undertaken by the artists at the beginning of their career, the New Normal pictures tend to deal with prejudice in a renewed manner related to the contemporary gaze.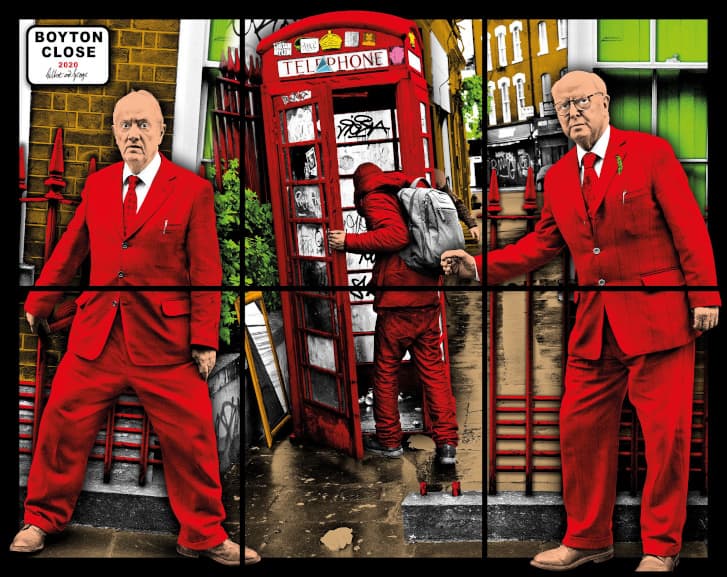 The Images of Distress
The new series features the artists as disoriented figures found in London cityscapes that are surrounded by objects such as railings, shovels, litter, drug bags, and old trinkets. These items function like symbols of contemporaneity and the pervasive nature of the ever-changing nature of the city.
The artists once again recall their signature performative technique of the living sculptures while lamenting over the pass of time both in terms of prevailing ageism, the social dismay and the imposed isolation.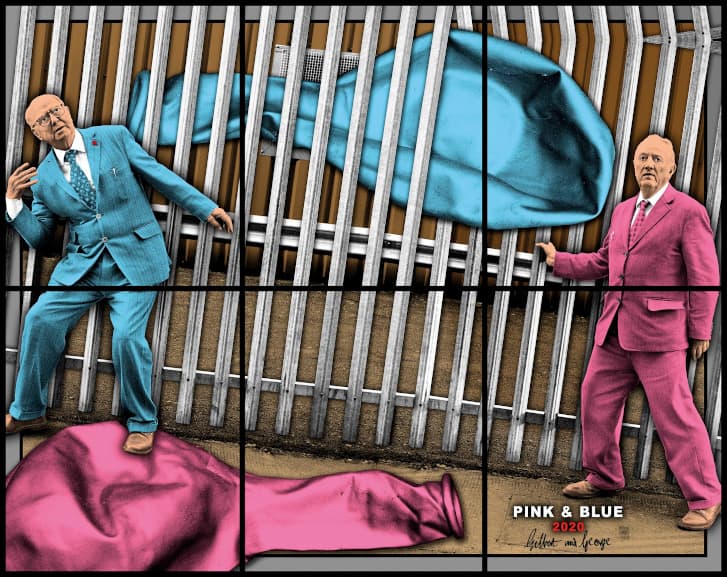 Gilbert & George at White Cube
NEW NORMAL PICTURES is currently accessible on White Cube's website through May 1, 2021, and the exhibition will be presented the gallery's physical space in Mason's Yard from April 13, 2021, subject to UK government guidelines.
Coinciding with the current presentation, a limited charity edition of two sets of their plates is produced by Gilbert & George for the project Double Helpings and launched by the London-based The Canvas Café, to support the city's most vulnerable residents. Each plate is accompanied by the artists' photograph and a certificate of authenticity.
A catalog with an essay by writer Michael Bracewell, as well as four posters designed and signed by the artists for the occasion, are available throughout the exhibition.
Featured images: Gilbert & George - BA G- MEN, 2020. 302 x 571 cm | 118 7/8 x 224 13/16 in. © Gilbert & George. Courtesy White Cube; Gilbert & George 'NEW NORMAL PICTURES', White Cube Mason's Yard 2 March - 1 May 2021 © Gilbert & George. Photo © White Cube (Ollie Hammick). All images courtesy White Cube.