The multidisciplinary self-taught artist Gilbert1 uses and reinvents objects that he turns into frail sculptures, monumental paintings or installations. At first glance, his work seem to be chaos, but Gilbert1 meticulously and carefully rebuilds, repaints, positions, installs and fixes materials he works with. Gilbert1 exhibition Out of Control at GCA Gallery will provide an insight into his world through eight works on paper and fifteen assemblies and sculptures. Exploring the architecture and contemplating the streets, Gilbert1 extracts the essence of his finds, diverting their meaning and giving them new life. Going beyond the reality that affects him and a society he cannot understand, he uses all tools and masters all techniques to create fragile looking works that depict the torments inside.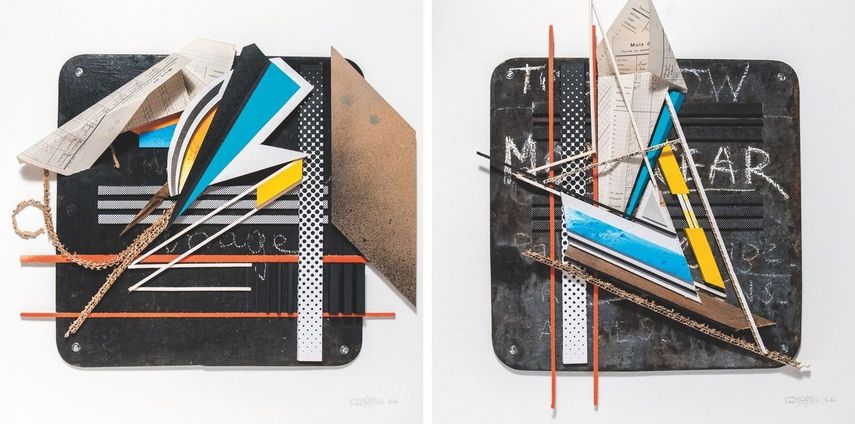 A Magnificent Harmony
Using carton, wood and paper as a framework for his works, he adds manuscripts, scrap metal, colours and transparencies to give them resonance. Appropriately using each element, he creates a harmony between them, at the same time preserving their real-life experiences and abstracting their qualities and essence. Through juxtaposing and reassembling of each piece, his works are placed in an impressive equilibrium. Preserving a soul of each piece they carry within, his artworks are executed with such mastery and ingenuity. Composed equally of blank and filled spaces, they emit a certain warmth through their magnificent harmony. Transposed on the flat surface of a clear Perspex display case and hung, his pieces overturn the notion of a traditional painting. Gilbert1's black and white drawings are deducted from his calligraphy and are executed in delicacy and meticulousness. Playing with ambivalences, he performs his controlled movement in a few lines.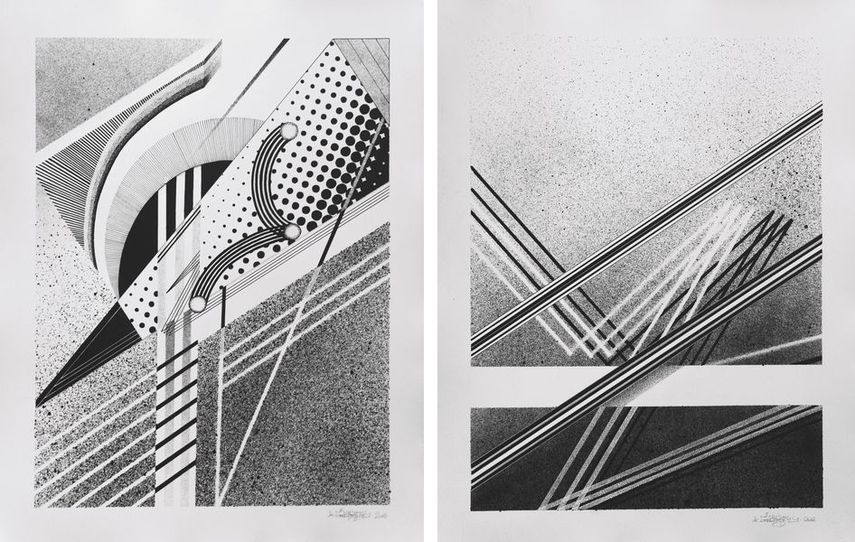 The Practice of Gilbert1
Coming from the graffiti scene, Gilbert1 is inspired by Mathieu's gestures, Gaudi's architecture, the work of Miro, Tapies, Georges Rousse and Picasso. Through the use of different techniques mastered to perfection, the practice of Gilbert1 ranges from walls to web, from photography to installations, from sculpture to painting. Through the compositions he uses, geometric shapes of his installations and painting applications, he interprets the chaotic side of the outside to create art that symbolizes the decadence and disintegration of society. The contrast between the chaotic look of recycled materials in the assembly and the fastidiousness with which these pieces are united makes his art harmoniously poetic.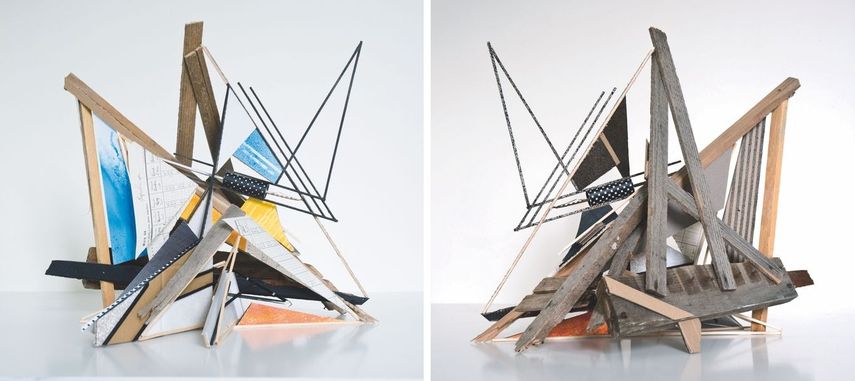 Gilbert1 exhibition at GCA Gallery
GCA Gallery, a contemporary art gallery in Nice, is dedicated to presenting the most influential French and international urban artists working within fields of graffiti, street art and low brow. As the first gallery of its kind in Nice, GCA Gallery seeks to open up a new market on the French Riviera. The exhibition Out of Control will be on view from June 10th until July 30th, 2016. The opening and presentation of the catalogue will be held on Thursday, June 9th with the artist present.
Featured images: Gilbert1 - Assemblage sur palette; Gilbert1 - Sculpture #2; Gilbert1 - Sculpture #2; Gilbert1 - Sculpture #2; Gilbert1 - Assemblage sur palette (detail); Gilbert1 - Assemblage sur palette (detail); Gilbert1 - Assemblage sur carton #8; Gilbert1 - Assemblage sur carton #7; Gilbert1 - Assemblage sur carton #6. All images courtesy of GCA Gallery.