To this day, the Arte Povera movement remains one of the most debated chapters of modern art history. Whether you see it as an overrated stream of avant-garde thought or a genuine conceptual breakthrough that took art to new heights, there's no denying Arte Povera had a massive impact on the way Italians see and treat modern and contemporary art.
Out of all the artists who contributed to the development of this radical and revolutionary movement, Gilberto Zorio always managed to stand out due to his ability to provoke authentic and intense experiences in viewers.
As a way of paying homage to Gilberto Zorio, Castello di Rivoli decided to organize a major retrospective devoted to the work of this celebrated Italian artist. The show will present new installations alongside his historical artworks, spanning over 50 years of Zorio's career. It will also highlight the special and long-lasting relationship Castello di Rivoli has with the Arte Povera.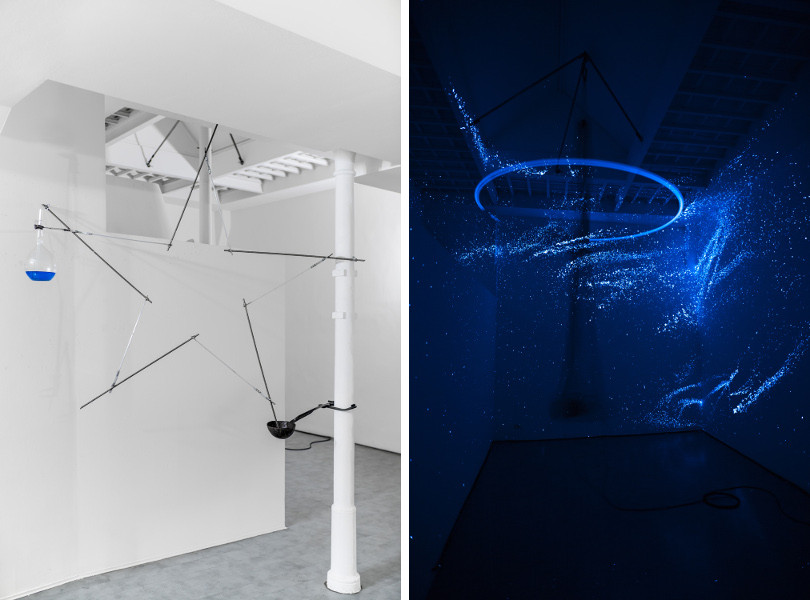 Gilberto Zorio and Arte Povera Work
When young Gilberto Zorio entered Turin's Accademia di Belle Arti in 1963 to study painting, little did he now that this Italian city would be praising him as one of its greatest and most achieving artists in a few decades. However, a radical change was needed of course, in order to turn that scenario into a reality - soon after arriving at the college, Zorio made a choice to forego his interest in painting and instead focus on sculptures.
He had his first solo show of three-dimensional artworks in 1967 at the Galleria Sperone, Turin, and quickly established himself as one of the leading individuals found at the creative helm of Arte Povera, an avant-garde movement that can be defined as both the heart and the soul of Italian art at the time.
Zorio exhibited in a number of the defining Arte Povera group shows in 1967 and 1968. He was also included in a famous group exhibition Nine Young Artists: Theodoron Awards held at the Solomon R. Guggenheim Museum, New York, in 1969. A year after that, Zorio graduated from the Accademia and, in 1971, he began teaching at an art school in Turin.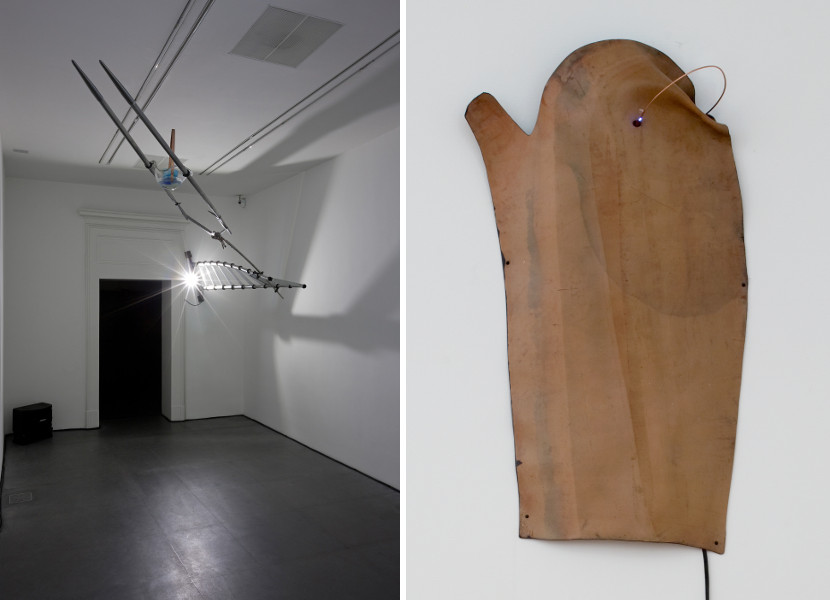 Exploring Alchemy and Natural Phenomena
Since the time he decided to abandon painterly techniques and dedicate primarily to three-dimensional works, Gilberto Zorio's pieces slowly started to turn into never-ending fields of physical and mental energy.
Furthermore, he has continued to direct his creative investigations towards physical processes, focusing on chemical or physical reactions that made each of his works continually mutable. Due to that practice, Gilberto Zorio is widely recognized as an artist who renewed the language of sculpture, freeing it from the clutches of fixity and heaviness, two aspects traditionally associated with sculptures.
My artworks are meant to be energy itself because they are always living works, or they are in progress, 
or works for the future.
Zorio's work goes a long way to emphasize process and alchemy, exploring transformative natural phenomena like evaporation or oxidation and the effects wrought upon materials by these chemical interventions. He has always been preoccupied with the idea of energy, something that never truly abandoned his work.
This focus led him to examine the properties of electricity, incorporating lamps or incandescent tubes in a lot of his artworks. In many ways, this will be the central theme of the upcoming show at Castello di Rivoli as it will put Zorio'o main conceptual concerns under a microscope.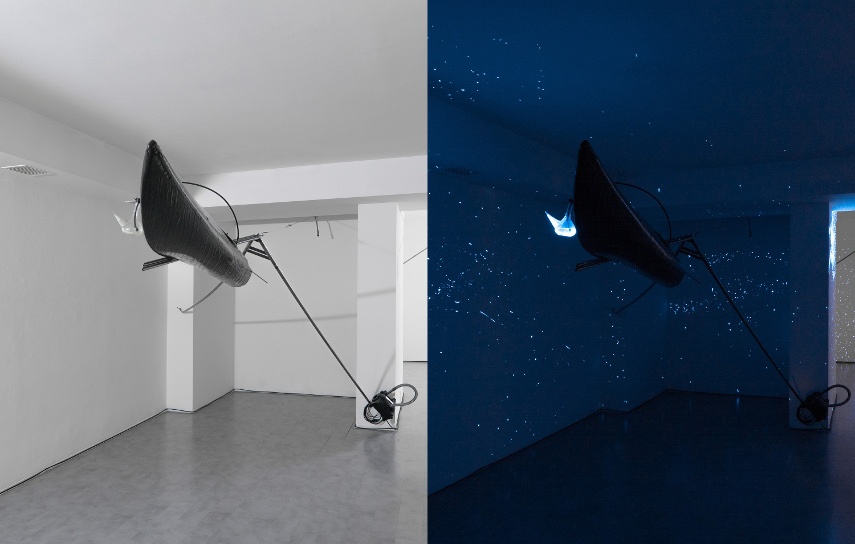 About the Artist's Upcoming Show in Rivoli
The comprehensive and innovative retrospective about to be held at Castello di Rivoli will feature some of Gilberto Zorio's most important works from his early days that will clearly show what preoccupied the young artist at that time.
Luckily for the viewers, the artworks selected for the show include some historical installations zealously guarded by the artist in his own private collection - these rare pieces will be presented to the public alongside other works brought in from various private and public collections, joined by the artworks from the Museum's own permanent program.
Castello di Rivoli's director, Carolyn Christov-Bakargiev, did not fail to emphasize how important this show is to the institution due to its well-known bond with Arte Povera:
This exhibition continues Castello di Rivoli's commitment to Arte Povera and its importance in building the Museum's identity.
Besides making sure the upcoming retrospective covers all the angles of what already transpired in Zorio's career, the exhibition will also allow the viewers to see the new site-specific installations conceived by the revered Italian specifically for the upcoming event.
Making the whole thing even more exciting it the fact that this will be the first time these works are made available to the general public. By toying with conditions of light and shadow, Gilberto Zorio wishes to use these new artworks to show us how different sensuous scenarios of perception can make us see the same things differently.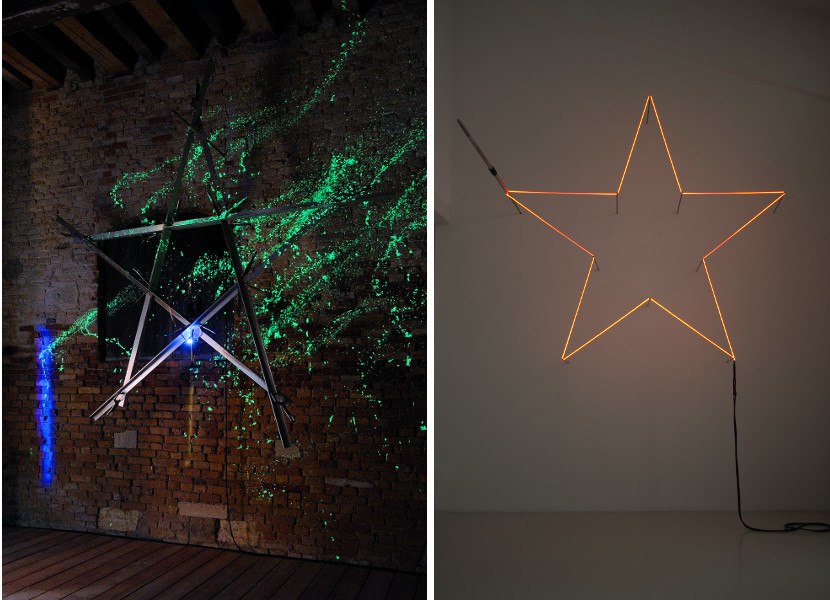 Gilberto Zorio Art Exhibition at Castello di Rivoli
Apart from offering a chance to see both the new and the old artworks masterfully realized by Gilberto Zorio, the upcoming show will also present scholarly bilingual catalog (in Italian and English) published by the Castello di Rivoli. This publication includes texts by Marcella Beccaria, João Fernandes, Tommaso Trini and a conversation between Carolyn Christov-Bakargiev and Zorio himself. It also possesses a rich anthology of essays about the artist's work and Gilberto's own texts about a wide variety of subjects.
The retrospective show of Gilberto Zorio's art, curated by the aforementioned Marcella Beccaria and developed in dialog with the artist himself, will be held between the 2nd of November 2017 and the 18th of February 2018, at Castello di Rivoli in Turin, Italy.
Featured images: Gilberto Zorio - Microphones, 1968-1969. Microphones, mixer, amplifier, echo box, loudspeakers, concrete blocks with ball bearing, Collection of the artist, Courtesy of Galleria Lia Rumma Milano / Napoli, Photo: Sebastiano Pellion; Senza titolo, 1968. Fiber-cement bowl, sulfur dust with iron fillings, magnet, polyethylene handle, 22 x ⌀ 120 cm, Courtesy Lia Rumma; Is Utopia, the Reality, Is Revelation, 1971. Iron, phosphorescent wax, fluorescent letters, halogen lamps, Wood's lamps, timer, Collection of the artist, Photo: Salvatore Licitra. All images courtesy of Castello di Rivoli.