Using photography as a paintbrush of a painter with great possibilities, Guiseppe Lo Schiavo art creates a new universe that expresses a great creative potential. Inventing new realities with photography, the artist seeks to escape the daily routine into the world of endless possibilities. Following his grandiose site-specific installation Fluid Memories, Lo Schiavo returns to Burning Giraffe Art Gallery with another specific form of project research executed in the photographic media. Entitled Wind Sculptures, the project was born of an artistic approach imbued with an extreme compositional elegance of pictorial descent along with a refined surreal touch. Exploring the relationship between humanity and nature through the use of an emergency NASA blanket and air currents, Lo Schiavo took this fascinating project throughout Europe, including in Italy, Greece, France, Switzerland, Portugal, Iceland, and the UK.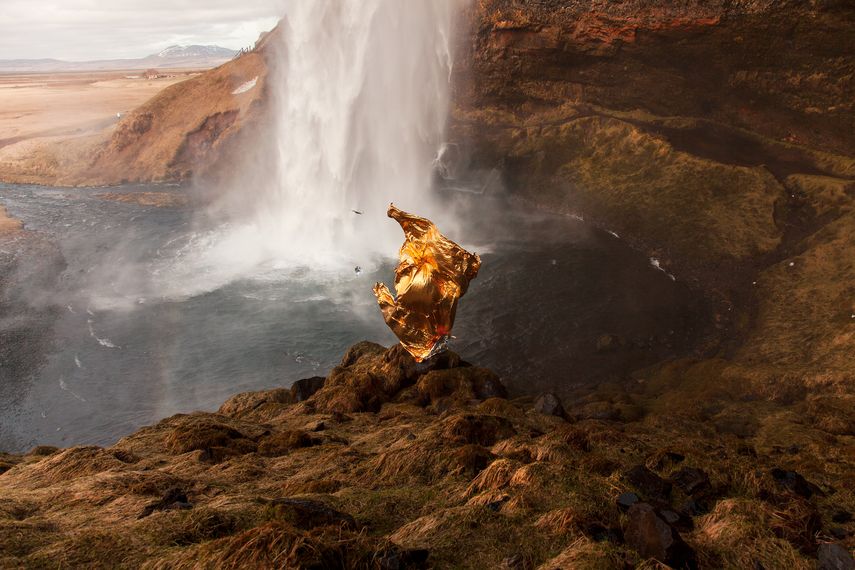 The Theatrical Sculpture
Developing since early 2015, the Wind Sculptures photographic series is certainly the most mature and evocative outcome of Lo Schiavo's artistic journey. This photographic experience presenting unpredictable sculpture was executed by the wind and captured by the high-speed camera that could sculpt it and keep it forever. Thus, the photograph served as both a sculpture and a recorder of a performance. Creating a theatrical sculpture where human and nature collaborate in an unpredictable performance, Lo Schiavo acts as a subject of it with the help of a thermal blanket. The artist works as a support to the blanket, and the power of air currents has molded it in a variety of shapes creating a surreal presence in already stunning landscapes. This special low-weight sheet in gold and silver developed by NASA in 1964 for the space program is often used as an emergency kit, and it serves as an iconic material symbolic of salvation and human generosity.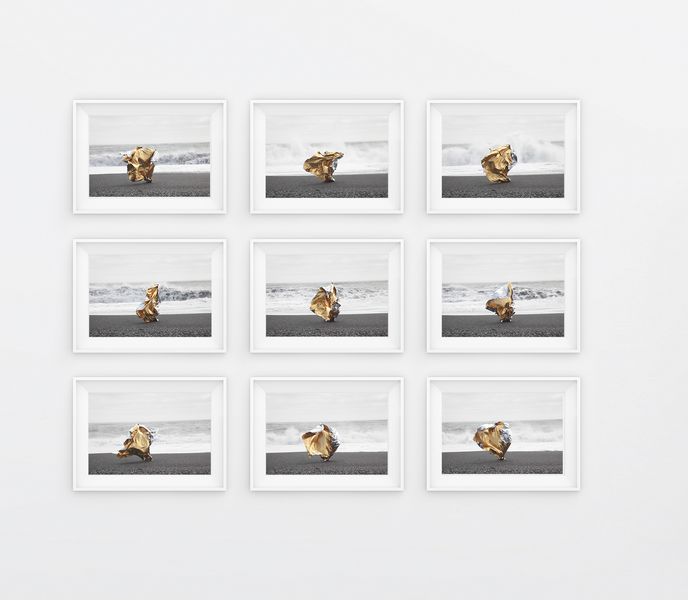 Nature and Its Forces as Protagonists
Created in pristine landscapes ranging from the sea shores of Greece to the snowy Matterhorn mountain top, this stunning body of work was created through the encounter of the artist and nature. With the help of nature's agent that lives in each of these landscapes, the golden and fluid sculptures complement the beauty of the environment. Even though Lo Schiavo controlled the entire creative process as an apparent protagonist, true protagonists are actually the wind that molds these pieces and the nature that surrounds them. The artist has simply gotten involved in this delicate play in the first person, managing to portray this sublime creative process in his body of work.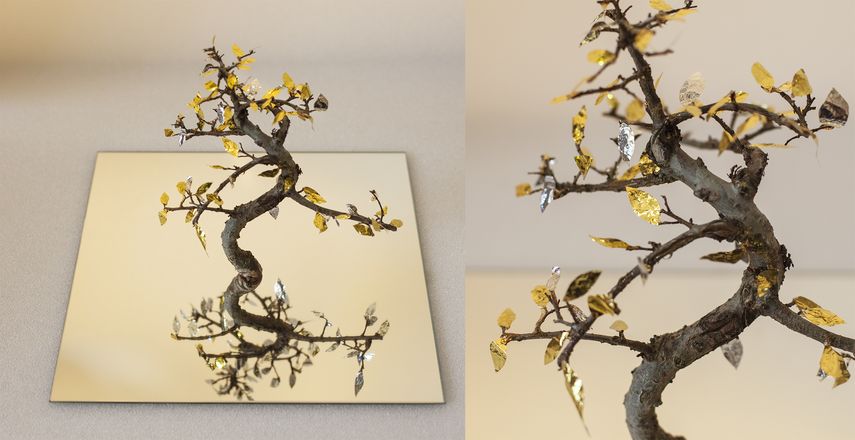 Giuseppe Lo Schiavo Art at Burning Giraffe Art Gallery
Giuseppe Lo Schiavo art has been a subject of several group and solo exhibitions, and some of his pieces are part of important private and public art collections around the world. The show Wind Sculptures is part of Turin ContemporaryArt Week, and also of COLLA, the project platform of Turin's art galleries. The show will be on view at Burning Giraffe Art Gallery in Torino from October 27th until November 26th, 2016. The vernissage will be held on Thursday, October 27th from 6:30 to 9:30pm.
Featured images: Wind Sculptures, Iceland Glacier Lagoon; Wind Sculptures, Iceland Vik Rocks; Wind Sculptures, Iceland Skogafoss; Wind Sculptures, Iceland National Park; Wind Sculptures, Balos B; Wind Sculptures, Switzerland Glacier Paradise. All images courtesy of Burning Giraffe Art Gallery.