It is almost practically impossible to make a list of methods that can be used when creating a painted art piece – from the times when strings covered in chalk were used to achieve a realistic sense of perspective to the contemporary methods of swallowing paint and throwing it up on canvas. What is more important than discovering the How? of artistic methodology, is the finding out the Why? of the "weapon of choice" for some artists… It seems easy to answer this when we talk about graffiti – when the movement was born, spray cans were chosen because of their availability. Surly though, this was not the only reason. For, today there is an abundance of artistic tools which favor atomized paint – spray cans, airbrushes, spray guns and even spray-paint drones…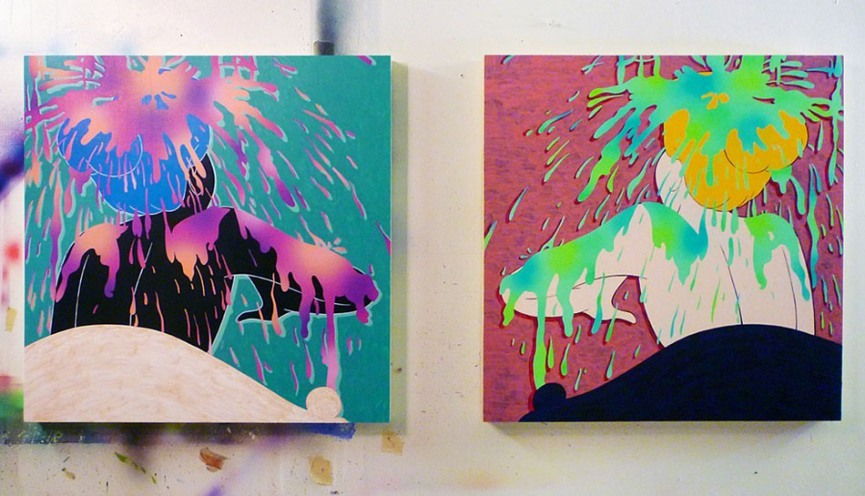 The Power of Spray…
Bogin, Gruzis, Cahan, Staniak, as well as Lewis and Zane are interested in achieving a certain degree of color range which is practically possible only with spray. The subtlety of shift in color across the piece evokes an intriguing situation between the spectator and the artwork. On the other hand, with the work of Ferris and Henry the process of building the structure of sprayed motives investigates a more straightforward distinction between objects. This is perceivable in Ferris' examination of depths and fogs and in Henry's geometric concepts which hover on a fresco-like white background. Benson and Lee tend to investigate how a digital like generated image can be conveyed on the canvas with the use of spray. The result creates an aesthetics of seemingly unskillful proportions.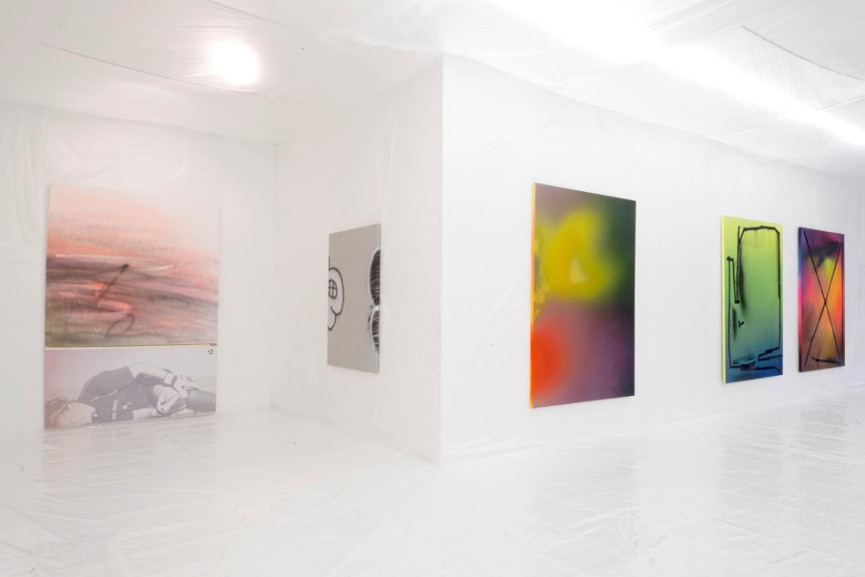 …is of Diverse Nature
Mischael Dotson uses "explosions" of spray to render a contrast to the background of his art piece. It could be argued that a similar usage of spray can be identified in the work of Crow, who uses spray around her oil paintings of interiors. On the other hand, White and Bellot create artistic hybrids which incorporate prints and mirrored plexi to create a collage which will be a vessel for the spray painted strokes. When talking about the work of JIM JOE, KATSU and Edwards, one can easily realize the street art background of this artists. KATSU's experiments with spray-paint drones invite to reinterpreting the methodology of spray painting, while Edward's use of airbrush examines the correlation between the spray and the screenic culture of today. Jessica Ciocci whishes to stress the democratic potential of a spray can, conveying a handmade aspect of spray along with stencil formations. Finally, Hoekstra's use if painting on multiple panels carries the message of diverse surfaces of the streets.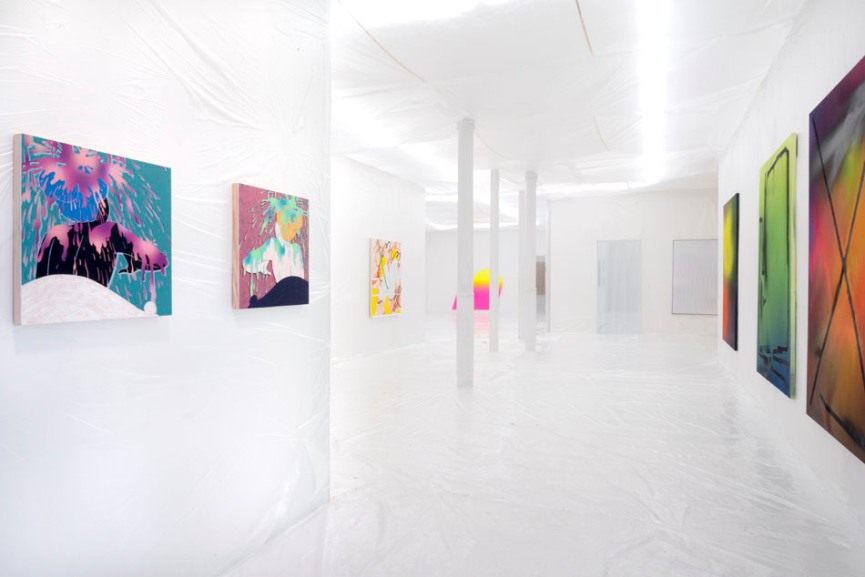 Go With The Flow at The Hole
One thing is certain, it is the flow of the atomized paint disposed under pressure that reflects the contemporary methodology of urban art. A representation of this kind of artistic expression can be seen in the work of artists Adam Henry, Austin Lee, Brian Belott, Dennis Hoekstra, Eric Cahan, Evan Gruzis, Greg Bogin, Jesse Edwards, Jessica Ciocci, JIM JOE, KATSU, Keltie Ferris, Michael Dotson, Michael Staniak, Rosson Crow, Timothy Uriah Steele, Trudy Benson, Wendy White and Zane Lewis. The methodology and aesthetics of these artists is under examination at The Hole, during a group exhibition between July 10th and August 23rd 2014.