As lockdown restriction due to COVID-19 alleviated throughout Germany, galleries and museums began opening their doors again. Among them was also a brand new gallery space in Berlin's district Charlottenburg, a contemporary gallery titled re|space. Focused on contemporary painting, drawing and sculpture with a particular interest in unique materials and working methods, re|space made its entry into the city's gallery scene in May 2020 with a solo show presenting works by the artist Gogi Gelantia.
Titled World Unknown, the exhibition will bring together works the artist created during lockdown, reflecting on the current pandemic and its societal consequences.
The Practice of Gogi Gelantia
A Georgian-born and Berlin-based artist, Gogi Gelantia is best known for his monumental emotional landscape paintings that seek to address the viewer's subconscious. Working primarily in oil and acrylic on canvas, Gelantia has developed a unique abstract language characterized by mythical symbolism and a vibrant, expressive palette that may as well be actual places. Each of his works is deeply personal, informed by his own emotions and experiences.
While the artist's experience with the new Central European environment allowed him to further experiment with new techniques and reach a greater depth in his artistic practice, he continues to draw from his past in post-Soviet Georgia. As he explained, he believes art is a platform for highlighting our inherent similarities and shared experiences as a human race.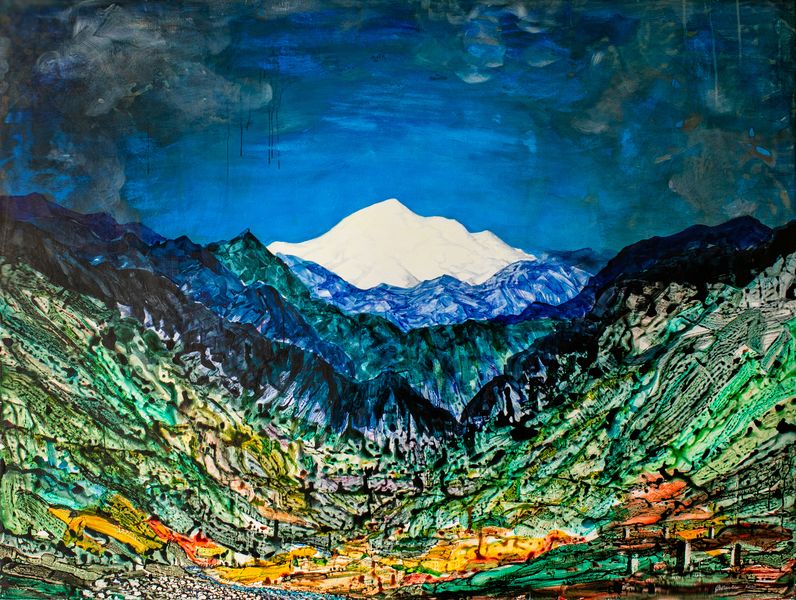 World Unknown
An inaugural exhibition at re|space, World Unknown presents Gogi Gelantia's latest body of work which resulted from his recent exploration of abstract landscapes. Created throughout March and June this year, these large-scale paintings feature imaginary landscapes that sprang from the refreshingly colorful world of the artist's mind . Using a variety of techniques in each of the works, the artist stretched the potential of acrylic paint on canvas.
In this extremely complex societal construct, our lives revolve around material comforts. During these times of uncertainty, Gelantia invites us to view the world from a new perspective, proposing the return to our roots, to nature. Conveying a certain depth and bursting with vibrant colors, these pieces tend to inspire and invite the viewer to reflect on the world around them and their own self.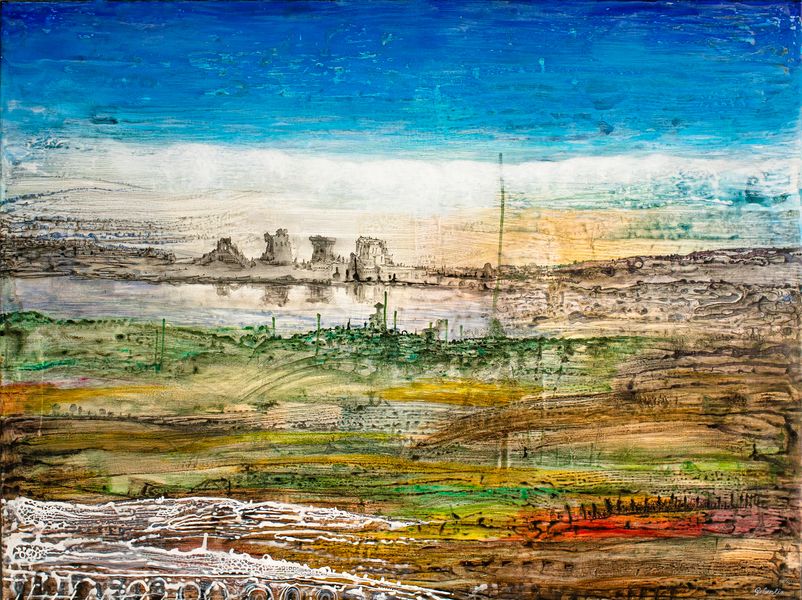 Gogi Gelantia Exhibition at re|space
The exhibition World Unknown will be on view at re|space in Berlin until July 31, 2020. Although it was not possible to host the opening reception due to health measures, the gallery will organize a finissage of the show, now possible through the alleviation of lockdown measures.
Featured images: Exhibition View, Gogi Gelantia, 'World Unknown', re|space gallery, 2020.